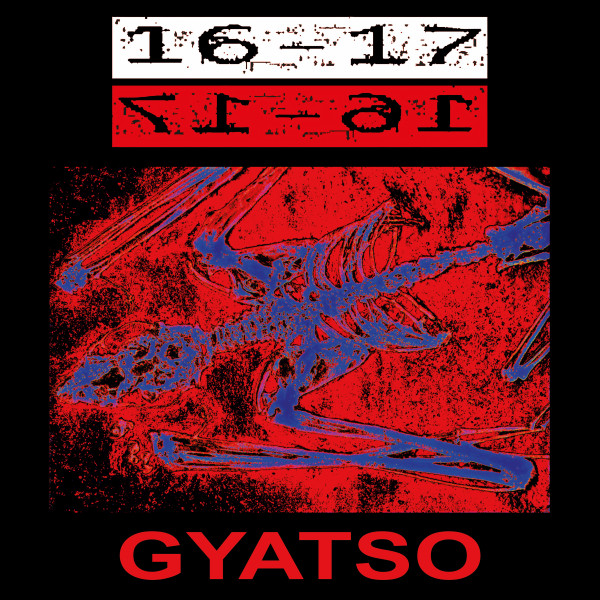 In stock now: Classic 16-17 studio album produced by Kevin Martin in 1994 for first time on...
more
Product information "16-17: Gyatso"
In stock now:
Classic 16-17 studio album produced by Kevin Martin in 1994 for first time on vinyl !
Gyatso originally appeared on Kevin Martin's Pathological label in 1994 as a CD and was rereleased, again on CD, in 2008 by Savageland.
Praxis, in collaboration with Skin & Speech proudly presents the first vinyl edition of this classic album.
The vinyl edition contains 6 tracks and includes the download for the full 13 track album.
16-17 started in 1983 in Basel, Switzerland. They released a number of cassettes, before debuting with their self titled and self released album in 1987. Two years later this was followed up by When All Else Fails, an LP of treated live recordings on Vision, the precursor label to Praxis.
By this time 16-17 had already garnered a cult following with their incredibly forceful live performances.
Gyatso is a crucial release where the raw power of 16-17's live appearances clashes with a studio-as-instrument approach, as Kevin Martin and Alex Buess add effects and dub techniques to the band's recordings.
Further collaborations between Martin and Buess include the ICE project which also included Justin Broadrick aka J.K.Flesh of Godflesh, the other half of Techno Animal, as well as Human Distortion, released on Digital Hardcore Recordings in 1998. Buess also took part of the Sprawl project with Peter Brötzmann, William Parker, Michael Wertmüller and Stephan Wittwer which appeared on Trost Records in 1997.
This vinyl release of Gyatso comes hot on the heels of two important records that came out in 2020: The album Phantom Limb on Trost, based on band recordings from 1995 and finished in the studio in 2019 by Alex Buess, and most recently the 12" The Pandemic Wargames Remixes on Praxis. The latter was a continuation of collaborations dating back to the pre-Praxis days of the Vision label, continuing with the 1999 release of Mechanophobia on Praxis as well as the more recent Vacuum Theory by Cortex and "Skin Craft" by Alex Buess and Daniel Buess.
Praxis is very happy to present this release in collaboration with Skin & Speech, for the first time on vinyl and download!
Music Preview
Related links to "16-17: Gyatso"
Available downloads:
Read, write and discuss reviews...
more
Customer evaluation for "16-17: Gyatso"
Write an evaluation
Evaluations will be activated after verification.