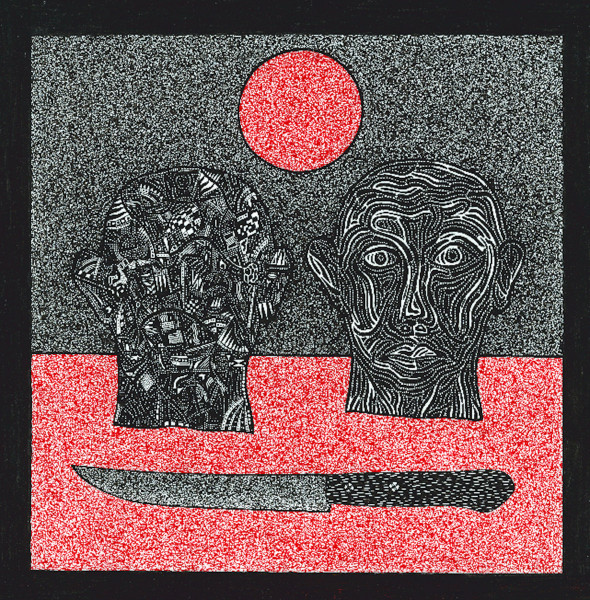 A split between Lvrin and Maoupa Mazzocchetti on Arma Records. ARMA 020 / LVRIN /...
more
Product information "Lvrin/Maoupa Mazzocchetti: Split"
A split between Lvrin and Maoupa Mazzocchetti on Arma Records.
Following releases from Rude 66, Vakula and Mick Wills, Arma continues to explore the dark and wild corners of contemporary machine music via a new split 12" featuring LVRIN and Maoupa Mazzocchetti.

LVRIN is a Russian producer entrenched in the guttural thrill of distorted hardware techno. His previous releases have surfaced on Pinkman, Crimes Of The Future (alongside Dmitry Distant) and Sign Bit Zero, while his A Bleak Reality alias landed on Lux Rec sublabel Mrt. These reference points make clear the sound world LVRIN occupies, where blown out boxes spit out gnarled beats and slimy basslines through an overdriven desk. The entwined scepters of post punk and industrial loom over his nocturnal incantations, the clamour of the melodies bleeding into the hiss of the reverb for a gloriously deviant end result. It's no surprise to learn these vibrant pieces were captured in one take – the impulse and energy of the performance supersedes the need for nitpicking and refinement in the mixdown.

Brussels-based Maoupa Mazzocchetti has been weaving defiantly unconventional strains of electronic music since first emerging on Unknown Precept and Mannequin. From the acclaimed Laugh Tool LP to last year's Gag Flag on Editions Gravats and an essential leftfield reggaeton collaboration with Clara! on Les Disques De La Bretagne, Mazzocchetti's path has been wildly unpredictable and highly original. This non-trend continues with the vivid shapes he marks out on the B side of this record. There's a rugged, body-poppin' thrust to the grooves that power all three tracks – all the stronger to carry the madcap sampling and mischievous synth splashes that shape out the music's identity. These are short, sweet blasts of ideas dripping in personality and originality – equal parts deadly serious and deliriously flippant, and essential listening for anyone who enjoys straying from established paths while still rocking to the beat.

Cover artwork by P.Kuznetsov
Release Date: 22 March 2019
Related links to "Lvrin/Maoupa Mazzocchetti: Split"
Read, write and discuss reviews...
more
Customer evaluation for "Lvrin/Maoupa Mazzocchetti: Split"
Write an evaluation
Evaluations will be activated after verification.