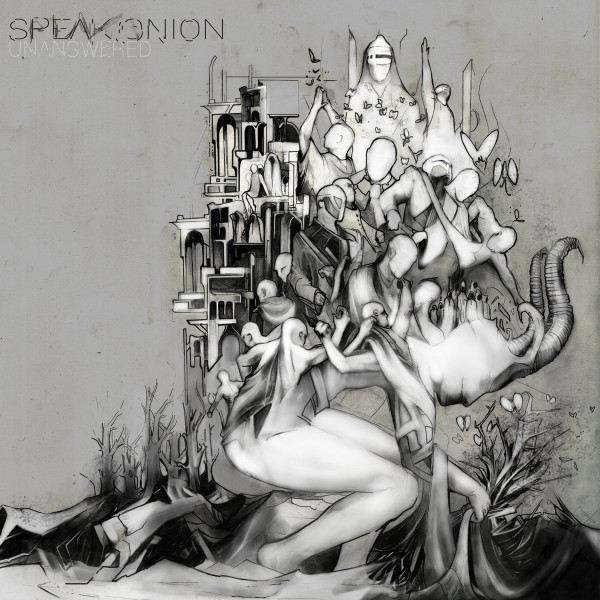 This product is currently not available.
€14.00 *
€18.00 *
(22.22% Saved)
Prices incl. VAT plus shipping costs
Delivery time approx. 5 working days
Label info: Queens, New York's Speak Onion (Dan Abatemarco) emerges from the darkest...
more
Product information "Speak Onion: Unanswered"
Label info:
Queens, New York's Speak Onion (Dan Abatemarco) emerges from the darkest sub-basements of drum and bass to fire his opening salvo on Ohm Resistance. "Unanswered", a contorted fusion of warped edits, seething noises and confrontational atmospheres is equal parts dance and slaughterhouse floor – arresting the senses with an unabashed sonic assault.
Capturing the energy of Speak Onion's legendary live PA performances onto recorded media, it features a diverse roster of guest appearances including Paul Belbutsi (Mercy Choir), Will Smith (Artificial Brain), Heidi Harris, Conor Wallace (Forever and Everest) and experimental hip hop lyricist, Wolfie Vincent.
Each of the LP's 11 tracks is a unique artistic statement on its own – but they come together to create a cohesive whole of emotion and intent that pushes the boundaries of breaks, bass and noise.
"It's official: Speak Onion is one of the best American breakcore producers." – Wrecked Distro
"A sort of alien-with-turrets sounding atmosphere/noise dips in and out of the shadows before this rubber-band-on-crack bassline boils to the surface and the percussion freaks out to the Nth…" – Grindthieves
"…Giger-designed Alien monster hooks that live and breathe for a matter of seconds before being subsumed again into the programmed Armageddon muck of the song" – Splice Today
"This is the sound of the U.S. underground Breakcore scene, a quickly evolving genre, and Speak Onion is one of its masters." – Heathen Harvest
"Enough nasty, pixilated bass synthesizers and stuttered tripwire breakbeats to satiate a dozen warehouses packed full of revelers, but the relentless waves of twinkling keyboard figures underneath all that havoc come bearing cosmic melodic gifts." – Village Voice
"Blending the intricacies of breakcore with the sheer power of noise, Metabolor is perfect for the breakcore fanatic." – Regen Magazine
"Stylophonic-esque synth flails and sirens a-shrieking, sticky-sick pulses a-gurglin', nagging beehive blisters with interruptions that evolve into what sound like songbird massacres, itchy static scribbles, growling digital feedback wraiths, breakbeat patter so breathless it stutters. This shit is tight." – Friday Night Noise
"…deluge of battered beats and sharp hooks pushed to the frayed ends of sanity." – Chief Magazine
Related links to "Speak Onion: Unanswered"
Read, write and discuss reviews...
more
Customer evaluation for "Speak Onion: Unanswered"
Write an evaluation
Evaluations will be activated after verification.