No results were found for the filter!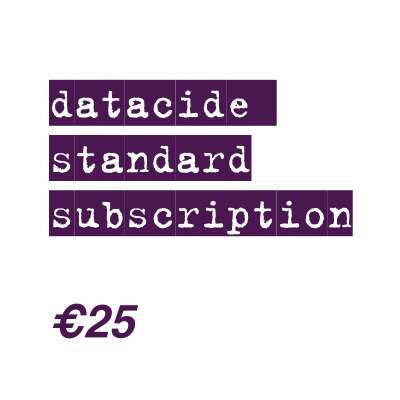 Datacide Subscription (Standard)
Standard Subscription: 4 issues for 25 euro incl. international shipping Our new standard subscription starts with the current or next issue (please specify) and includes the Almanac for Noise & Politics if you want. Usually this means...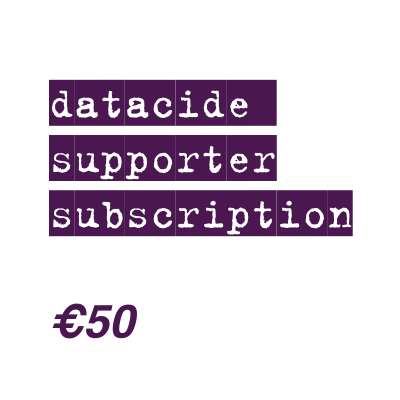 Datacide Subscription (Supporter)
Supporter Subscription: 5 issues for 50 euro incl. shipping and occasional other mailouts and/or downloads. If you want to support datacide take out this subscription! It gets you the next five regular issues and Almanac(s) as they come...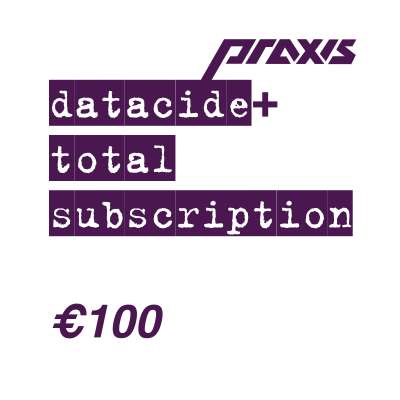 Datacide + Praxis Subscription (Total)
Total Subscription: 100 euro for all music and print appearing. You are sent all issues of datacide, the almanac, related books, and all Praxis and related record releases for two years and at least up to the retail value of at least 120...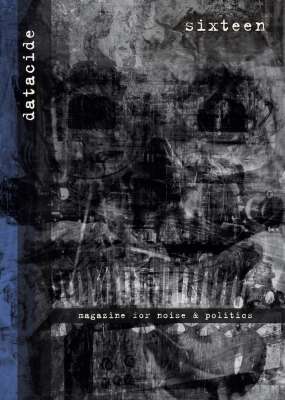 Datacide Sixteen
Contents: NEWS & UPDATES The Reverend: Education in England - An Update Marc Hekate: Keith Robinson Desert Storm Obituary Matthew Hyland: Notes from Non-Existence - Brexit vs. The Proletariat FEATURES Alexia Elliott: Poisoned Fruit in...

Aufheben #24-2017
Contents: BREXIT MEANS… WHAT? HAPLESS IDEOLOGY AND PRACTICAL CONSEQUENCES A number of left groups and individuals campaigned for the UK to leave the European Union in the recent referendum. We argue that the Brexit campaign, and the...

The WIre 390
Circuit Des Yeux - Nate Wooley - Black Spirituals - Occult Rock & more incl. The Wire Tapper 41 cover CD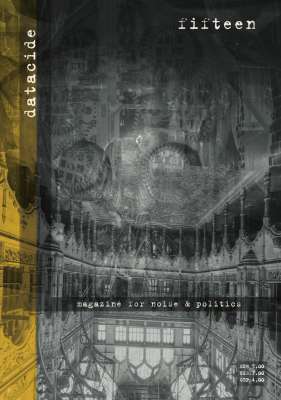 Datacide Fifteen
The fifteenth edition of the magazine for noise & politics, released in may 2016 News: Endless War; Infiltration and Agent Provocateurs; Surveillance, Control and Repression (Nemeton) Neo-Nazis, the National Socialist Underground and the...

Maximum Rock'n'ROll #392
Get ready for Maximum Rocknroll #392 ! It's the January 2016 issue, and we're starting off the new year with style: Philadelphia's BLANK SPELL riff on their irreplicable and twisted brand of hardcore and contemplate punk worldwide, and...

Freedom - Bookfair 2015 issue
Freedom Newpaper issue for the 2015 Anarchist Bookfair. After stopping the regular print publication they moved online, but are still printing a near-free paper once a year. This is the latest issue

Endnotes 4 - Unity in Separation
Endnotes is a communist theoretical journal produced by a discussion group of the same name based in Britain and the US Issue 4 contents include; 20th Century Balance Sheet, Black Lives Matter, Balkan Spring, A Suburban Vendée, Abject...