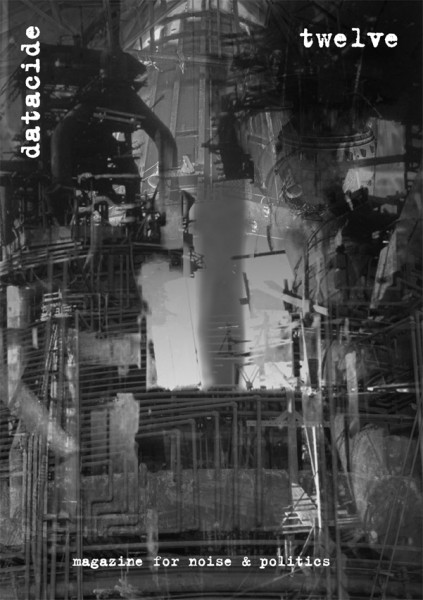 Prices incl. VAT plus shipping costs
Free of shipping costs!
Ready to ship today,
Delivery time appr. 1-3 workdays
release date: 20 October 2012. 68 pages Darkam: The Art of Visual Noise Nemeton:...
more
Product information "Datacide Twelve"
release date: 20 October 2012. 68 pages
Darkam: The Art of Visual Noise
Nemeton: Political News
Christoph Fringeli: Neo-Nazi Terror and the Office for the Protection of the Constitution in Germany
Cherry Angioma: Communisation Theory and the Question of Fascism
Christoph Fringeli: From Adorno to Mao – The Decomposition of the '68 Protest Movement into Maoism (extended book review)
Split Horizon: Control and Freedom in Geographic Information Systems
Riccardo Balli: "Bolognoise ain't a Sauce for Spagheti but Bologna's Soundscape"
Polaris International: Documents and Interventions
TechNET insert:
- Noise and Politics – Technet Mix
- No More WordS
- Listener as Operator
- The Intensifier
- No Stars Here
- Techno: Psycho-Social Tumult
- Dead By Dawn – Explorations inside the Night
- Psycho-Social Tumult (Remix)
Dan Hekate: Kiss me, cut me, hurt me, love me
Howard Slater: Useless Ease
John Eden: The Dog's Bollocks – Vagina Dentata Organ and the Valls Brothers (interview)
Neil Transpontine: Spannered – Bert Random Interview
LFO Demon: When Hell is full the Dead will Dance on you iPhone (Review of Simon Reynold's "Retromania"
Christoph Fringeli: "Fight for Freedom" – The Legend of the "other" Germany (extended book review)
Nemeton: "West of Eden: Communes and Utopia in Northern California" (book review)
Datacide: Press reviews
terra audio: 2023: A Spor remembers 'Reclaim the Streets'
John Eden: Christopher Partridge: Dub in Babylon (book review)
terra audio: Jeff Mills: Violet Extremist
terra audio: Keeping the Door of the Cosmos open – on Sun Ra's Arkestra directed by Marshall Allen
Record Reviews
The Lives and Times of Bloor Schleppy (12)
Comic by Sansculotte
Related links to "Datacide Twelve"
Read, write and discuss reviews...
more
Customer evaluation for "Datacide Twelve"
Write an evaluation
Evaluations will be activated after verification.