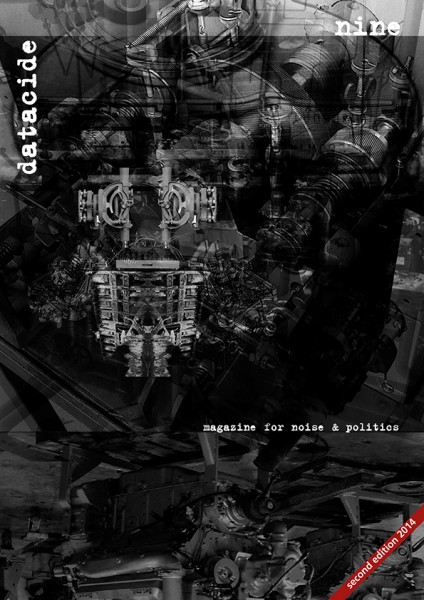 This product is currently not available.
Prices incl. VAT plus shipping costs
Free of shipping costs!
Delivery time approx. 5 working days
Order number:

Datacide9RP
Datacide Nine appeared in spring 2006. This first reprint of an earlier issue features the...
more
Product information "Datacide Nine (2014 reprint)"
Datacide Nine appeared in spring 2006. This first reprint of an earlier issue features the complete text of the original edition, but has been newly laid out and arranged. The original editorial (opposite page) is followed by the main features, while the scene reports were moved to the back of the issue. We're happy to have this long deleted issue back in print; it features some of the most read articles on the datacide web site that are still relevant and of interest today. The original editorial reflects the particular historical situation in which the issue originally appeared: The repression against Teknivals as well as the particular (wider) political situations, while technological developments and economic problems are covered in passing. Out of the ensuing crisis of the already completely marginalized counter culture developed the desire to start something new, and we announced that Datacide Ten would be the last issue. This has of course not been the case. Instead, we felt re-invigorated enough after the 2008 issue of Datacide Ten and the accompanying conference to keep going, and the last few years have seen a consolidation of our release schedule and an expansion in size and content.October 12, 2013 saw the release of the new issue, number Thirteen, and yet again it is the biggest issue so far. There was an event with talks, concerts and party in Berlin on that day. We were present at the Anarchist Bookfair in London on October 19. The next day we did a small launch event in London. Datacide was presented for the first time in the U.S. with a soliparty on November 15 and a conference on November 17. Datacide tabled at the Los Angeles Eastside Zine Market on December 8, and the Art Book Fair from January 30-February 3, 2014. Rather than trying to increase the frequency of Datacide, we would like to complement it with additional books and pamphlets.Please consider taking out a subscription to help us achieve these aims!
PRICE INCLUDES WORLDWIDE SHIPPING!
IN STOCK NOW!

table of contents
features
page 4.......Howard Slater: Lotta Continua - Roots Music and the Politics of Production
page 8.......Matthew Hyland: Say Fear is a Man's Best Friend - You Add it up, it Brings You Down
page 10.....Christoph Fringeli: Anti-Imperialism - Bankruptcy of the Left?
page 12....(Anonymous): You Must Help Yourself - Neo-Liberal Geographies and Worker Insurgency in Osaka
page 16.....Christoph Fringeli: The Brain of Ulrike Meinhof
book reviews
page 18.....Stewart Home: The Eclipse and Re-Emergence of the Bildungsroman
page 19.....Christoph Fringeli: Michael Steffen: Geschichten vom Trüffelschwein
page 20.....Christoph Fringeli: Breggin/Cohen: Your Drug May Be Your Problem
music
page 22.....Interview with John Balance of Coil from 1986
page 27.....Christoph Fringeli: Anti-Semitism from Beyond the Grave - Muslimgauze's Jihad

fiction
page 28.....Secessionist Outernational to Ourganisation - 1st May in December
page 30.....Matthew Fuller: Interview with a Photocopier
page 31.....The Wirebug: The End
page 32.....Record Reviews
page 38.....Scene Reports from Berlin, Israel, Los Angeles, Italy, Brazil
page 39.....Terry Ordo and accomplices: Tek it Up - Report from Czech Tek 2005
page 42.....The Lives and Times of Bloor Schleppy (9)
page 43.....DJ Charts
Related links to "Datacide Nine (2014 reprint)"
Read, write and discuss reviews...
more
Customer evaluation for "Datacide Nine (2014 reprint)"
Write an evaluation
Evaluations will be activated after verification.