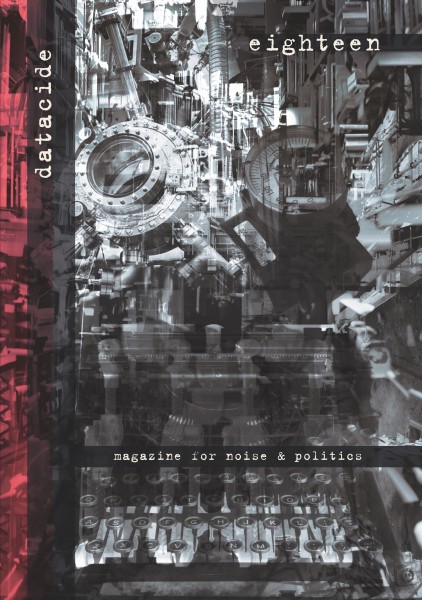 OUT NOW! ISBN 978-3-948332-18-1 Features include: Christoph Fringeli: Revolution...
more
Product information "Datacide Eighteen"
OUT NOW!
ISBN 978-3-948332-18-1
Features include:
Christoph Fringeli: Revolution and Counterrevolution in Germany 1919
Ross Wolfe: Marxism Contra Justice - A Critique of Egalitarian Ideology
Joke Lanz: Ghosts & Handbags - A short Travel Report from the Japanese Underworld
Matthew Hyland:Masterless Mouths
poems by Howard Slater
fiction by Dan Hekate
news roundup by Nemeton
record reviews by Low Entropy, Saxenhammer, Prole Sector, Controlled Weirdness, Christoph Fringeli
book reviews:
Neil Transpontine: A Fascist Tulpa in the White House? - Right-wing 'Meme Magic' and the Rise of Trump
Frankenstein, or the 8-Bit Prometheus - Micro-literature, hyper-mashup, Sonic Belligeranza records 17th anniversary by Riccardo Balli
Dale Street: Lions Led by Jackals – Stalinism in the International Brigade, by Christoph Fringeli
Christoph Fringeli: No borders, no fatherland! France – What's New for the Left?
Activities since last issue
Lives and Times of Bloor Schleppy
graphics and illustrations by dybbuk, lesekill, Darkam, Sansculotte
Related links to "Datacide Eighteen"
Read, write and discuss reviews...
more
Customer evaluation for "Datacide Eighteen"
Write an evaluation
Evaluations will be activated after verification.