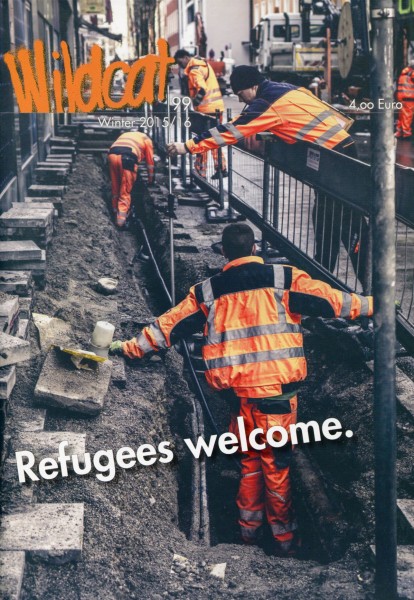 Wanderung, Flucht und Arbeit Willkommenskultur: kümmern oder kämpfen? Nur Winken ist nicht...
more
Product information "Wildcat 99"
Wanderung, Flucht und Arbeit
Willkommenskultur: kümmern oder kämpfen?
Nur Winken ist nicht genug – Willkommensinitiative
Griechenland: Flüchtlinge als Verhandlungsmasse der Regierung
Which side are you on? Thesen von einem Kongress in Potsdam
Zuhälterein – das Caporalato und sein Umfeld
Italien: Wie ArbeitsmigrantInnen für Verbesserungen in einer ganzen Branchen kämpfen.
Zum Film »Die Angst wegschmeißen«
Arbeiten bei Amazon in Polen – Interview
Weltarbeiterklasse Update
Buchbesprechung Immanuel Ness: Southern Insurgency
Iran: Keine Ruhe nach dem Atom-Deal
Zwei Schritte vor, einer zurück. Wilde Streiks in der türkischen Autoindustrie
Potosí/Bolivien: An den Grenzen des extraktiven Entwicklungsmodells
Mexiko – USA: Neue Kämpfe im Drogenkrieg-Kapitalismus
China: Wirtschaft am Abgrund
Kurze Chronologie der Kämpfe der chinesischen Arbeiterklasse
Thesen zum Klassenkampf in China
Ein rein chinesischer Crash?
Buchbesprechung: Lu Zhang: Inside China's Automobile Factories.
Südafrika: »Students must fall«
Zuwanderung und NSU – Neues vom Tiefen Staat
Buchbesprechungen: Drei Bücher zum NSU von Wolfgang Schorlau, Wolf Wetzel und Hajo Funke
Ausnahmezustand und »Terrorfrei«:
»Ein Teil dieser Antworten würde die Bevölkerung verunsichern«
Haben sie die Lage wirklich im Griff? (Frankreich im Ausnahmezustand)
»Eure Kriege – unsere Toten«
Wenn die Kohlenstoffblase platzt
Die teuerste Rückrufaktion
Riots in den USA: Krieg der Armen gegen die Armen?
Buchbesprechung Sven Beckert: King Cotton
Buchbesprechung Alice Goffman: On the run. Die Kriminalisierung der Armen in Amerika
Related links to "Wildcat 99"
Read, write and discuss reviews...
more
Customer evaluation for "Wildcat 99"
Write an evaluation
Evaluations will be activated after verification.