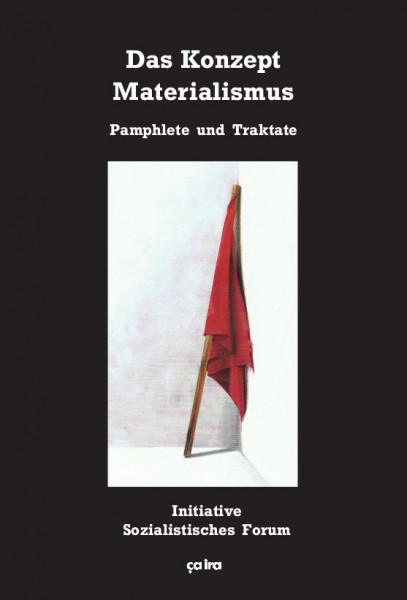 This product is currently not available.
Order number:

ISBN978-3-924627-90-4
Initiative Sozialistisches Forum Das Konzept Materialismus Pamphlete und...
more
Product information "Inititative Sozialistisches Forum: Das Konzept Materialismus"
Initiative Sozialistisches Forum
Das Konzept Materialismus
Pamphlete und Traktate
Herbst 2009, 256 Seiten, 20 €, ISBN: 978-3-924627-90-4
"Der revolutionäre Materialismus oder auch: kritische Kommunismus der Gegenwart hat die Erfahrung der Shoah und hat die Geschichte des Nazifaschismus nicht einer wie immer auch kritisch gemeinten Gesellschaftstheorie anzuhängen und aufzukleben, sondern er hat diese Erfahrung vollendeter Negativität in das Innerste seiner Kategorien aufzunehmen und zu reflektieren. Jedweder 'Marxismus', der sich weigert, auf diesen Zeitkern der Wahrheit zu reflektieren, ist Müll. Kein Materialismus ist noch denkbar, der dies nicht im Herzen der Kritik der politischen Ökonomie zu bedenken hätte. Es geht darum, der katastrophalen Entfaltung des Kapitals zu seinem Begriff, der Barbarei, kritisch inne zu werden."
Aus dem Inhalt
Wechselbad der Gefühle, Produktion der Panik
Hartz IV, die Wendung in den autoritären Staat und die Nazifikation des Subjekts
Der Staat des Grundgesetzes
"Kein Copyshop"
Gegen die Heideggerisierung der Linken
Die Ideologie vom Diskurs. Über die Nutzlosigkeit Foucaults für die antinationale Linke
Schwadroneure und Empiristen
Zwei verfehlte Versuche, die Wahrheit Goldhagens sich anzueignen – eine Anti-Kritik
Philosophie für Friedhofsschänder
Die Modernität des Kapitals, der Präfaschismus der Postmoderne: Über Heidegger, Derrida, Sloterdijk und Konsorten
Die Postmoderne wird kritisch
Mit Heidegger gegen das »Züchtungs- und Disziplinierungsprogramm« des Humanismus
Werwolf und Djihad
Die Zerstörung des World Trade Center und der barbarische Untergang der bürgerlichen Gesellschaft
Go straight to Hell
Karl Marx, Israel und die Militanz der Vernunft
Die Konterrevolution gegen Israel
Verkehrte Gesellschaft
Deutsche Kulturindustrie 2003
Der 11. September als Geburtstag Adornos
Die Geschichte wiederholt sich doch
Zur Lage der Nation
Krieg und Frieden, Schuld und Sühne
Das »Gewaltrecht des Guten« in der »Stunde der Wahrheit«
Bomben auf Freiburg
Der 8. Mai als Volkstrauertag
Aufklärung und Aufklärungsverrat im 21. Jahrhundert
Kalkül und Wahn, Vertrauen und Gewalt
Vor dem Ausnahmezustand des Kapitals
Zahltag
Hinweise
Veröffentlichungen bei ça ira u.a.:
Related links to "Inititative Sozialistisches Forum: Das Konzept Materialismus"
Read, write and discuss reviews...
more
Customer evaluation for "Inititative Sozialistisches Forum: Das Konzept Materialismus"
Write an evaluation
Evaluations will be activated after verification.