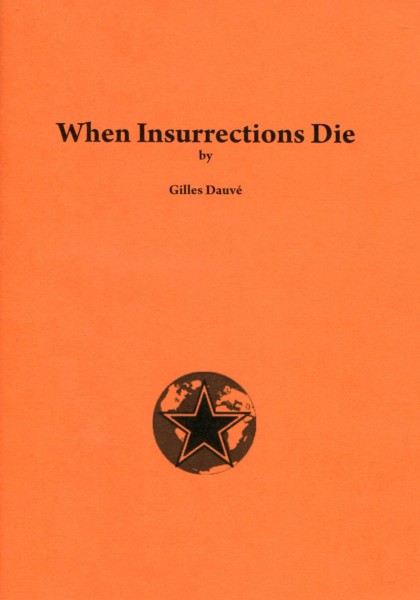 This product is currently not available.
Order number:

PannekoekPressD_I
Brest-Litovsk, 1917 and 1939 "If the Russian Revolution becomes the signal for a proletarian...
more
Product information "Gilles Dauvé: When Insurrections Die"
Brest-Litovsk, 1917 and 1939
"If the Russian Revolution becomes the signal for a proletarian revolution in the West, so that both complement each other, the present Russian common ownership of land may serve as the starting point for a communist development."
Marx/Engels - Preface to the Russian edition of the manifesto, 1882. This perspective was not realized. The European industrial proletariat missed its rendez-vous with a revitalized Russian peasant commune.
Brest-Litovsk, Poland, December 1917: the Bolsheviks propose peace without annexations to a Germany intent on taking over a large swath of the old Tsarist empire, stretching from Finland to the Caucusus. But in February 1918, the German soldiers, "proletarians in uniform" though they were, obey their officers and resume the offensive against a Russia still ruled by soviets. No fraternization occurs, and the revolutionary war advocated by the Bolshevik left proves impossible. In March, Trotsky has to sign a peace treaty dictated by the Kaiser's generals. "We're trading space for time", as Lenin put it, and in fact, in November, the German defeat turns the treaty into a scrap of paper. Nevertheless, practical proof of the international link-up of the exploited had failed to materialize. A few months later, returning to civilian life with the war's end, these same proletarians confront the alliance of the official workers' movement and the Freikorps. Defeat follows defeat: in Berlin, Bavaria and then in Hungary in 1919; the Red Army of the Ruhr in 1920; the March Action in 1921...
September 1939. Hitler and Stalin have just carved up Poland. At the border bridge of Brest-Litovsk, several hundred members of the KPD, refugees in the USSR subsequently arrested as "counter-revolutionaries" or "fascists", are taken from Stalinist prisons and handed over to the Gestapo.
1917-1937, twenty years that shook the world. The succession of horrors represented by fascism, then by World War II and the subsequent upheavals, are the effect of a gigantic social crisis opening with the mutinies of 1917 and closed by the Spanish Civil War*.
*This is a shorter, entirely reconceived version of the preface to the collection Bilan/Contre-révolution en Espagne 1936-1939, Paris, 1979 (now out of print). A text in progress will deal further with the question of the development of fascism, and thus of anti-fascism, in our own epoch.
Related links to "Gilles Dauvé: When Insurrections Die"
Read, write and discuss reviews...
more
Customer evaluation for "Gilles Dauvé: When Insurrections Die"
Write an evaluation
Evaluations will be activated after verification.