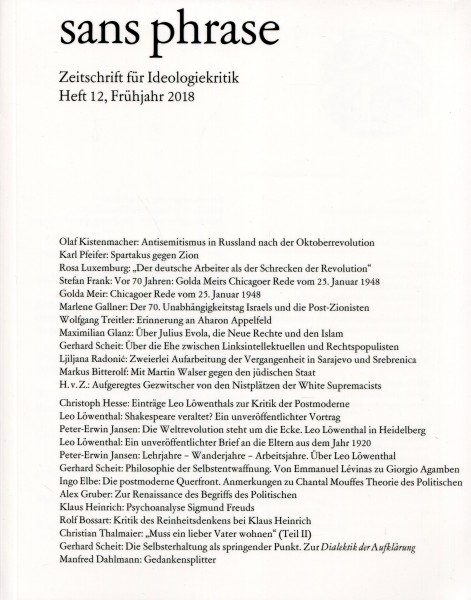 Order number:

SansPhrase12
Heft 12, Frühjahr 2018 Olaf Kistenmacher: "Trotzki ist kein Jude"....
more
Product information "sans phrase, Heft 12"
Heft 12, Frühjahr 2018
Olaf Kistenmacher: "Trotzki ist kein Jude". Antisemitismus in Russland nach der Oktoberrevolution
Karl Pfeifer: Spartakus gegen Zion
Rosa Luxemburg: "Der deutsche Arbeiter als der Schrecken der Revolution"
Stefan Frank: Vor 70 Jahren: Golda Meirs Chicagoer Rede vom 25. Januar 1948
Golda Meir: Chicagoer Rede vom 25. Januar 1948
Marlene Gallner: Kein Ende des Zionismus. Der 70. Unabhängigkeitstag Israels und die Post-Zionisten
Maximilian Glanz: Revolte gegen die moderne Welt. Über Julius Evola, die Neue Rechte und den Islam
Wolfgang Treitler: Erinnerung an Aharon Appelfeld
Gerhard Scheit: Wechselseitiger Gebrauch der politischen Eigenschaften. Die Ehe zwischen Linksintellektuellen und Rechtspopulisten zum Zweck des Appeasements
Ljiljana Radonić: Bosniaken als neue Juden? Zweierlei Aufarbeitung der Vergangenheit in Sarajevo und Srebrenica
Markus Bitterolf: Mit Martin Walser gegen den jüdischen Staat. Wie Moshe Zuckermann das Bündnis denkt
H. v. Z.: Aufgeregtes Gezwitscher von den Nistplätzen der White Supremacists
Christoph Hesse: Das Telefonbuch von Manhattan. Einträge Leo Löwenthals zur Kritik der Postmoderne
Leo Löwenthal: Shakespeare veraltet? Unveröffentlichter Vortrag für den Frankfurter Bund für Volksbildung
Peter-Erwin Jansen: Die Weltrevolution steht um die Ecke. Leo Löwenthal in Heidelberg
Leo Löwenthal: Ein unveröffentlichter Brief an die Eltern aus dem Jahr 1920
Peter-Erwin Jansen: Lehrjahre – Wanderjahre – Arbeitsjahre. Leo Löwenthals vielfältige Aktivitäten im wissenschaftlichen Feld in der zweiten Hälfte der 1920er Jahre
Gerhard Scheit: Philosophie der Selbstentwaffnung: Von Emmanuel Lévinas zu Giorgio Agamben (Theorie des Zionismus, Kritik des Antizionismus 2. Teil)
Ingo Elbe: Die postmoderne Querfront. Anmerkungen zu Chantal Mouffes Theorie des Politischen
Alex Gruber: Ontologie des Mangels in Ermangelung des 'absoluten Feinds'. Zur Renaissance des Begriffs des Politischen
Klaus Heinrich: Psychoanalyse Sigmund Freuds und das Problem des konkreten gesellschaftlichen Allgemeinen
Rolf Bossart: Harmonieglaube statt Dialektik der Aufklärung. Kritik des Reinheitsdenkens bei Klaus Heinrich
Christian Thalmaier: "Muss ein lieber Vater wohnen". Zur politischen Ökonomie der Vaterschaft (Teil II)
Gerhard Scheit: Die Selbsterhaltung als springender Punkt. Zur Dialektik der Aufklärung
Manfred Dahlmann: Gedankensplitter
Related links to "sans phrase, Heft 12"
Read, write and discuss reviews...
more
Customer evaluation for "sans phrase, Heft 12"
Write an evaluation
Evaluations will be activated after verification.