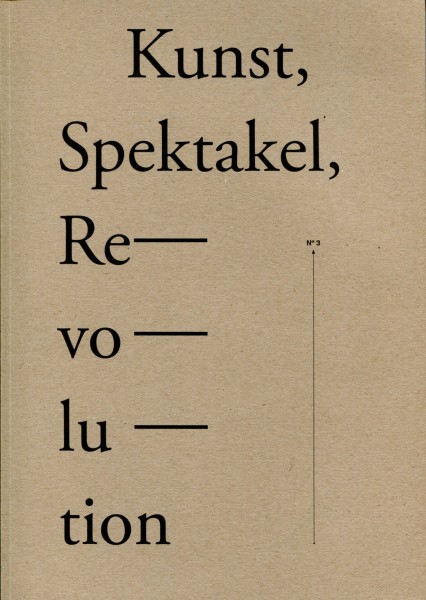 This product is currently not available.
Seit März 2013 liegt nun die dritte Ausgabe der Broschüre " Kunst, Spektakel, Revolution " vor....
more
Product information "Kunst - Spektakel - Revolution #3"
Seit März 2013 liegt nun die dritte Ausgabe der Broschüre "Kunst, Spektakel, Revolution" vor. Sie ist im Katzenbergverlag erschienen (ISBN 978-3-942222-02-0), dokumentiert den dritten Teil der Veranstaltungsreihe (Problem: Vernunft und Sinnlichkeit) und enthält darüber hinaus Texte zum Verhältnis von Ästhetik und Gesellschaftskritik und dem Problem der Revolution:
Lukas Holfeld: »Es rette uns die Kunst!?« – Anstatt einer Einleitung: Anmerkungen zu einer Kritik der Ästhetik
Christopher Zwi: Auge und Bild im Spiegel und Spektakel – Zu einer materialistisch historischen Imageologie
Martin Dornis: Das hörende Subjekt und sein Tod – Überlegungen zur Dialektik der Aufklärung in der Musik bei Ludwig van Beethoven und Gustav Mahler
Nikolai E. Bersarin: Über die Geschmacksbildung in der Kunst – Zum Verhältnis von Schmecken und Geschmack
Micha Böhme: Von Lust & Gefahr, sich im Anderen zu verlieren – Ein Essay übers Riechen als den wohl geächtetsten aller Sinne
Karina Korecky: It Ain't Me Babe – Etwas zu Liebe und Geschlechterdifferenz anlässlich der Polyamorie-Debatte
Mira Blau: Ich und du – Der Pfad zwischen Erkenntnis und Wahn
Hannes Bode: Negation und Utopie – Überlegungen zu Aufklärung, Menschenrechten und den Bedingungen emanzipatorischer Theorie und Praxis
Jakob Hayner: Hermann Grab – Ein vergessener Literat
Jost Ulshöfer: Zwischen Schlössern, Passagen und dem Palaise Royal– Zur utopischen Architektur Charles Fouriers
AG Gesellschaftskritik: Proletarität und Revolutionstheorie – Zu den Konstitutionsbedingungen und der Beschaffenheit revolutionärer Subjektivität
Wolfgang Bock: László Moholy-Nagy und die Rettung der Objekte durch Licht
Roger Behrens: Nach Großstadt und Geistesleben – Thesen, Fragmente und Material zur Kritik der Sinnlichkeit im Urbanen
Related links to "Kunst - Spektakel - Revolution #3"
Read, write and discuss reviews...
more
Customer evaluation for "Kunst - Spektakel - Revolution #3"
Write an evaluation
Evaluations will be activated after verification.