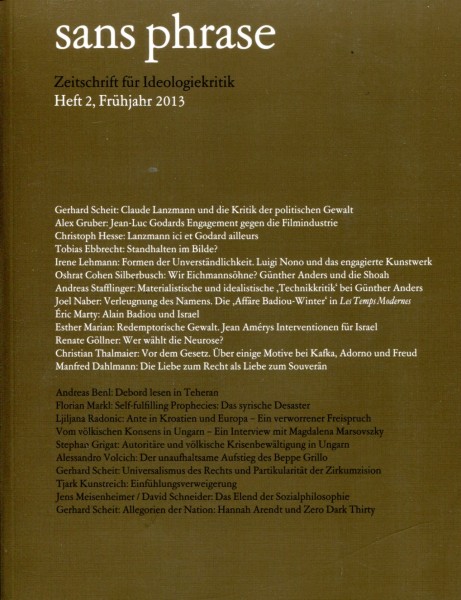 Order number:

sansphrase2
sans phrase Redaktion Heft 2 Juni 2013, 279 Seiten, 12€, ISSN: 2194-8860...
more
Product information "sans phrase, Heft 2"
sans phrase Redaktion
Heft 2
Juni 2013, 279 Seiten, 12€, ISSN: 2194-8860
Gerhard Scheit: "... ihr habt den Tod gehasst". Claude Lanzmann und die Kritik der politischen Gewalt – mit einem Exkurs über Jean-Luc Godard
Alex Gruber: "Palästina strebt nach Unabhängigkeit wie das Kino ... ". Jean-Luc Godards Engagement gegen die Filmindustrie
Christoph Hesse: Lanzmann ici et Godard ailleurs
Tobias Ebbrecht: Standhalten im Bilde? Die 'Kunst der Kunstlosigkeit' und der filmische Umgang mit den Bildern des Grauens
Irene Lehmann: Formen der Unverständlichkeit. Luigi Nono und das engagierte Kunstwerk
Oshrat Cohen Silberbusch: Wir Eichmannsöhne? Günther Anders und die Shoah
Andreas Stafflinger: Materialistische und idealistische 'Technikkritik' bei Günther Anders
Joel Naber: Verleugnung des Namens. Die 'Affäre Badiou-Winter' in Les Temps Modernes
Éric Marty: Alain Badiou und Israel
Esther Marian: Redemptorische Gewalt. Jean Amérys Interventionen für Israel
Renate Göllner: Wer wählt die Neurose? Wiederkehr der Psychoanalyse in der Existenzphilosophie Jean-Paul Sartres
Christian Thalmaier: Vor dem Gesetz. Über einige Motive bei Kafka, Adorno und Freud
Manfred Dahlmann: Die Liebe zum Recht als Liebe zum Souverän. Ein 'Lob' auf den Positivismus
---
Andreas Benl: Debord lesen in Teheran. Die Situationistische Internationale, der Antisemitismus und die orientalische Ideologie
Florian Markl: Self-fulfilling Prophecies: Das syrische Desaster
Ljiljana Radonic: Ante in Kroatien und Europa – Ein verworrener Freispruch
Interview mit Magdalena Marsovszky: Vom völkischen Konsens in Ungarn
Stephan Grigat: Magyarische Mobilisierung. Autoritäre und völkische Krisenbewältigung in Ungarn
Alessandro Volcich: Die Palästinenser Italiens oder: Der unaufhaltsame Aufstieg des Beppe Grillo
Gerhard Scheit: Universalismus des Rechts und Partikularität der Zirkumzision. Traktat über die Religionsfreiheit
Tjark Kunstreich: Einfühlungsverweigerung
Jens Meisenheimer/David Schneider: Das Elend der Sozialphilosophie. Axel Honneths Kampf um Anerkennung
Gerhard Scheit: Allegorien der Nation: Hannah Arendt und Zero Dark Thirty
Related links to "sans phrase, Heft 2"
Read, write and discuss reviews...
more
Customer evaluation for "sans phrase, Heft 2"
Write an evaluation
Evaluations will be activated after verification.