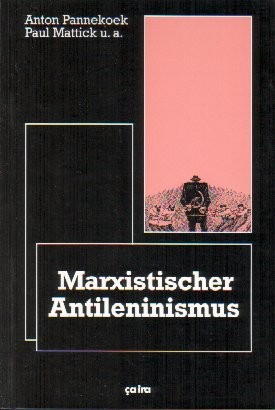 This product is currently not available.
Order number:

ISBN3-924627-22-3
Anton Pannekoek/Paul Mattick Marxistischer Antileninismus 1991, 240 Seiten,...
more
Product information "Anton Pannekoek, Paul Mattick u.a.: Marxistischer Antileninismus"
Anton Pannekoek/Paul Mattick
Marxistischer Antileninismus
1991, 240 Seiten, 12,50 €, ISBN: 3-924627-22-3.
2., durchgesehene Auflage 2008
Der Zusammenbruch der staatskapitalistischen Gesellschaften Osteuropas enthüllt zugleich den Geburtsfehler der westeuropäischen Linken, ihre Abhängigkeit vom sozialistischen Schein der Staatsvergesellschaftung, die nun, da es ihr scheinbar wie Schuppen von den Augen fällt, der sozialen Revolution den Rücken kehrt und linksliberal verendet. Diese Neuveröffentlichung rätekommunistischer Schriften ruft in Erinnerung, daß es dazu immer eine Alternative gab.
Inhalt:
Diethard Behrens, Eine kommunistische Linke jenseits des Leninismus? (1987)
Gruppe Internationaler Kommunisten Hollands, Thesen über den Bolschewismus (1934)

Die Bedeutung des Bolschewismus
Die Voraussetzungen der russischen Revolution
Die Klassengruppierungen der russischen Revolution
Das Wesen des Bolschewismus
Richtpunkte der bolschewistischen Politik
Der Bolschewismus und die Arbeiterklasse
Die bolschewistische Revolution
Der Internationalismus der Bolschewisten und die nationale Frage
Der verstaatlichte Bolschewismus und die Komintern
Der Bolschewismus und die internationale Arbeiterklasse

Paul Mattick, Über Anton Pannekoek (1962)
Anton Pannekoek, Lenin als Philosoph (1938)

Einleitung
Der Marxismus
Der bürgerliche Materialismus
Dietzgen
Mach
Avenarius
Lenin
Die russische Revolution
Die proletarische Revolution

Karl Korsch, Zur Philosophie Lenins (1938)
Albert Flachmann, Erinnerungen an Anton Pannekoek
Paul Mattick, Der Leninismus und die Arbeiterbewegung des Westens (1970)
Diethard Behrens u. Kornelia Haffner, Auf der Suche nach dem "wahren Sozialismus" (1990)
Related links to "Anton Pannekoek, Paul Mattick u.a.: Marxistischer Antileninismus"
Read, write and discuss reviews...
more
Customer evaluation for "Anton Pannekoek, Paul Mattick u.a.: Marxistischer Antileninismus"
Write an evaluation
Evaluations will be activated after verification.