Praxis 48
Cortex
Vacuum Theory
12″ – 2011
A momentous, heavy, noisy and radical release by former 16-17 members Alex Buess and Daniel Buess.
CORTEX appeared in 1998 out of Alex and Daniel Buess musical collaborations.
They were both musicians of the legendary free-noise-core combo 16-17 and
also worked together since many years realizing Alex percussion-compositions. After the 16-17 Mechanophobia-Tour in 1998 where also Daniel played drums, Buess&Buess started to work on CORTEX, a melting point and mutual fruitful influence of physical/human-and virtual/machine Energy. A hormonal control center. Organic and magnetic skins, air and metal. Musical intensity, pulsating, floating, polystructural multilayers and their orchestral sounds combine to a soundtrack with a powerful mix of
Bass, harsh Sax-attacs and intense drum-beats, a wall of sound with extreme frequencies and heavy beats.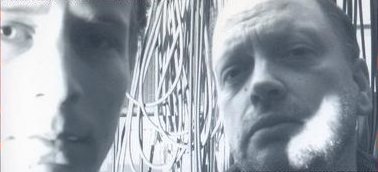 The sound-sources which were used for the creation of Vacuum Theory were taken mainly from our early live-performances. Machinic Phylum as a machinic language, roots of the machines. The non existing Vacuum Theory refers to the physical law of vacuum, to an airless void and to the high explosive energy of usu as an oppositional power to the vacuum. Cortex appeared live in several different instrumental forms. As an electronic based, soundystem-like duo, as well as a band with live played instruments,
sometimes also with guest-musicians. The present tracks come from the soundsystem-era when Cortex-performances mostly had a conceptual basis, occasionally pre-produced soundtracks were used to get mixed live as some kind of a mobile studio.