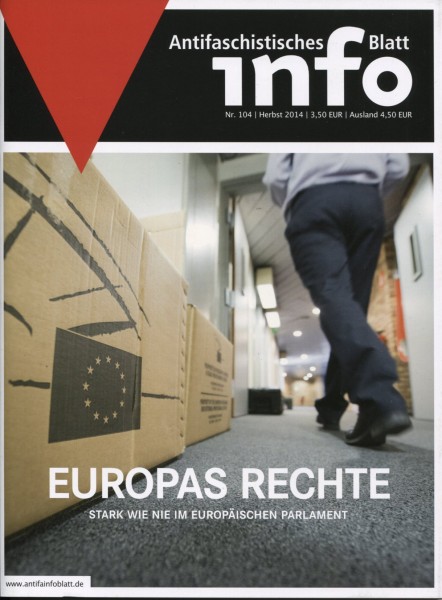 NS-Szene Im Zentrum der Aktion "Konfetti" NS-Szene...
more
Product information "Antifaschistisches Info Blatt Nr. 104"
NS-Szene
Landser heißt jetzt Weltkrieg
NS-Szene
Auf Staatskosten
NS-Szene
Europa in Theorie und Praxis
NS-Szene
Europa auf dem Weg nach rechts
NS-Szene
AfD etabliert sich, NPD am Boden
Braunzone
Deutsche Burschenschaft light
Braunzone
PRO NRW Funktionär klagt gegen blogsport
Braunzone
"Zwischentag 2014"
Antifa
Antifaschistische Geschichte sichtbar machen!
International
"Schließlich waren es zu viele"
International
Das Objekt 21
International
Der rechte Traum von einem deutsch-russischen Bündnis
International
In der rassistischen Realität angekommen
International
Alte Konflikte, neue Probleme
International
Was wollen Nationalisten im Europaparlament?
Gesellschaft
Bunt und entspannt
Geschichte
"Ich bin objektiv, aber nicht neutral"
Geschichte
Überwindung des Schweigens
Geschichte
Waldemar Pabst – "Netzwerker im Hintergrund"
Rezensionen
Zum Erfolg verdammt
Rezensionen
Geheimsache NSU
Repression
Erste Einstellungen im "Antifa-Sportgruppe"-Verfahren in Dresden
Rassismus
Abschiebungshaft reloaded
Rassismus
In Riesenschritten: Noch mehr Entrechtung von Asylsuchenden
ANTIFASCHISTISCHES INFOBLATT
Related links to "Antifaschistisches Info Blatt Nr. 104"
Read, write and discuss reviews...
more
Customer evaluation for "Antifaschistisches Info Blatt Nr. 104"
Write an evaluation
Evaluations will be activated after verification.