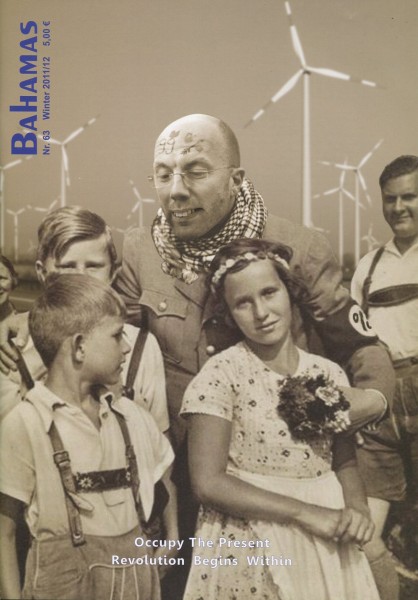 Occupy The Present Revolution Begins Within Magnus Klaue erläutert, warum Der...
more
Product information "Bahamas 63 - Occupy The Present - Revolution Begins Within"
Occupy The Present

Revolution Begins Within

Magnus Klaue erläutert, warum Der peinlichste Berliner jederzeit sympathischer ist als hauptstädtische Spaßkultur.

Londonistan Is Burning. Über den kommunitaristischen Verfall der britischen Gesellschaft berichtet Uli Krug.

Vorsprung durch Technik, so könnte der zentrale Werbeslogan der Piratenpartei lauten. Sören Pünjer über die neueste deutsche Avantgarde.

Das Viertel bleibt dreckig! – so tönt es, wenn Kiezmilizen zur Tat schreiten. Jan-Georg Gerber erläutert, warum das Leipziger Conne Island gegen militante Milieuschützer Solidarität verdient.

Die ägyptische Revolution kennt nur einen zentralen Programmpunkt: Allahu Akbar. Warum, erläutert Thomas Becker.

Einst ruhmreich und tatkräftig, nun verschlossen und erstarrt. Über die freiwillige Eindeutschung eines Islamkritikers und ursächliche Frühlingsgefühle, Justus Wertmüller.

Schmutzig, arm und ungebildet, so ersehnt sich der Verleger des Kommenden Aufstandes den Revolutionär von heute. Sonja Petersen über französische Verhältnisse.

Der Staat fürs Leben oder Sterben für den Staat? Diese Frage beantwortet Thomas Maul mit dem Verweis auf die Vorstellungen von Souveränität bei Benjamin Netanjahu und Helmut Schmidt.

Burkaschlampen gegen Benedikt. Über das kollektive Abreagieren anlässlich des Papstbesuches in Deutschland klärt Richard Kempkens.

50 Jahre Mauerideologien nimmt Karl Nele zum Anlass, den Westalliierten "einfach mal Danke" zu sagen.

Kunst, Recycling, Entsorgung. Das ist der Dreiklang für die Zeit des Überganges vom Revolutionär zum Kulturfunktionär. Jan-Georg Gerber über die nimmer endenden Versuche der Adorno-Austreibung.

Dem Weltlauf widerstehen, statt Alternativen zu pointieren, das wäre den Freunden der engagierten Kunst zu entgegen. Justus Wertmüller erklärt, warum das Engagement auf dem Einverständnis beruht.

Sogenannte Wirtschaftsexperten können gar nicht anders als die Krise zu naturalisieren und von Schicksal zu faseln. Jörg Huber über das Kapital fatal.

Die Gewalt des Souveräns beruht auf der Echtzeit des Kapitals. Joachim Bruhn erklärt, warum dieses basale Verhältnis nur ergründen kann, wer weiß, warum Marx so gern den Satz "Time is Money" zitierte
Related links to "Bahamas 63 - Occupy The Present - Revolution Begins Within"
Read, write and discuss reviews...
more
Customer evaluation for "Bahamas 63 - Occupy The Present - Revolution Begins Within"
Write an evaluation
Evaluations will be activated after verification.