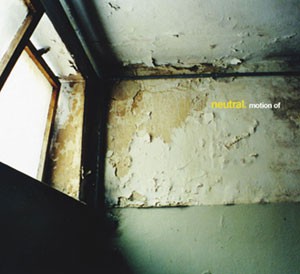 €4.50 *
€10.00 *
(55% Saved)
Prices incl. VAT plus shipping costs
Ready to ship today,
Delivery time appr. 1-3 workdays
Neutral: Motion of since her entry into this crazy world in 1974, neutral's nicole elmer has...
more
Product information "Neutral: Motion of"
Neutral: Motion of
since her entry into this crazy world in 1974, neutral's nicole elmer has seen the bulk of human existence in an intense light. anyone familiar with her well-received 1999 debut as neutral, font translation errors, knows this straightaway-as will those who subsequently came across her compilation appearances for component and n5md, or her successful 7-inch on mike "µ-ziq" paradinas' planet-µ imprint as well as the driving backwards ep for mad monkey/hymen in 2001. but as her new neutral album, motion of, suggests, that intensity is more than just ferocious post-industrial angst and gale-force lyrics. there's a subtlety to nicole's creative vision that is just now manifesting itself in her music. "this record became more about simplicity. i don't think in the end that it sounds very simple, but compared to font translation errors, it is," says nicole of her new album, which in comparison to her releases over the last three years takes on a strikingly visual, almost cinematic quality throughout its ten tracks. and rightly so. nicole has returned to painting as a means of rendering her vision, and like her painting, motion of is bold, fleshy abstract lines of vibrant color bleeding into sound shadows, where the dark demons on malevolent creativity thrive in the at-times stark contrast. where her media includes everything from canvas to cardboard box tops to massive spans of plywood, nicole's stylistic range on motion of veers to the suppleness of ambient piano and those classic lush synths on "…" and "desire of," as well as the scorn-like industrial down tempo grit groove of "180." likewise, nicole's experiences traveling through europe have morphed her views on creative methods as well-streamlined the process by removing more of the software artifice. it's not hard to see how her increased use of traditional instruments is tied, however tenuously, to her having spent a summer in the czech republic-the quaint guitar riffs and accented bass strumming on the moody "4 minutes" as harkening to her enjoyment of local street performers in prague and other places. that like her picturesque walk along the cinque terre this last summer, the twangy "bird in the air" balances between the lush, organic wildlife of guitar, flute, and wispy vocals...and the craggy, angular electro cliffs of rigid downtempo loops and gentle swells of dsp noise crashing far below. "i was challenged by the idea of including vocals, something that had always daunted me quite a bit in the past," she notes. "i was enamored of trying it out because contemporary electronic music composers tended to shy away from using their own voices in their works. but a lot of my idols from the 80's and early 90's had used their voices or were part of a band and had a vocalist, as opposed to using a menagerie of guest vocalists. putting my voice into the mix was a real different but in some ways, nostalgic thing to do." hymen considers motion of to be a very important step in nicole's evolution, and thus established a collaboration with texas-based mad monkey records in an effort to make nicole's intense amalgam of industrial passion, classic electronic sounds, and anti-folk emotional rawness more readily accessible to her growing worldwide fan base. nicole's creative vision has reached a new plateau on motion of.
Related links to "Neutral: Motion of"
Read, write and discuss reviews...
more
Customer evaluation for "Neutral: Motion of"
Write an evaluation
Evaluations will be activated after verification.