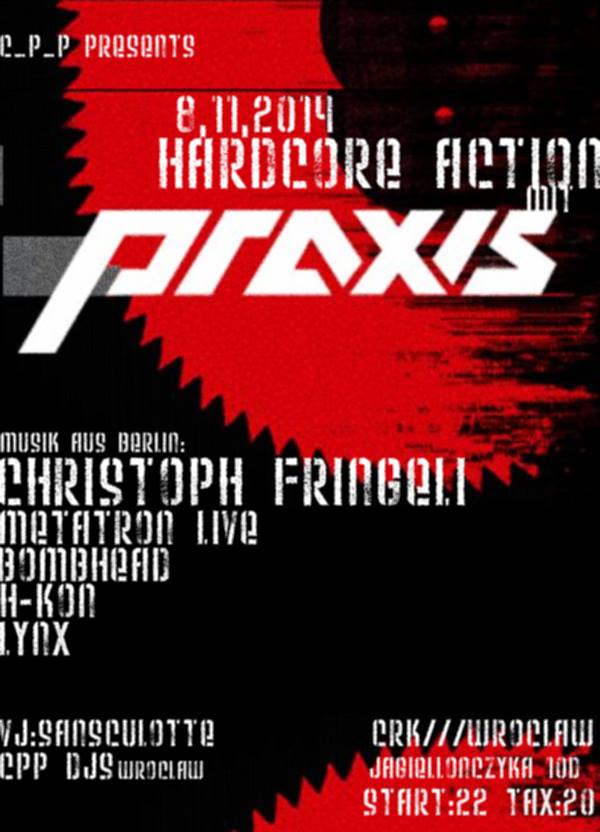 C_P_P prezentuje // C_P_P presents (eng below)
HARDCORE ACTION mit PRAXIS // 8.11.2k14@CRK/WRO/PL
Kolejna odsłona naszego party, w nowym sezonie imprezowym. Tym razem zagrają dla Was producenci z legendarnej wytwórni Praxis z Berlina. Ufundowana w 92 roku, konsekwentnie promuje eksperymentalną i brudną elektronikę, jaką kochamy. Do zobaczenia na CRK.
Na razie info po angielsku, pod zagramanicznym opisem imprezy.
djs:
Bombhead
Christoph Fringeli
Lynx
Metatron live
H-kon
vj:
Sansculotte
We invite You to the next edition of our party. This time we invited producents from legendary Praxis records from Berlin. Founded in 92, this label consistently promotes experimental, harsh electronic music that we love so much. See You on CRK. Stay tuned, more info soon!!!
Bombhead
Broken words! empty promises! totalverweigerung!
Christoph Fringeli
Fresh industrial breaks and experimental hardcore from the founder of Praxis aka Base Force One.
H-Kon
Long time Clash of the Titans and Praxis resident DJ with the most rocking breakcore selection.
Lynx
Noisy soundscapes doused with hallucination hot sauce and rancid rhythms.
Metatron
Audiovisual live set of brooding soundscapes and harsh beats colliding with incessant visuals feat. CF, Lynx and Sansculotte.
VJ: Sansculotte
confused images for the confused, by sick lazy bastards, berlin based video animation umeboshi brainfuck naked virus without underpants.