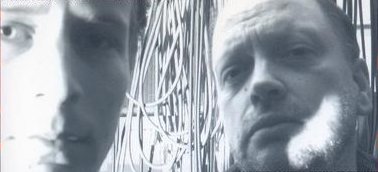 Bio:
CORTEX appeared in 1998 out of Alex and Daniel Buess' musical colaborations. They were both musicians of the legendary free-noise-core combo 16-17 and also they have been working together for many years realizing Alex' percussion-compositions. After the 16-17 Mechanophobia-Tour in 1998 where Daniel played drums, Buess & Buess started to work on CORTEX, a melting point and mutual fruitful influence of physical/human-and virtual/machine Energy from where the energy of CORTEX grows. A hormonal control-center. Organical and magnetic skins, air and metal.
The elements of the alchemists are the elements of CORTEX. Musical intensity, pulsating, floating, polystructural multilayers and their orchestral sounds combine to a soundtrack for an imaginary film.
Since 1998, CORTEX has played several shows in different environments. Concerts at Festivals like Taktlos Bern and Lucerne Festival and Collaborations with Iancu Dumitrescu and his Hyperion Ensemble in Bucarest and with the Ensemble Phoenix Basel were part of CORTEX' activities.
live:
CORTEX-shows happened in very different venues like the George Enescu concert hall in Bucarest a church in Lucerne or a carworkshop in Basel. For the latest live-shows, CORTEX included Bass-player Daniel Sailer (Krakatau, Plutonium Transport) and Sax-player Antoine Chessex (Monno) to create a powerful mix of Bass, harsh Sax-attacs, power-electronics and intense drum-beats, an overwhelming wall of sound with extremest frequencies.
Members:
Alex Buess – Electronics, Reeds
Daniel Buess – Electronics,Percussion
GUESTS (live shows):
Daniel Sailer – Bass, Electronics
Antoine Chessex – Tenor sax, Electronics
Damian Bennett – Bass
X-TRAK-T – Electronics