No results were found for the filter!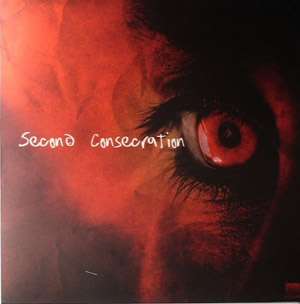 DBN: Second Consecration
A1 - DBN - Face Of Change 1:46 A2 - DBN - Triky Beat 4:37 A3 - Fracture 4 - Lost Osiris (DBN VIP) 5: Producer, Written-By - Stephen Cairns, Remix - DBN , Dick Bruin B1 - Chaotic Circle - Outside It Was Raining 5:38 B2 - DBN - The Magical...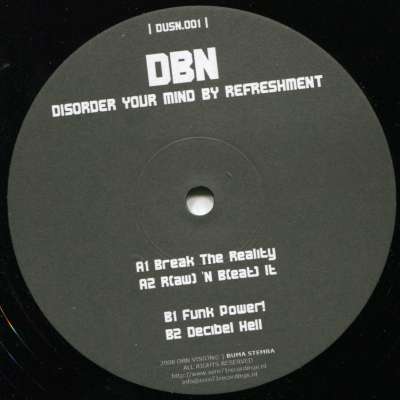 DBN: Disorder Your Mind By Refreshment
Hardcore meets hard D'n'B and breakcore on this Zero71-related 4-tracker. A1 - Break The Reality 4:21 A2 - R(aw) 'N B(eat It) 5:07 B1 - Funk Power! 5:45 B2 - Decibel Hell 4:07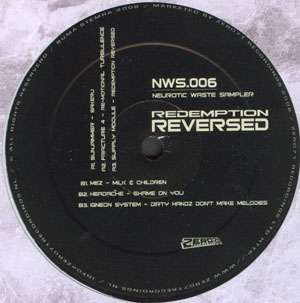 V/A: Redemption Reversed
The latest in the Neurotic Waste Sampler series from Zero71 features Sunjammer, Fracture 4, Supply Module, Mez, Headache, Igneon System mixing breakcore and hardcore in a typical Zero71 fashion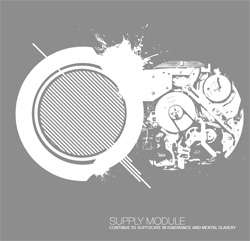 Supply Module: Continue to Suffocate in...
Full length album by Supply Module and Illusionconsumer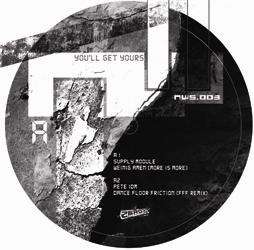 V/A: Neurotic Waste Sampler 003
The third installment of the Neurotic Waste Samplers features: Supply Module, Pete IDM (remixed by FFF), Headache, Sunjammer, Ram. NWS is a sublabel of Zero71 for compilation 12"s.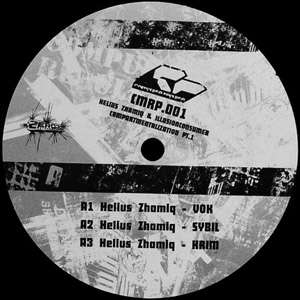 Helius Zhamiq & Illusionconsumer:...
Sub-label from Zero71 called Compulse-Repulse with more experimental tracks from Helius Zhamiq and Illusionconsumer, very interesting new release! Helius Zhamiq: A1: VOK A2: SYBIL A3: KRIM Illsuionconsumer: B1: CMRP B2:...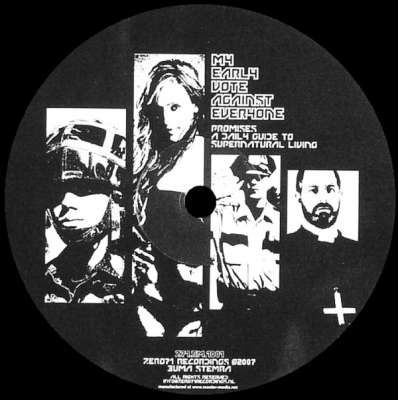 Supply Module: My Early Vote Against Everyone
Breakcore 10" by Supply Module on red vinyl! A - My Early Vote Against Everyone (6:59) B - Promises, A Daily Guide To Supernatural Living (5:02)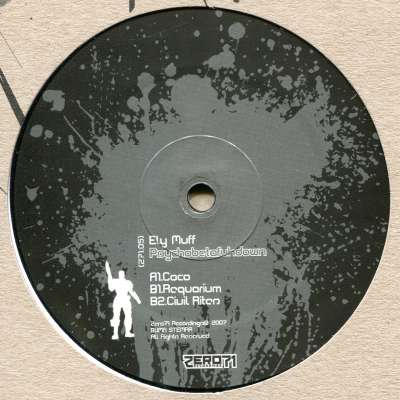 Ely Muff: Psychobetafukdown
last copy with some minor wear from being listened to in the store

Supply Module: A Comprehensive Collection of...
used copy in excellent condition A1: Introducing An Intuitive Arctic Exploration A2: Disrespect Any Cop B1: A Comprehensive Collection Of Several Wars B2: Insomnia
Supply Module: Issue Of Alliance
Half breakcore, half hardcore from the new label from Holland! A1 - Issue Of Alliance (5:02) A2 - Seeking Job Opportunities In The Casino Industry (5:02) B1 - Purchase The Broken (4:35) B2 - Mutilated To Perfection (6:14 - )