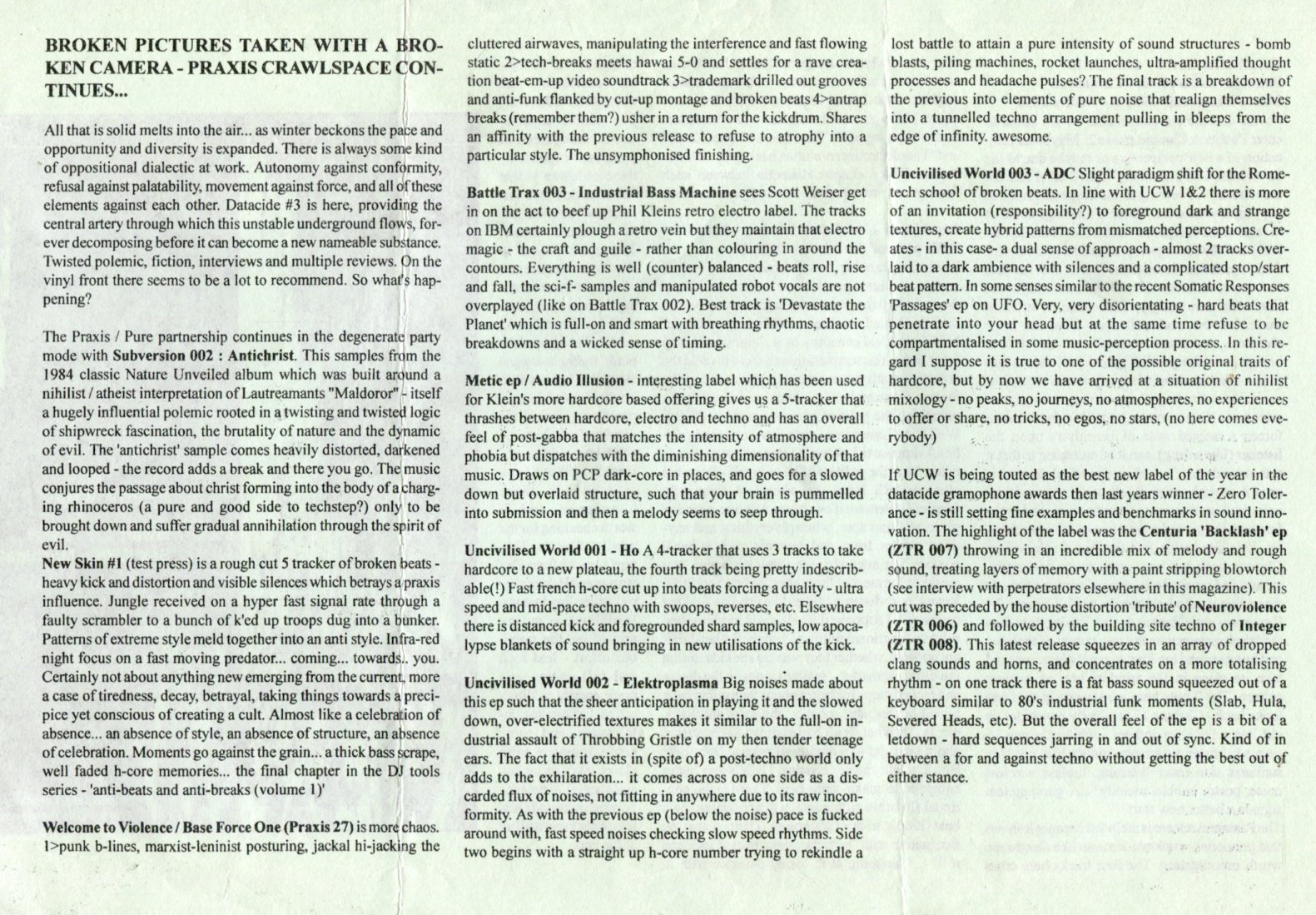 BROKEN PICTURES TAKEN WITH A BROKEN CAMERA – PRAXIS CRAWLSPACE CONTINUES…
All that is solid melts into the air… as winter beckons the pace and opportunity and diversity is expanded. There is always some kind of oppositional dialectic at work. Autonomy against conformity, refusal against palatability, movement against force, and all of these elements against each other. Datacide #3 is here, providing the central artery through which this unstable underground flows, forever decomposing before it can become a new nameable substance. Twisted polemic, fiction, interviews and multiple reviews. On the vinyl front there seems to be a lot to recommend. So what's happening?
The Praxis / Pure partnership continues in the degenerate party mode with Subversion 002: Antichrist. This samples from the 1984 classic Nature Unveiled album which was built around a nihilist / atheist interpretation of Lautreamont's "Maldoror" – itself a hugely influential polemic rooted in a twisting and twisted logic of shipwreck fascination, the brutality of nature and the dynamic of evil. The 'antichrist' sample comes heavily distorted, darkened and looped – the record adds a break and there you go. The music conjures the passage about christ forming into the body of a charging rhinoceros (a pure and good side to techstep?) only to be brought down and suffer gradual annihilation through the spirit of evil.
New Skin #1 (test press) is a rough cut 5 tracker of broken beats -heavy kick and distortion and visible silences which betrays a praxis influence. Jungle received on a hyper fast signal rate through a faulty scrambler to a bunch of k'ed up troops dug into a bunker. Patterns of extreme style meld together into an anti style. Infra-red night focus on a fast moving predator… coming… towards.. you. Certainly not about anything new emerging from the current, more a case of tiredness, decay, betrayal, taking things towards a precipice yet conscious of creating a cult. Almost like a celebration of absence… an absence of style, an absence of structure, an absence of celebration. Moments go against the grain… a thick bass scrape, well faded h-core memories… the final chapter in the DJ tools series – 'anti-beats and anti-breaks (volume 1)'
Welcome to Violence / Base Force One (Praxis 27) is more chaos. 1>punk b-lines, marxist-leninist posturing, jackal hi-jacking the cluttered airwaves, manipulating the interference and fast flowing static 2>tech-breaks meets hawaii 5-0 and settles for a rave creation beat-em-up video soundtrack 3>trademark drilled out grooves and anti-funk flanked by cut-up montage and broken beats 4>antrap breaks (remember them?) usher in a return for the kickdrum. Shares an affinity with the previous release to refuse to atrophy into a particular style. The unsymphonised finishing.
Battle Trax 003 – Industrial Bass Machine sees Scott Weiser get in on the act to beef up Phil Klein's retro electro label. The tracks on IBM certainly plough a retro vein but they maintain that electro magic – the craft and guile – rather than colouring in around the contours. Everything is well (counter) balanced – beats roll, rise and fall, the sci-fi- samples and manipulated robot vocals are not overplayed (like on Battle Trax 002). Best track is 'Devastate the Planet' which is full-on and smart with breathing rhythms, chaotic breakdowns and a wicked sense of timing.
Metic ep / Audio Illusion – interesting label which has been used for Klein's more hardcore based offering gives us a 5-tracker that thrashes between hardcore, electro and techno and has an overall feel of post-gabba that matches the intensity of atmosphere and phobia but dispatches with the diminishing dimensionality of that music. Draws on PCP dark-core in places, and goes for a slowed down but overlaid structure, such that your brain is pummelled into submission and then a melody seems to seep through.
Uncivilised World 001 – Ho A 4-tracker that uses 3 tracks to take hardcore to a new plateau, the fourth track being pretty indescribable(!) Fast french h-core cut up into beats forcing a duality – ultra speed and mid-pace techno with swoops, reverses, etc. Elsewhere there is distanced kick and foregrounded shard samples, low apocalypse blankets of sound bringing in new utilisations of the kick.
Uncivilised World 002 – Elektroplasma Big noises made about this ep such that the sheer anticipation in playing it and the slowed down, over-electrified textures makes it similar to the full-on industrial assault of Throbbing Gristle on my then tender teenage ears. The fact that it exists in (spite of) a post-techno world only adds to the exhilaration… it comes across on one side as a dis-carded flux of noises, not fitting in anywhere due to its raw inconformity. As with the previous ep (below the noise) pace is fucked around with, fast speed noises checking slow speed rhythms. Side two begins with a straight up h-core number trying to rekindle a lost battle to attain a pure intensity of sound structures – bomb blasts, piling machines, rocket launches, ultra-amplified thought processes and headache pulses? The final track is a breakdown of the previous into elements of pure noise that realign themselves into a tunnelled techno arrangement pulling in bleeps from the edge of infinity. awesome.
Uncivilised World 003 – ADC Slight paradigm shift for the Rome-tech school of broken beats. In line with UCW 1&2 there is more of an invitation (responsibility?) to foreground dark and strange textures, create hybrid patterns from mismatched perceptions. Creates – in this case- a dual sense of approach – almost 2 tracks over-laid to a dark ambience with silences and a complicated stop/start beat pattern. in some senses similar to the recent Somatic Responses 'Passages' ep on UFO. Very, very disorientating – hard beats that penetrate into your head but at the same time refuse to be compartmentalised in some music-perception process. In this regard I suppose it is true to one of the possible original traits of hardcore, but by now we have arrived at a situation of nihilist mixology – no peaks, no journeys, no atmospheres, no experiences to offer or share, no tricks, no egos, no stars, (no here comes everybody)
If UCW is being touted as the best new label of the year in the datacide gramophone awards then last years winner – Zero Tolerance – is still setting fine examples and benchmarks in sound innovation. The highlight of the label was the Centuria 'Backlash' ep (ZTR 007) throwing in an incredible mix of melody and rough sound, treating layers of memory with a paint stripping blowtorch (see interview with perpetrators elsewhere in this magazine). This cut was preceded by the house distortion 'tribute' of Neuroviolence (ZTR 006) and followed by the building site techno of Integer (ZTR 008). This latest release squeezes in an array of dropped clang sounds and horns, and concentrates on a more totalising rhythm – on one track there is a fat bass sound squeezed out of a keyboard similar to 80's industrial funk moments (Slab, Hula, Severed Heads, etc). But the overall feel of the ep is a bit of a letdown – hard sequences jarring in and out of sync. Kind of in between a for and against techno without getting the best out of either stance.
Published as a review sheet by Autotoxicity in late 1997