THIS SPECIAL OFFER HAS EXPIRED – SUBSCRIPTIONS NOW COST EUR 15.00
still a steal for what you get !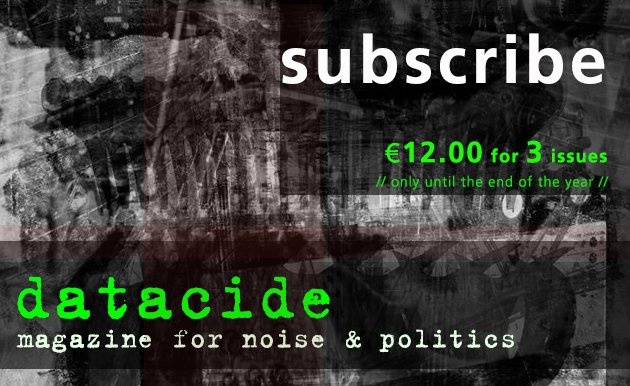 Subscription for 3 print issues of Datacide, the magazine for noise and politics!
The price includes shipping to anywhere in the world.
Choose which issue you want your subscription to begin (let us know in the comments section of your order or paypal payment) and be the first to receive the upcoming issues hot of the press!
You can include back issues in the subscription, currently available are issues 11 (only few copies left!), 12, 13, 14 and the new issue 15! Also available are the 2015 and 2016 editions of the Almanac for Noise & Politics, which can also be included in the subscription.
Datacide is a magazine that covers experimental electronic music, from the avant-garde to hard dance music, their intersections with radical politics and counterculture, in depth political and historical analysis and critique as well as experimental fiction, poetry and visual works. In each issue there is an extensive record review section as well as detailed book reviews, comics and news items.
Datacide is not affiliated or part of any specific political group but engages in a revolutionary critique that rejects the historically discredited strains of leftism associated with Social Democracy and Leninism, drawing on the rich heritage of dissident Marxism, libertarian communism and critical theory instead.
Datacide is a critical voice in the increasingly irrational and rightwards lurching 'post-truth' times of conspiratorial world views and identity politics.
Find more information about the contents of the single issues on the DATACIDE WEBSITE!
[Note that if you don't want to open an account in our online shop, you can also just send EUR 12.00 via paypal to info AT datacide-magazine.com stating which issue you want your subscription to start!]

Subscription rates will change on January 1st, 2017 and will be EUR 15.00 for three issues, starting either with the (then) current or next issue. Available back issues will still be EUR 12.00 for a pack of three (including postage), but this offer will no longer include the current or upcoming issues.