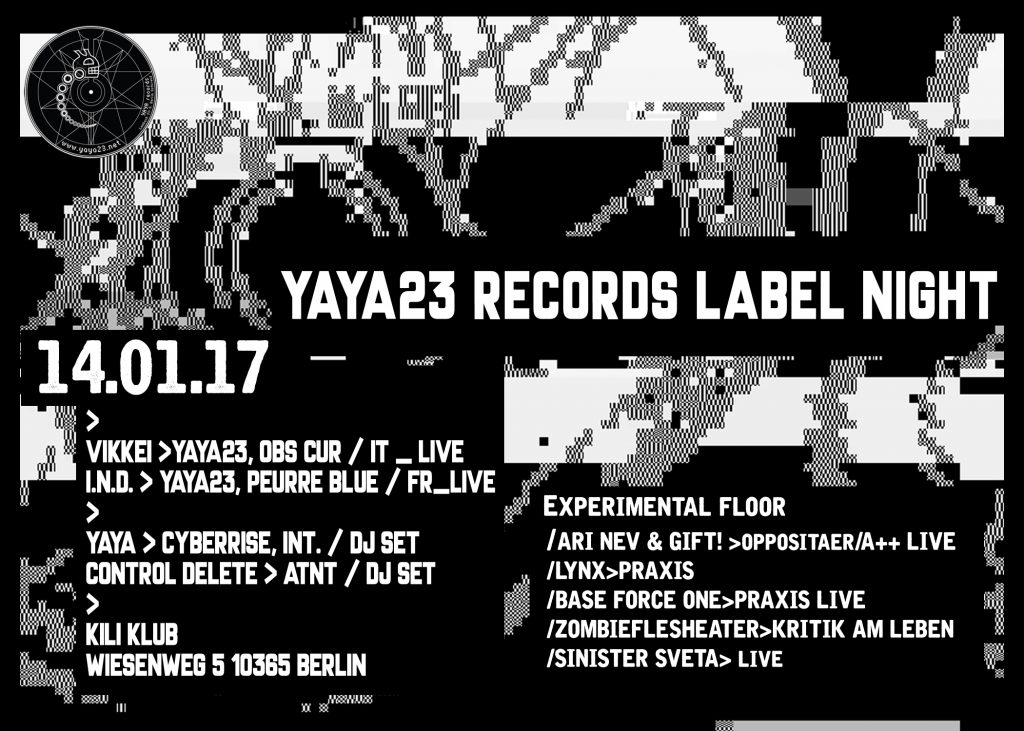 Time is passing fast so we are as always in a time scale delation lab and thatfor only now kickin ´ of the next edition of the label gatherings.
The second, experimental floor will be hosted by our comrades from Praxis records & Oppositaer. Happy to have them onboard once more for this edition of international audio-navigation.
As before we are collaborating with Kulturhaus Kilimanjaro which is supplying the "scene" for this audio-venture.
Due to the perfect AC – power situation @ kili you can expect
an unlimited – full – range – sound – installtion . Ask your friends.
Exclusive pre-sale for tickets @ YaYa / Praxis record shop in
Lenbachstr. 9, 10245 Berlin . Limited capacity !

Line up main Floor :
VIKKEI (obs.cur / yaya23) _ live set
I.N.D. (hangar / yaya23) _ live set
Mr. FLAG (yaya23 records )_ live set
NAUTILUS (A sound)
CONTROL DELETE (ATNT / cyberrise)
YAYA (cyberrise)
Line up experimental Floor:
BASE FORCE ONE (Praxis) _ live
ARI NEV & GIFT! (Oppositaer / A++) _ live
SINISTER SVETA _ live
ZOMBIEFLESHEATER (kritik am leben)
LYNX (Praxis)