Tag Archives:
Psychic Defence
By
metatron
|
Published:
February 9, 2020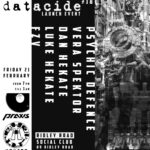 Posted in Event, Events, Uncategorized
|
Also tagged Christoph Fringeli, Dan Hekate, Datacide 18, Electronic Disturbance Zone, Flint Michigan, FZV, Luke Hekate, Neil Transpontine, Poll Tax Rebellion, The Wirebug, Vera Spektor
|
Leave a comment
By
metatron
|
Published:
October 30, 2019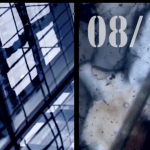 Praxis & Hekate present The Wirebug: Factory Food album launch @ Grow, Hackney Wick London November 8th, 2019 feat. Lynx, Blackmass Plastics, Force Majeur, Nurgle, Psychic Defence, Base Force One, Luke Hekate, Kovert and of course The Wirebug himself! Do not miss! 9pm-4am, only £5 admission! Factory Food is The Wirebug aka Dan Hekate's first […]
By
metatron
|
Published:
September 22, 2018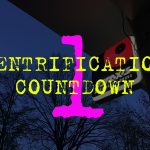 Final Countdown to Gentrification at OstX PART I … Last instore show at ostkreuz…the juggernaut is approaching… The end of an era, the beginning of a new one! Noise, Flash, Break, Bass, Core as well as Drinks, Music, Books! 29.09.2018 FREE EVENT – Strictly only from 7-10pm Praxis Records & Books/Yaya23 Lenbachstrasse 9 10245 Berlin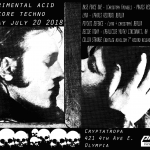 an evening of the hardest hardcore, acid, breakcore, and experimental techno on the west coast. Cryptatropa Bar, Olympia WA Featuring: Base Force One – aka. Christoph Fringeli – Praxis Records Berlin https://www.discogs.com/artist/101948-Christoph-Fringeli Breakcore and industrial hardcore project by CF starting in 1997 with the Welcome to Violence 12" on Praxis with a live set of […]
By
metatron
|
Published:
January 6, 2018
By
metatron
|
Published:
October 29, 2017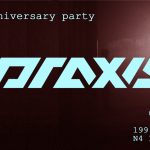 25 years of Praxis Praxis was founded as a label for experimental hard dance music in 1992 in London. From its beginnings in hardcore techno it quickly expanded into the territories of breakcore, soundscapes, noise and bass music, never leaving behind the experimental elements. Artists include Bourbonese Qualk, Metatron, Somatic Responses, Base Force One, Nomex, […]
Posted in Event, Events, Praxis News
|
Also tagged 2017, Bourbonese Qualk, Dan Hekate, Egon Frinz, Kovert, Praxis 25th Anniversary, Simon Crab, Temporary Autonomous Art, Unprofessional
|
1 Response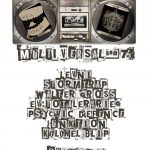 Live: Walter Gross (dirtyhusbandbeater) Psychic Defence (praxisinpaaren) Stormtrap (ghettoblaster) Levni (troubeats) E/V: Totaler Krieg im Spaziergang (beeatszinggravhund) Selekt: Kolonel Blip (tropikalfantazy) Junktion (hardeklektselekt) 26 May 2017 XB_Liebig Liebigstr. 34 starts 9pm FACEBOOK EVENT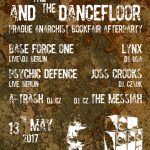 The Barricade and the Dancefloor Base Force One (Live/DJ, Berlin) Psychic Defence (Live, Berlin) Lynx (DJ, USA) Joss Crooks (DJ, Prague) A-Trash (DJ, Prague) The Messiah (DJ, Prague) Prague Anarchist Bookfair presents its official afterparty – the night of radical electronics. From hard electro through acid techno to breakcore, the various backgrounds of the performers […]
The Vinyl Resistance festival in Monza took place March 3-5, and paynomindtous just uploaded video clips of all the performances of the first night, including Methackus, Pablito el Drito, DJ Balli, Lynx, Psychic Defence, Base Force One,  and A034. It was a great night!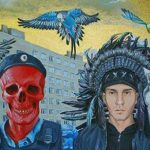 – Dance like noone is watching, encrypt like everyone is! – TransCyberien est une série de soirées club, noise, queer et geek friendly, avec des workshops futuristes, crypto ou militants + de la musique expérimentale et à danser. ◊ 18h → 21h00 Workshops ◊ 21h00 → 07h00 Concerts ◊ Entrée à prix libre, prix conseillé […]
Posted in Event, Events
|
Also tagged Christoph Fringeli, Cocoboy, Encryption, Lynx, Marechal Putain, Nina Kardec, Oko DJ, Paris, Petass, Sainte-Rita, TransCyberien
|
Leave a comment