Praxis 1
Scaremonger EP
1992

Written and produced by Christoph Fringeli
Recorded towards the end of 1991, these were mixed down in Basel by Alex Buess and cut at some point in the summer of 1992. There was a white label pre-release of, if my memory serves me, 300 copies. It seems ironic that a completely unknown label could press 300 copies on white label from a even more obscure artist and distribute them, and then press 700 (as was the case with this release) of the "official release" and get rid of them quite quickly, and 20 years later, the same label has to struggle to shift 300 copies of a new release. Different times.
The Scaremonger EP was written strongly under the influence of the new tekno scene that was exploding all around at the time. A kind of sonic geological shift was happening, and records from producers like Underground Resistance, Mescalinum United or The Hypnotist definitely influenced this, but at the same time it wasn't made to emulate their work, but to transgress it…
The original label info said: 'Hard rhythmic electronics with layers of noises and eclectic sampling will please the headstrong and outrage the fearsome. 4 tracks: "soon we all will have special names", "is there someone inside you", "random" & "adios motherfucker".'
'Ferocious stomping circuit abuse with squelchy electronic nightmares building in berserk layers' (Kris Needs in Echoes, where the Scaremonger EP was also number 1 in the Techno charts!)
'…four slabs of mountainous sounds reaching new peaks in sonic collision. Masses of twisted samples colliding with pummeling repetitive beats, producing an instantly impressive noise and a short sharp shock to the thinking listeners cerebral core. Hardcore in the house, in the pace, in your area – there's no escape from the devastating well rounded first release on the newly formed Praxis label. A winner.' (Chris B. in The Empty Quarter)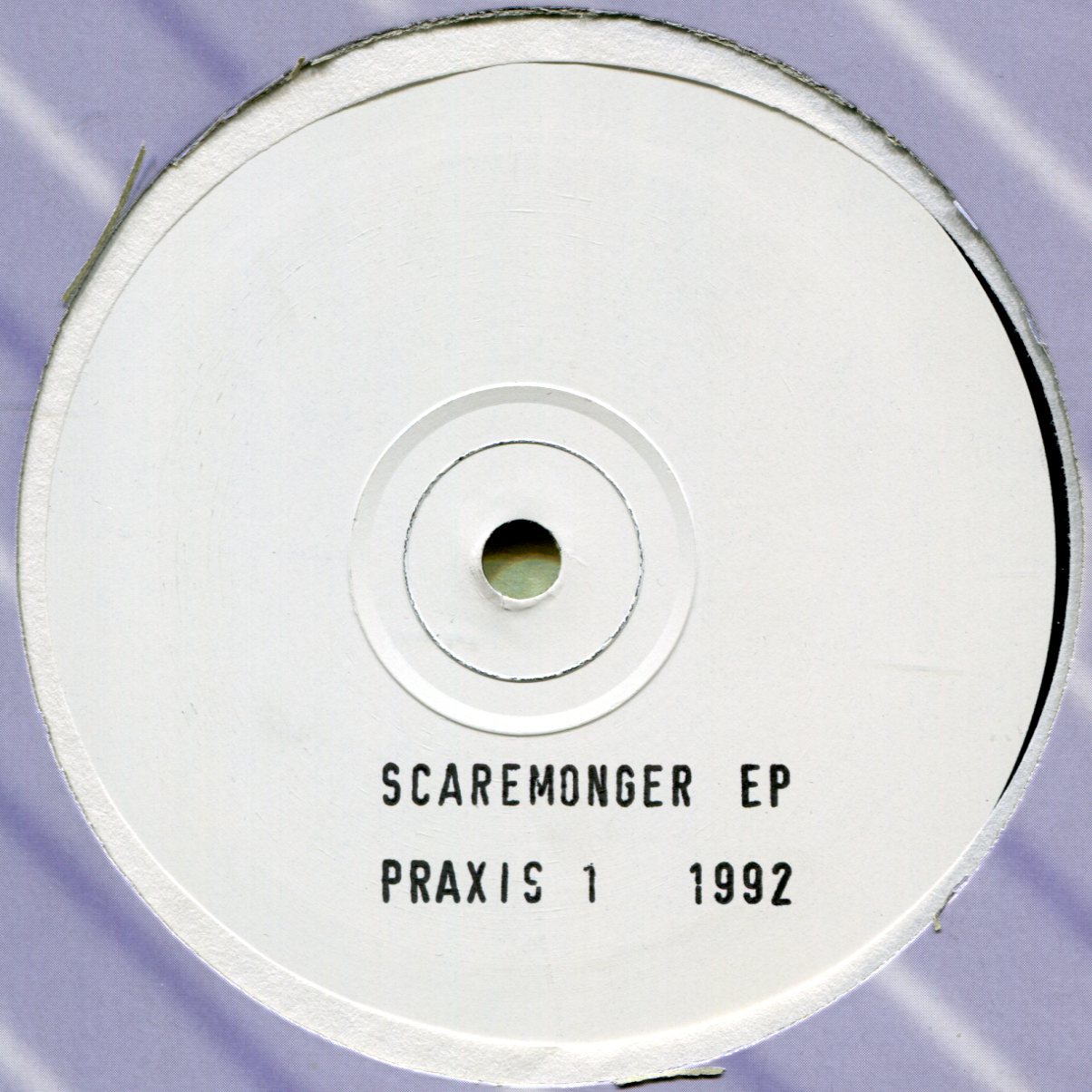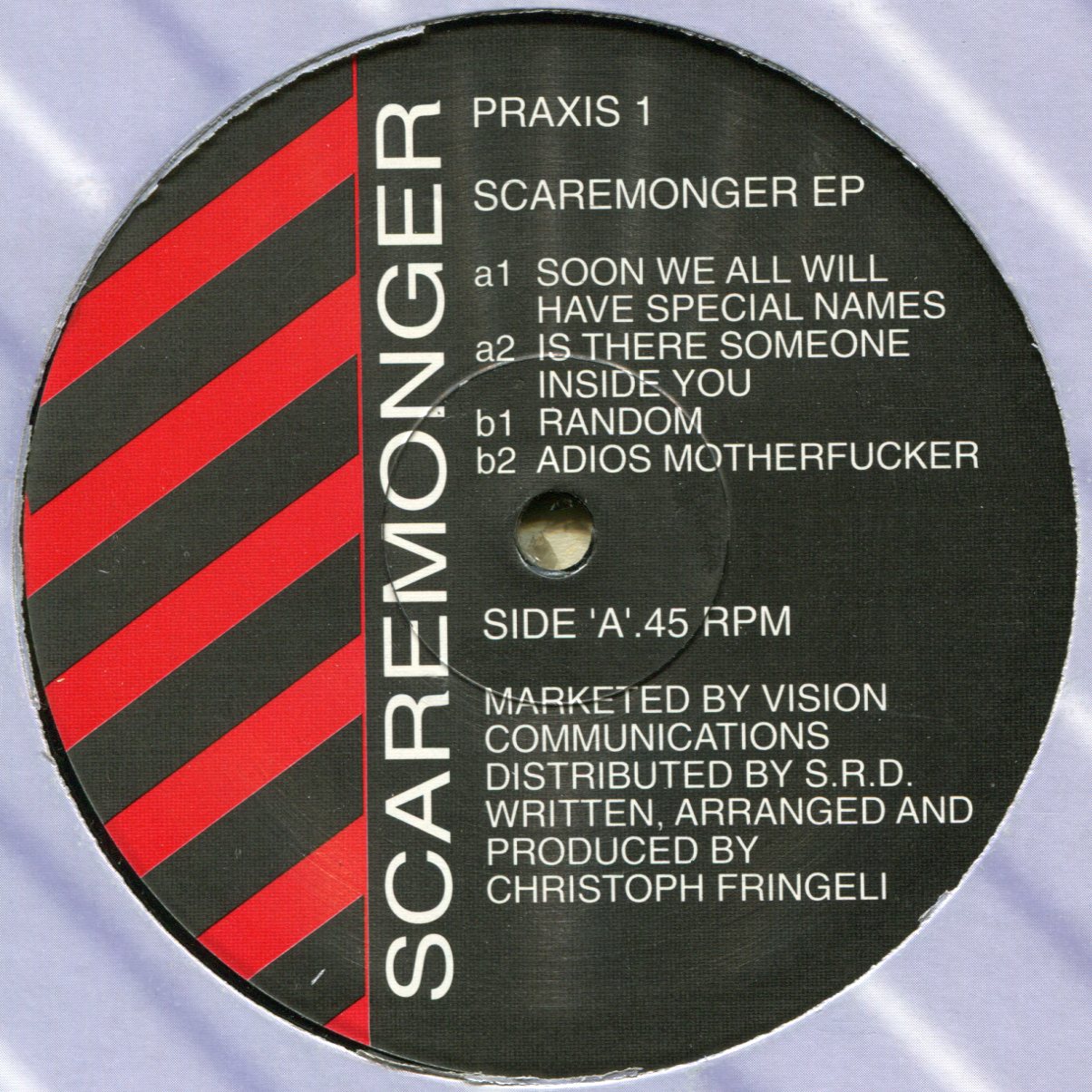 Here's another review, this time from Soft Watch zine – we're quoting from a post on the discogs page here, this review is missing from our archive. If someone can supply a scan or more infos (which issue of Soft Watch etc), please get in touch.
PRAXIS are obviously setting out to muscle in on a surprisingly neglected corner of the Dance market. I'm not sure what you'd term it – the next-door-neighbour of EBM, nodding acquaintance to Hardcore & drinking buddy of Torture Tech. "Soon We Will Have Special Names" is a fast, dense dance piece using a minimum of vocal samples (the title spoken) and a maximum of variety & experimentation. It's a surprisingly colourful instrumental, as much for the head as the body. "Is There Someone Inside You" continues in a very familiar frame, having a Rap logic without the words. Instead it has layer upon layer of music, a veritable puzzle box of sound & structure without appearing in the least crowded. It drives along yet absorbs the listener. "Random" opens the second side, with a similar leaning towards the experimental. This one is less dense, giving space to odd construction & a myriad musical samples without sounding as if they have ripped off other records or copped-out for too many 'punctuations' – they are not over showy, relying instead on ability & interesting composition. "Adios Motherfucker" starts off with odd out-of-control lunatic synthetics before settling into another danceable sound showcase which uses samples, instead of letting the samplers do all the work.
They fall into the arena of dance music, perhaps even House or Rave or what have you, but unlike their EBM brothers, they inject a certain warmth into the cold technological sound. And having done so, they could make many friends. A tasty EP – enough variety to satisfy the most ravenous, and to raise interest in the most Jaded. (Soft Watch)