By
admin
|
Published:
December 7, 2016
New addition to the Praxis Youtube channel:
Praxis 51 – Noize Creator: The Future is Cancelled

By
admin
|
Published:
December 4, 2016
This interview was published in the January 1995 issue of Frontpage, the German techno monthly. It's been reposted on the datacide site a few years back, but never on the Praxis site – here we go: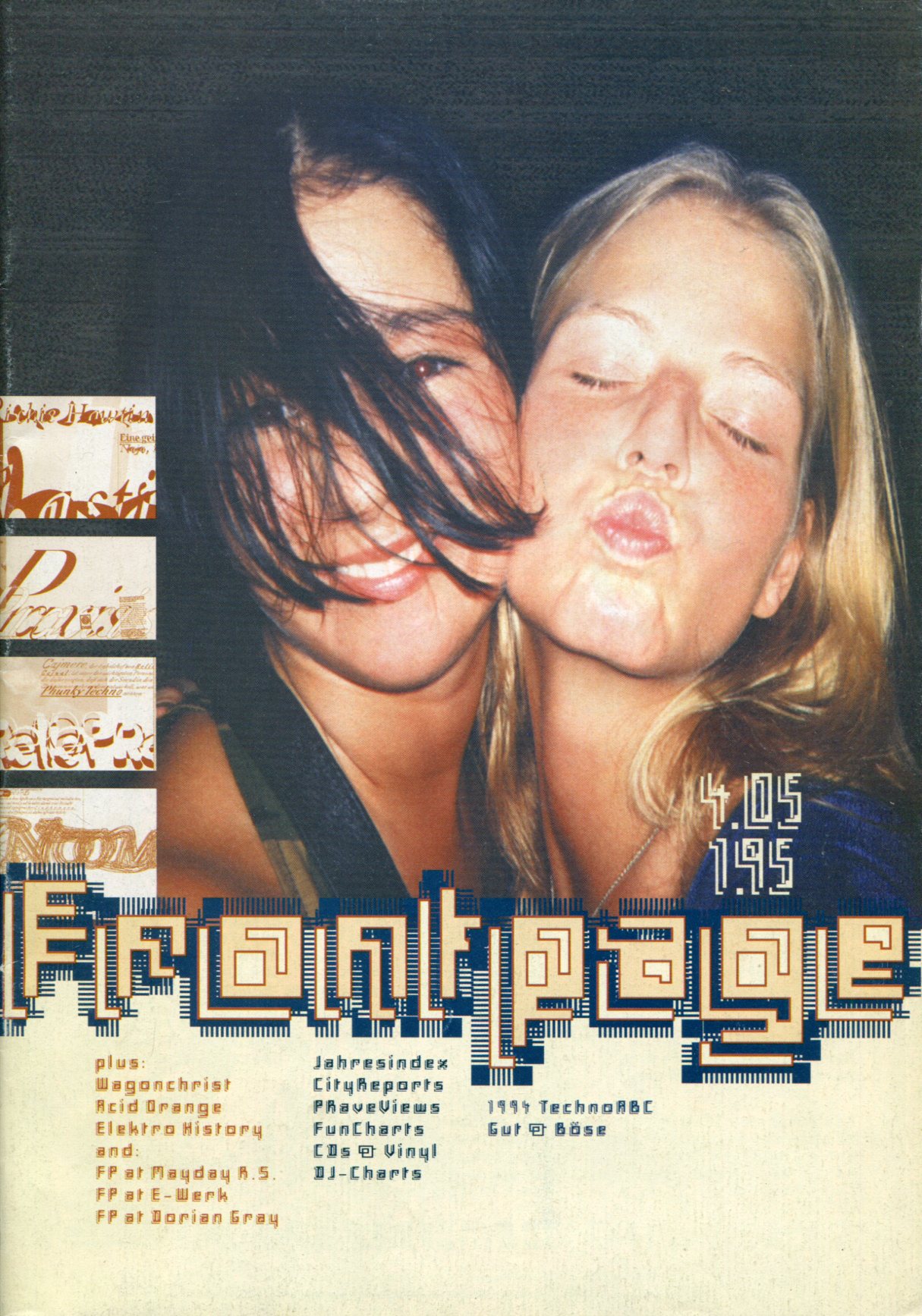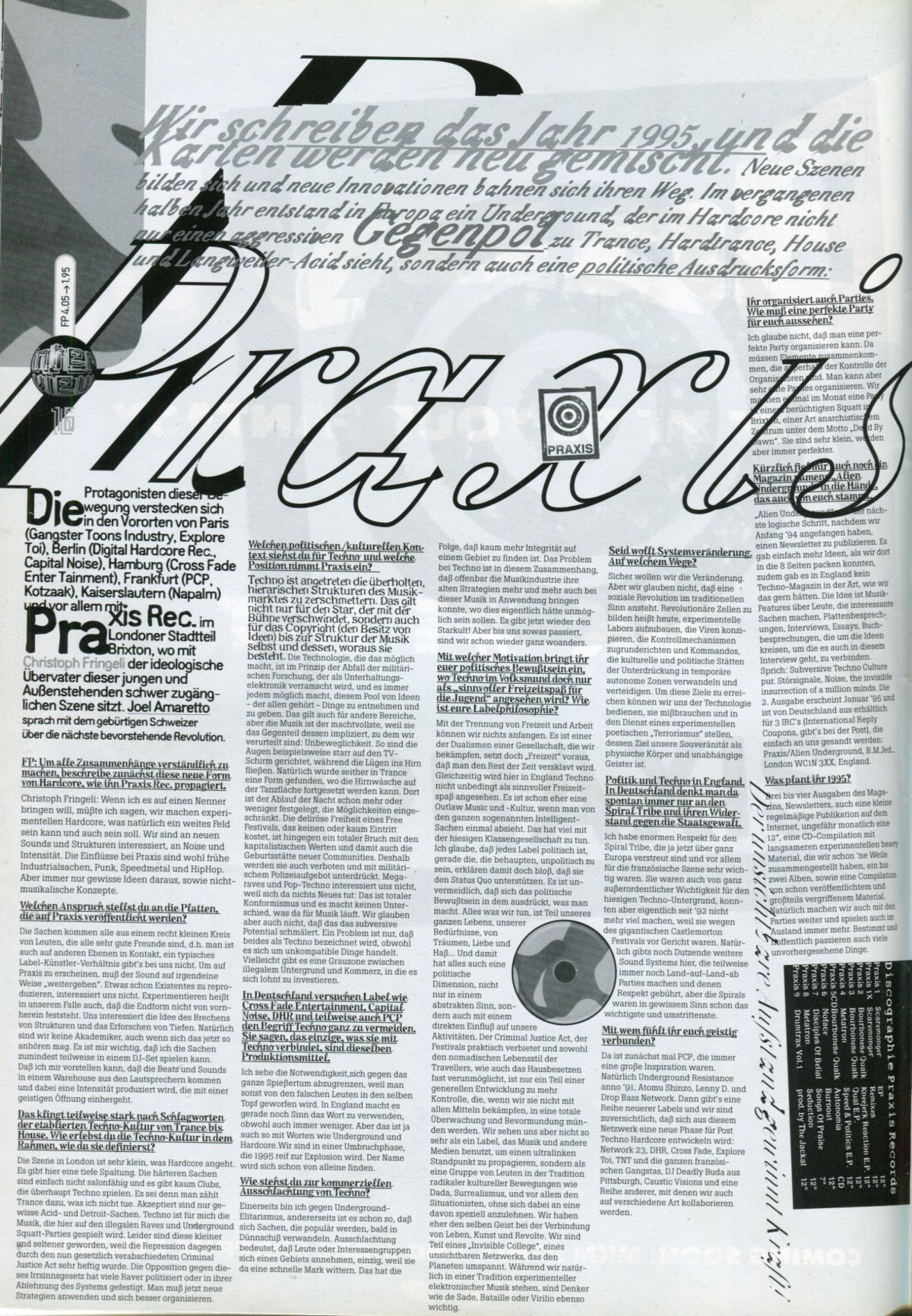 Wir schreiben das Jahr 1995, und die Karten werden neu gemischt. Neue Szenen bilden sich und neue Innovationen bahnen sich langsam aber sicher ihren Weg. Im vergangenen halben Jahr entstand in Europa ein neuer Underground, der im Hardcore nicht nur einen aggressiven Gegenpol zu Trance, Hardtrance, House und Langweiler-Acid sieht, sondern auch eine politische Ausdrucksform. Die Protagonisten dieser Bewegung verstecken sich in den Vororten von Paris (Gangster Toons Industry, Explore Toi), Berlin (Digital Hardcore Recordings, Capital Noise), Hamburg (Cross Fade Enter Tainment), Frankfurt (PCP, Kotzaak), Kaiserslautern (Napalm) und vor allem mit Praxis Records im Londoner Stadtteil Brixton, wo mit Christoph Fringeli der ideologische Übervater dieser jungen und Außenstehenden schwer zugänglichen Szene sitzt. Joel Amaretto sprach mit dem gebürtigen Schweizer über die nächste bevorstehende Revolution.
FP: Um alle Zusammenhänge verständlich zu machen, beschreibe zunächst diese neue Form von Hardcore, wie ihn Praxis Records propagiert.
Christoph Fringeli: Wenn ich es auf einen Nenner bringen will, müßte ich sagen, wir machen experimentellen Hardcore, was natürlich ein weites Feld sein kann und auch sein soll. Wir sind an neuen Sounds und Strukturen interessiert, an Noise und Intensität. Die Einflüsse bei Praxis sind wohl frühe Industrialsachen, Punk, Speedmetal und HipHop. Aber immer nur gewisse Ideen daraus, sowie nicht-musikalische Konzepte.
FP: Welchen Anspruch stellst du an die Platten, die auf Praxis veröffentlicht werden?
CF: Die Sachen kommen alle aus einem recht kleinen Kreis von Leuten, die alle sehr gute Freunde sind, d.h. man ist auch auf anderen Ebenen in Kontakt, ein typisches Label-Künstler-Verhältnis gibt's bei uns nicht. Um auf Praxis zu erscheinen, muß der Sound auf irgendeine Weise weitergehen. Etwas schon Existentes zu reproduzieren, interessiert uns nicht. Experimentieren heißt in unserem Falle auch, daß die Endform nicht von vornherein feststeht. Uns interessiert die Idee des Brechens von Strukturen und das Erforschen von Tiefen. Natürlich sind wir keine Akademiker, auch wenn sich das jetzt so anhören mag. Es ist mir wichtig, daß ich die Sachen zumindest teilweise in einem DJ-Set spielen kann. Daß ich mir vorstellen kann, daß die Beats und Sounds in einem Warehouse aus den Lautsprechern kommen und dabei eine Energie und Intensität produziert wird, die mit einer geistigen Öffnung einhergeht.
FP: Das klingt teilweise noch stark nach Schlagworten der etablierten Techno-Kultur von Trance bis House. Wie erlebst du die Techno-Kultur in dem Rahmen, wie du sie definierst?
CF: Die Szene in London ist sehr klein, was Hardcore angeht. Es gibt hier eine tiefe Spaltung. Die härteren Sachen sind einfach nicht salonfähig und es gibt kaum Clubs, die überhaupt Techno spielen. Es sei denn man zählt Trance dazu, was ich nicht tue. Akzeptiert sind nur gewisse Acid- und Detroit-Sachen. Techno ist für mich die Musik, die hier auf den illegalen Raves und Underground Squat-Parties gespielt wird. Leider sind diese kleiner und seltener geworden, weil die Repression dagegen durch den nun gesetzlich verabschiedeten Criminal Justice Act sehr heftig wurde. Die Opposition gegen dieses Irrsinnsgesetz hat viele Raver politisiert oder in ihrer Ablehnung des Systems gefestigt. Man muß jetzt neue Strategien anwenden und sich besser organisieren.
FP: Welchen politischen und kulturellen Kontext siehst du für Techno im Allgemeinen und welche Position nimmt dabei Praxis ein?
CF: Techno, zumindest der Teil davon, der uns interessiert, ist angetreten die überholten, hierarchischen Strukturen des Musikmarktes zu zerschmettern. Das gilt nicht nur für den Star, der mit der Bühne verschwindet, sondern auch für das Copyright (den Besitz von Ideen) bis zur Struktur der Musik selbst und dessen, woraus sie besteht. Die Technologie, die das möglich macht, ist im Prinzip der Abfall der militärischen Forschung, der als Unterhaltungselektronik verramscht wird, und es immer jedem möglich macht, diesem Pool von Ideen – der allen gehört – Dinge zu entnehmen und zu geben. Das gilt auch für andere Bereiche, aber die Musik ist der machtvollste, weil sie das Gegenteil dessen impliziert, zu dem wir verurteilt sind: Unbeweglichkeit.So sind die Augen beispielsweise starr auf den TV-Schirm gerichtet, während die Lügen ins Hirn fließen. Natürlich wurde seither in Trance eine Form gefunden, wo die Hirnwäsche auf der Tanzfläche fortgesetzt werden kann. Dort ist der Ablauf der Nacht schon mehr oder weniger festgelegt, die Möglichkeiten eingeschränkt. Die deliröse Freiheit eines Free Festivals, das keinen oder kaum Eintritt kostet, ist hingegen ein totaler Bruch mit den kapitalistischen Werten und damit auch die Geburtsstätte neuer Communities.
Deshalb werden sie auch verboten und mit militärischem Polizeiaufgebot unterdrückt. Megaraves und Pop-Techno interessiert uns nicht, weil sich da nichts Neues tut: Das ist totaler Konformismus und es macht keinen Unterschied, was da für Musik läuft. Wir glauben aber auch nicht, daß das das subversive Potential schmälert. Ein Problem ist nur, daß beides als Techno bezeichnet wird, obwohl es sich um unkompatible Dinge handelt. Vielleicht gibt es eine Grauzone zwischen illegalem Untergrund und Kommerz, in die es sich lohnt zu investieren.
FP: In Deutschland versuchen Label wie Cross Fade Enter Tainment, Capital Noise, DHR und teilweise auch PCP den Begriff Techno ganz zu vermeiden. Sie sagen, das einzige, was sie mit Techno verbindet, sind dieselben Produktionsmittel.
CF: Ich sehe die Notwendigkeit,sich gegen das ganze Spießertum abzugrenzen, weil man sonst von den falschen Leuten in den selben Topf geworfen wird. In England macht es gerade noch Sinn das Wort zu verwenden, obwohl auch immer weniger. Aber das ist ja auch so mit Worten wie Underground und Hardcore. Ich denke, daß wir in einer Umbruchphase sind, die vielleicht schon 1995 reif zur Explosion wird. Der Name wird sich schon von alleine finden.
FP: Wie stehst du zur kommerziellen Ausschlachtung von Techno?
CF: Einerseits bin ich gegen Underground-Elitismus, andererseits ist es schon so, daß sich Sachen, die populär werden, bald in Dünnschiß verwandeln. Ausschlachtung bedeutet, daß Leute oder Interessengruppen sich eines Gebiets annehmen, einzig, weil sie da eine schnelle Mark wittern. Das hat schnell mal die Folge, daß kaum mehr Integrität auf einem Gebiet zu finden ist. Das Problem bei Techno ist in diesem Zusammenhang, daß offenbar die Musikindustrie ihre alten Strategien mehr und mehr auch bei dieser Musik in Anwendung bringen konnte, wo dies eigentlich hätte unmöglich sein sollen. Es gibt jetzt wieder den Starkult! Aber bis uns sowas passiert, sind wir schon wieder ganz woanders.
FP: Mit welcher Motivation bringt ihr euer politisches Bewußtsein ein, wo Techno im Volksmund doch nur als sinnvoller Freizeitspaß für die Jugend angesehen wird? Wie ist eure Labelphilosophie?
CF: Mit der Trennung von Freizeit und Arbeit können wir nichts anfangen. Es ist einer der Dualismen einer Gesellschaft, die wir bekämpfen, setzt doch Freizeit voraus, daß man den Rest der Zeit versklavt wird. Gleichzeitig wird hier in England Techno nicht unbedingt als sinnvoller Freizeitspaß angesehen. Es ist schon eher eine Outlaw Music und -Kultur, wenn man von den ganzen sogenannten Intelligent-Sachen einmal absieht. Das hat viel mit der hiesigen Klassengesellschaft zu tun. Ich glaube, daß jedes Label politisch ist, gerade die, die behaupten, unpolitisch zu sein, erklären damit doch bloß, daß sie den Status Quo unterstützen. Es ist unvermeidlich, daß sich das politische Bewußtsein in dem ausdrückt, was man macht. Alles was wir tun, ist Teil unseres ganzen Lebens, unserer Bedürfnisse, von Träumen, Liebe und Haß…Und damit hat alles auch eine politische Dimension, nicht nur in einem abstrakten Sinn, sondern auch mit einem direkten Einfluß auf unsere Aktivitäten. Der Criminal Justice Act, der Festivals praktisch verbietet und sowohl den nomadischen Lebensstil der Travellers, wie auch das Hausbesetzen fast verunmöglicht, ist nur ein Teil einer generellen Entwicklung zu mehr Kontrolle, die, wenn wir sie nicht mit allen Mitteln bekämpfen, in eine totale Überwachung und Bevormundung münden werden.
Wir sehen uns aber nicht so sehr als ein Label, das Musik und andere Medien benutzt, um einen ultralinken Standpunkt zu propagieren, sondern als eine Gruppe von Leuten in der Tradition radikaler kultureller Bewegungen wie Dada, Surrealismus, und vor allem den Situationisten, ohne sich dabei an eine davon speziell anzulehnen. Wir haben eher den selben Geist bei der Verbindung von Leben, Kunst und Revolte. Wir sind Teil eines Invisible College, eines unsichtbaren Netzwerks, das den Planeten umspannt. Während wir natürlich in einer Tradition experimenteller elektronischer Musik stehen, sind Denker wie de Sade, Bataille oder Virilio ebenso wichtig.
FP: Seid ihr an einer Systemveränderung interessiert und auf welchem Wege?
CF: Sicher wollen wir die Systemveränderung. Aber wir glauben nicht, daß eine soziale Revolution im traditionellen Sinn ansteht. Revolutionäre Zellen zu bilden heißt heute, experimentelle Labors aufzubauen, die Viren konzipieren, die Kontrollmechanismen zugrunderichten und Kommandos, die kulturelle und politische Stätten der Unterdrückung in temporäre autonome Zonen verwandeln und verteidigen. Um diese Ziele zu erreichen können wir uns der Technologie bedienen, sie mißbrauchen und in den Dienst eines experimentellen poetischen Terrorismus stellen, dessen Ziel unsere Souveränität als physische Körper und unabhängige Geister ist.
FP: Politik und Techno in England. In Deutschland denkt man da spontan immer nur an den Spiral Tribe und ihren Widerstand gegen die Staatsgewalten. Wie steht ihr zu den Techno-Travellern?
CF: Ich habe enormen Respekt für den Spiral Tribe, die ja jetzt über ganz Europa verstreut sind und vor allem für die französische Szene sehr wichtig waren. Sie waren auch von ganz außerordentlicher Wichtigkeit für den hiesigen Techno-Untergrund, konnten aber eigentlich seit '92 nicht mehr viel machen, weil sie wegen des gigantischen Castlemorton Festivals vor Gericht waren. Natürlich gibt's noch Dutzende weitere Sound Systems hier, die teilweise immer noch Land-auf-Land-ab Parties machen und denen Respekt gebührt, aber die Spirals waren in gewissem Sinn schon das wichtigste und umstrittenste.
FP: Mit welchen Labels oder Acts fühlt ihr euch geistig verbunden?
CF: Da ist zunächst mal PCP, die immer eine große Inspiration waren. Natürlich Underground Resistance anno '91, Atomu Shinzo, Lenny D. und Drop Bass Network. Dann gibt's eine Reihe neuerer Labels und wir sind zuversichtlich, daß sich aus diesem Netzwerk eine neue Phase für Post Techno Hardcore entwickeln wird: Network 23, DHR, Cross Fade, Explore Toi, TNT und die ganzen französischen Gangstas, DJ Deadly Buda aus Pittsburgh, Caustic Visions und eine Reihe anderer, mit denen wir auch auf verschiedene Art kollaborieren werden.
FP: Ihr organisiert in London auch Parties. Wie muß eine perfekte Party für euch aussehen?
CF: Ich glaube nicht, daß man eine perfekte Party organisieren kann. Da müssen Elemente zusammenkommen, die außerhalb der Kontrolle der Organisatoren sind. Man kann aber sehr gute Parties organisieren. Wir machen einmal im Monat eine Party in einem berüchtigten Squatt in Brixton, einer Art anarchistischem Zentrum unter dem Motto Dead By Dawn. Sie sind sehr klein, werden aber immer perfekter.
FP: Kürzlich fiel mir auch noch ein Magazin namens Alien Underground in die Hände, das auch von euch stammt…
CF: Alien Underground war der nächste logische Schritt, nachdem wir Anfang '94 angefangen haben, einen Newsletter zu publizieren. Es gab einfach mehr Ideen, als wir dort in die 8 Seiten packen konnten, zudem gab es in England kein Techno-Magazin in der Art, wie wir das gern hätten. Die Idee ist Musik-Features über Leute, die interessante experimentelle und Hardcore-Sachen machen, Plattenbesprechungen, Interviews, Essays, Buchbesprechungen, die um die Ideen kreisen, um die es auch in diesem Interview geht, zu verbinden. Sprich: Subversive Techno Culture pur. Störsignale, Noise, the invisible insurrection of a million minds. Die 2. Ausgabe erscheint Januar '95 und ist von Deutschland aus erhältlich für 3 IRC's (International Reply Coupons, gibt's bei der Post), die einfach an uns gesandt werden: Praxis/Alien Underground, B.M.Jed., London WC1N 3XX, England.
FP: Was plant ihr für 1995?
CF: Drei bis vier Ausgaben des Magazins, Newsletters, auch eine kleine regelmäßige Publikation auf dem Internet, ungefähr monatlich eine 12″, eine CD-Compilation mit langsameren experimentellen heavy Material, die wir schon 'ne Weile zusammengestellt haben, ein bis zwei Alben, sowie eine Compilation von schon veröffentlichtem und großteils vergriffenem Material. Natürlich machen wir auch mit den Parties weiter und spielen auch im Ausland immer mehr. Bestimmt und hoffentlich passieren auch viele unvorhergesehene Dinge.
FP: Und wie sieht eure Vision für 1995 aus?
CF: Der unsichtbare Aufstand gewinnt Kraft!
By
admin
|
Published:
November 6, 2016
Praxis 55
Ales Buess & Daniel Buess
"Skin Craft" – RIND & NOL
MLP – 2016
Two powerful compositions by Alex Buess and Daniel Buess, rearranged by Cortex.
RIND is a work using three large self-built cow skin frame drums, 1 horse skin container drum, metal plates and electronics. NOL is a composition by Alex Buess for a percussion trio from 1995. The two pieces were recorded live in 2010 and 2003 respectively, also featuring the musicians Daniel Stalder, Peter Conradin Zumthor and Matthias Würsch. They were electronically treated by Cortex in the studio in 2015. This release continues the collaboration with Alex Buess that goes back to the pre-Praxis days of the Vision label since 1987 and includes Praxis 31 by 16-17 and Praxis 48 by Cortex, both of which also included Daniel Buess.
Cover art by Darkam and layout by Lynx.
Vinyl master by A.F. at Centraldubs
Press run of 500 copies at Optimal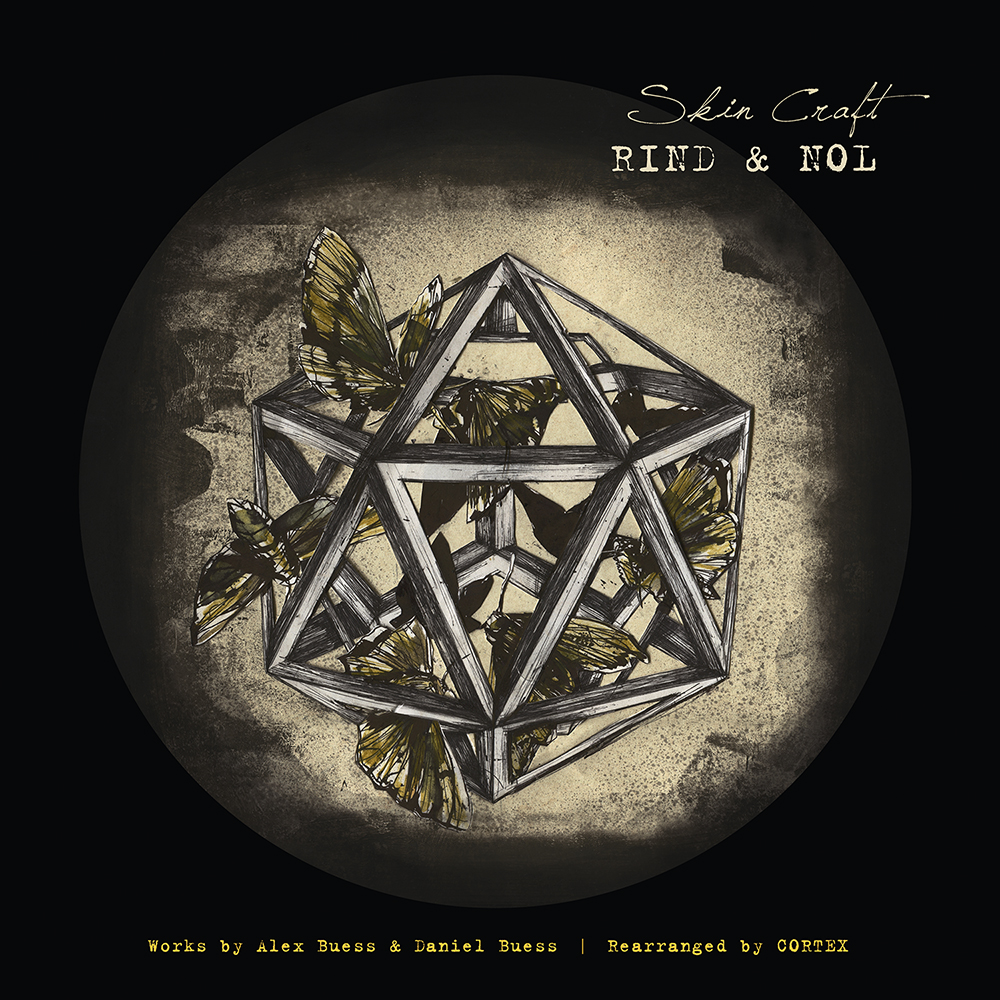 ALEX BUESS – is a musician, saxophonist, composer, producer who lives in Basel, Switzerland. He has collaborated with Stephan Wittwer, Paul Schütze, Kevin Martin, Peter Brötzmann, William Parker, Raoul Björkenheim, Toshinori Kondo, Bill Laswell, Kevin Shields, Tim Hodgkinson, Michael Wertmüller and many other musicians in the wide field of improvisation, electronics, electroacoustic music and composition.
He plays/played in the groups ICE, GOD, Phantom City, The Bug, Sprawl, Cortex and his own group 16-17, as well as Melx and The Electric Noise Twist. The latter were part of a close collaboration with Christoph Fringeli's Vision label from 1987-1991, before Christoph moved to London and started the Praxis label, a collaboration that continued over the decades with releases by 16-17 and Cortex on Praxis.
Alex has written compositions for various contemporary music ensembles and also works as a producer and sound engineer. He has appeared at numerous new music festivals and his compositions are performed in Europe and throughout the world.
His studies include electronics, acoustics, musicology, phonetics,semantics and composition and his work reflects his experiences with electronic technology, written contemporary music, film music, new mixing and production techniques and computer music.
DANIEL BUESS – studied at the Musikhochschule Basel with Siegfried Schmid and with Isao Nakamura in Karlsruhe. Studies in traditional South Indian percussion music, specially the Mridangam from 1995 till 1998 and in Arabic percussion music in Cairo, Egypt from Nov. 2007 till Jan. 2008.
Daniel was involved in various groups and ensembles in the realm of experimental and improvised music, like "Ensemble Phœnix Basel" of which he was a core-member and solo-percussionist since its foundation in 1998, Cortex, 16-17 (both with Alex Buess), HOW2 (with the percussionist Daniel Stalder), "Katarakt", "B&B" (with the flautist Christoph Bösch), MIR (with Papiro and Michael Zaugg), Buggatronic (with James Hullick). Other collaborations include artists like Hany Bedair, Knut Remond, Zbigniew Karkowski, Kasper T.Toeplitz, John Duncan, Michael Wertmüller, Phill Niblock, Julio Estrada, Stephan Wittwer, Volker Heyn, Thomas Lauck, Tim Hodgkinson, Iancu Dumitrescu and many others.
At his regular tours through Europe, Asia and Australia, he performed at the most highly recognised festivals for experimental music as well as at several underground-places, open spaces and independent venues. Sadly Daniel passed away in February 2016, making "Skin Craft" unexpectedly a posthumous release.

LINKS:
BUY "Skin Craft" on vinyl
BUY "Skin Craft" in digital formats
"Skin Craft" on Discogs
Alex Buess website
Alex Buess Discogs
Alex Buess Wikipedia [english][deutsch]
Daniel Buess website
Daniel Buess Discogs
Daniel Buess Wikipedia
Darkam website
By
admin
|
Published:
November 5, 2016
Praxis 54
Noirodyn
Construct Deconstruct
2015
A new full length CD album by Noirodyn, aka Vile Enginez.
Fernando Narvàez Perez has so far mainly made his mark under his Vile Enginez monicker with a debut on Zhark International from 2004 and several releases on the Praxis sublabel Sub/Version, both on vinyl and digital. The project mutated into Noirodyn with a first digital-only release for Praxis in 2013 titled Infradesigns. Immediately it was evident that Fernando was applying his production skills to a more varied sound but regularly returning to slamming beats and far-out noise constructions making Noirodyn the logical continuation and development of Vile Enginez.
Construct Deconstruct contains 16 new tracks ranging from slower grooves to hectic intensifications arranged into a continuous mix, showing his creative energies at a peak.
Coverart by Sansculotte.
500 copies pressed at Repliq Media
Release date: 02.11.2015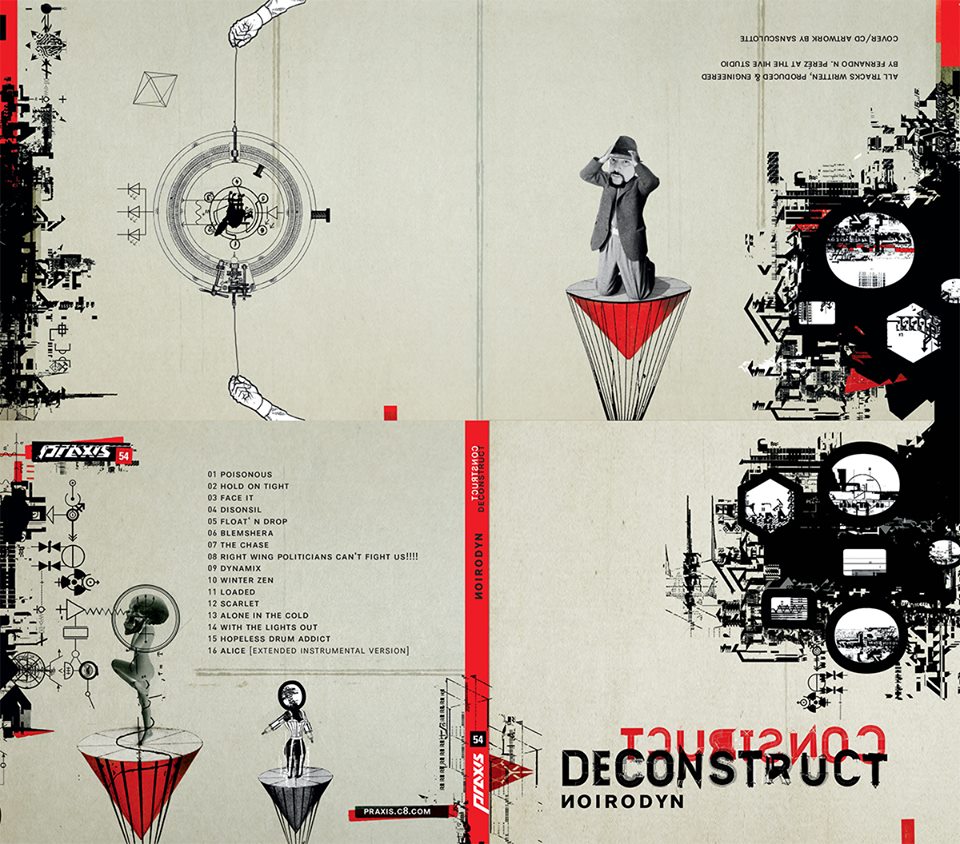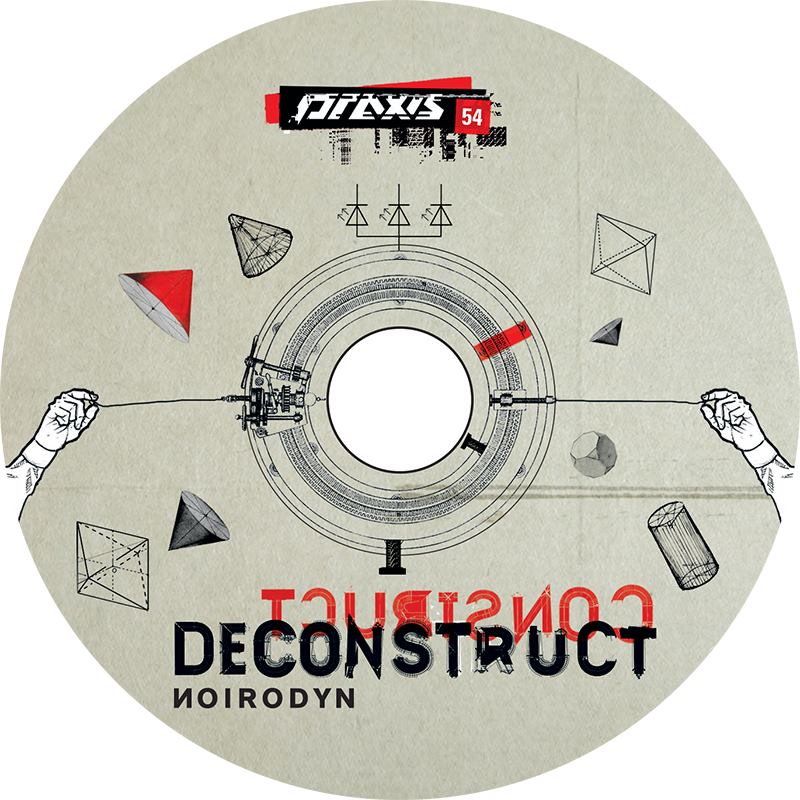 By
admin
|
Published:
October 17, 2016
Since the beginning of the 'proper' Praxis Online Shop in 2005, over 7,500 titles have been listed. Of course not all of these are currently available, but a surprisingly large number are. This is because we have always gone to lengths to re-stock titles we once decided were worth listing in our store. Often this is not so easy, as a lot of releases in the fields of electronic music we cover are extremely limited.
This is even more the case now than a few years ago – many labels have started to only press extremely limited runs of records, many of which will undoubtedly become sought-after rarities in years to come.
Nevertheless, there is a common perception that most of these records will be easily obtainable for extended periods to come. This impression is aided by the fact that they are listed on different platforms, generating the illusion of an ubiquitous availability when the actual number of copies certain suppliers have in stock is low or even zero. Still, there has been a migration of customers away from the solid smaller stores (who actually support the labels and artists) and towards the big platforms and large stores. Not only that, in general the sales of left-field, unusual and radical electronic dance and experimental music have dwindled over the last decade, especially in the context we are active in.
The international network that allowed small labels' releases to circulate relatively independently from media hypes and corporate control was cruelly decimated over the last decade, perhaps paradoxically also due to its relative professionalisation around the mid-2000s. switchrec (Peace Off), dswat (Death$ucker), digitalworldnet (Koolpop), Smash Berlin (Sprengstoff), Phuturerave, Possible Music, Subvert, Mad Dog and others, most recently Sound Base Music and Ad Noiseam either ceased operations completely or scaled them down massively, as did a number of record labels. Many 'real' record shops closed, many artists 'retired'. This was only partially offset by the appearance of new labels and distros.
In the last few years there has been, at least statistically speaking, a stunning resurgence of vinyl production and sales. This is primarily true for the corporate market and can be exemplified with the reappearance of vinyl sections in major electronics markets in shopping malls. Even in the context of smaller labels, this trend seems to concern the releases of better known acts or classic re-releases. There may be a silver lining with more experimental techno releases, a resurgence of networks in the hardtek/tribe areas, a burgeoning cassette scene, and a realignment of marginalised countercultural currents.
The role our shop can play in this context is both to provide curated content and to serve as a node in a creative network, a connector and amplifier of exciting radical music, culture and critique. To serve these functions it needs your support!
By
admin
|
Published:
October 3, 2016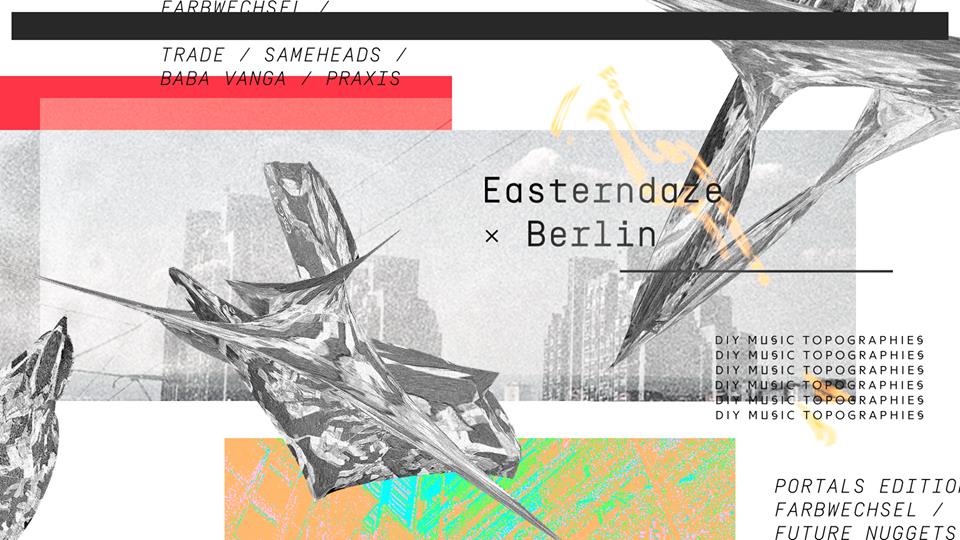 Two events related to Praxis are taking place in the framework of the Easterndaze Festival:
October 3rd
Praxis presents Christoph de Babalon, WIDT, a collaboration of the two, plus Christoph Fringeli vinyl + laptop set
silent green Kulturquartier
Gerichtstraße 35, 13347 Berlin, Germany
Doors open 7pm, music starts at 8pm, till midnight.
More info: Praxis Event, Facebook Event
October 8th
'Nothing Essential Happens in the Absence of Noise' documentary film by Silvia Biagioni about Praxis records. Screening 8pm with guests Silvia Biagioni and Christoph Fringeli.
Lichtblick cinema, Kastanienallee 77
10435 Berlin – Prenzlauer Berg
Check the whole Easterndaze film programme at Lichtblick cinema HERE
By
admin
|
Published:
September 19, 2016
Under the header of NoiseBegriff#4 we did a super short notice secret gig & warm up for Detonal (taking place the following weekend) as an instore event at the Berlin Praxis Shop on August 20, feat. Amandroid (Army of Love), Montaux (Xanopticon & Dimentia), and Binnie (5lowershop). Here are some pics courtesy of fgnugn (please do not repost the pics on 'social media', you can link to this page)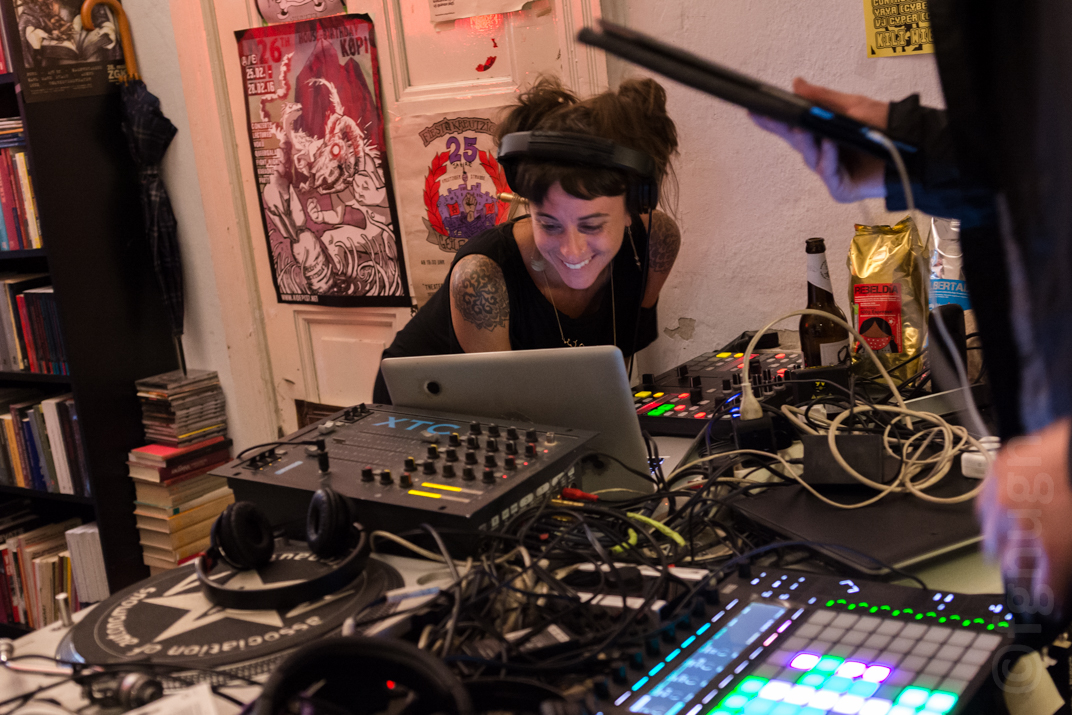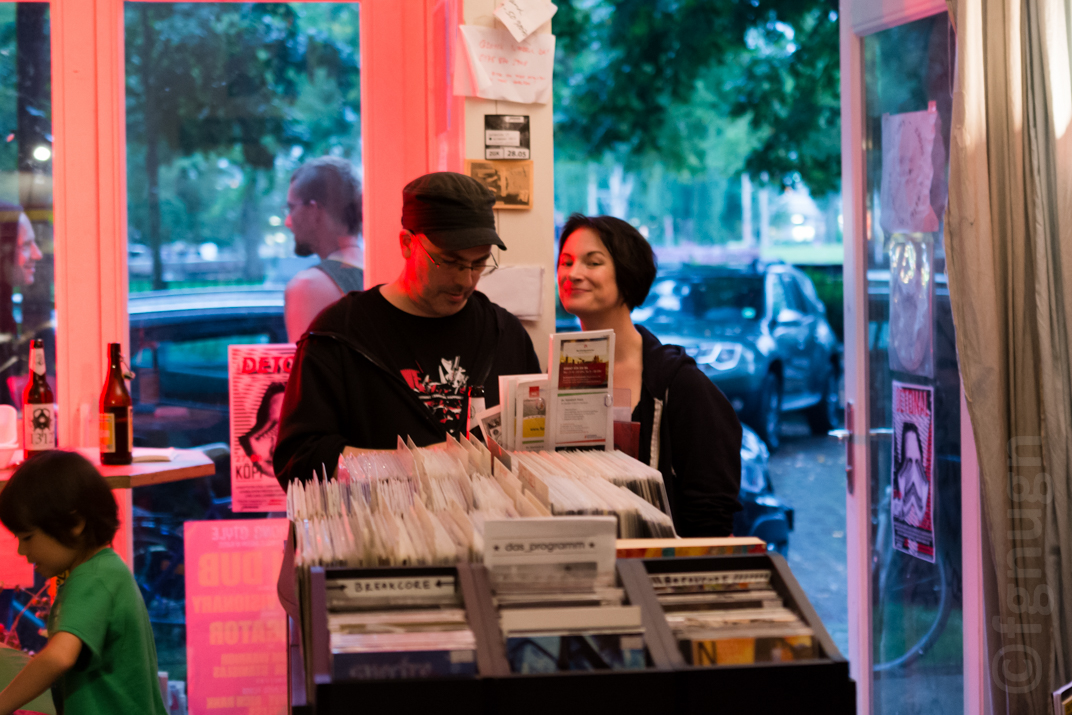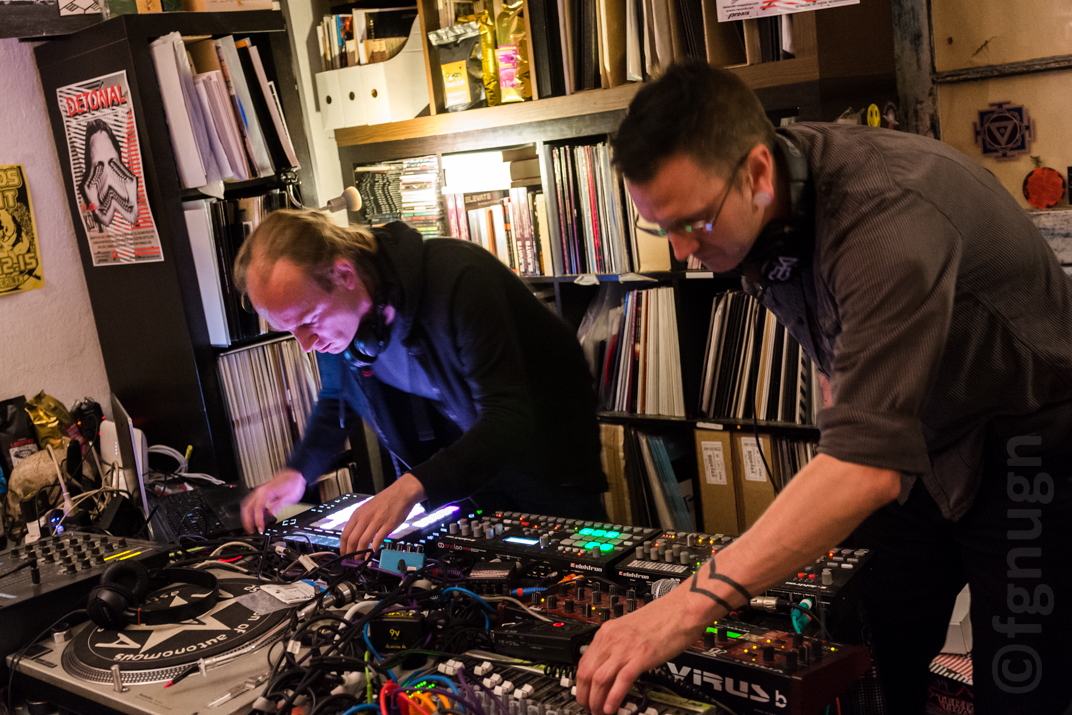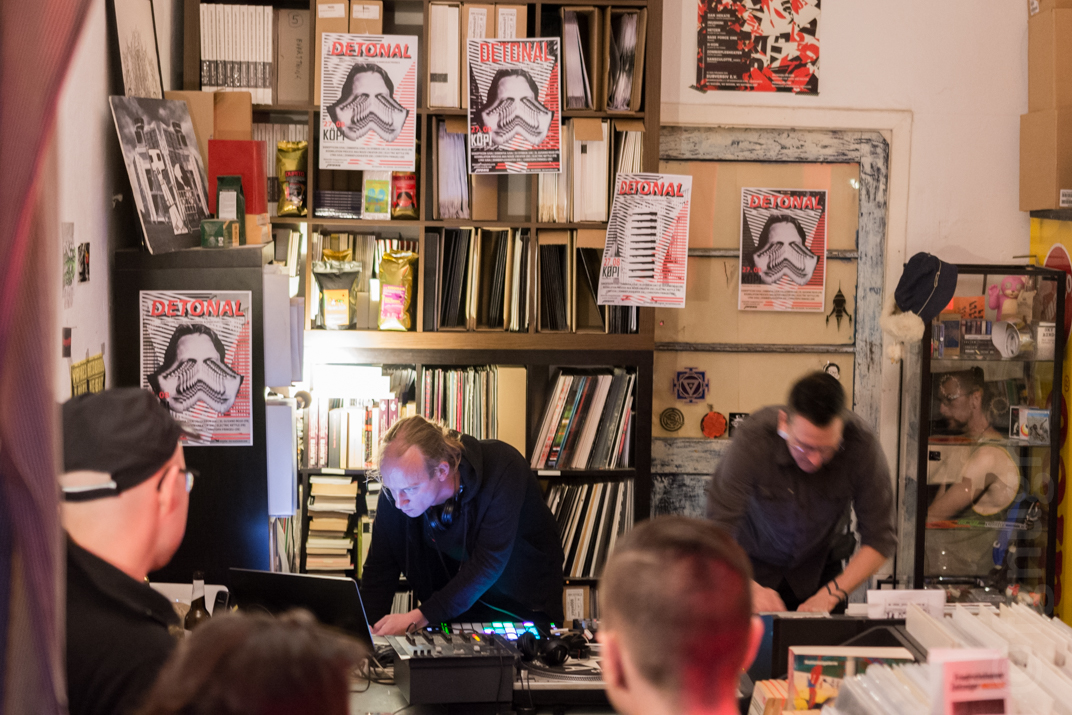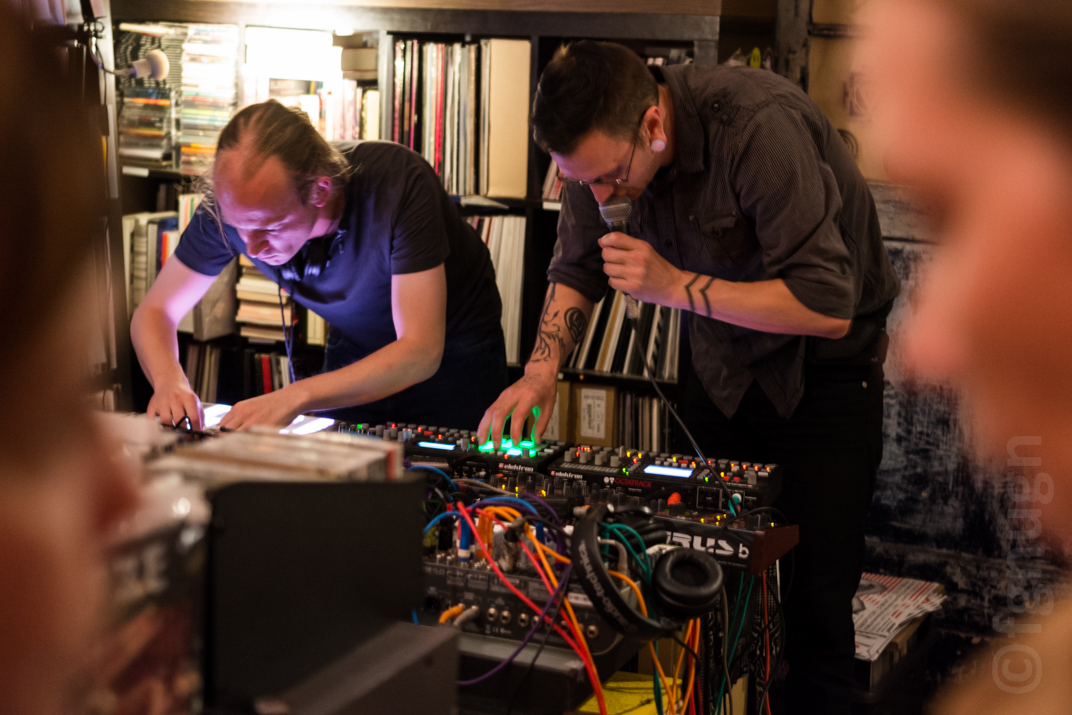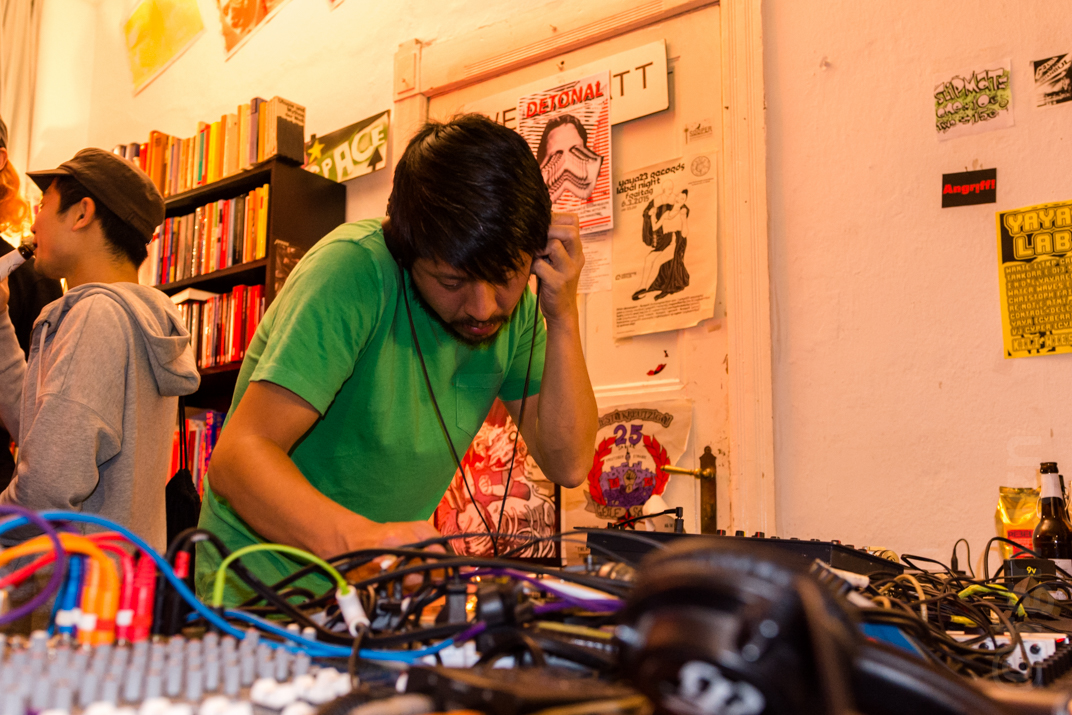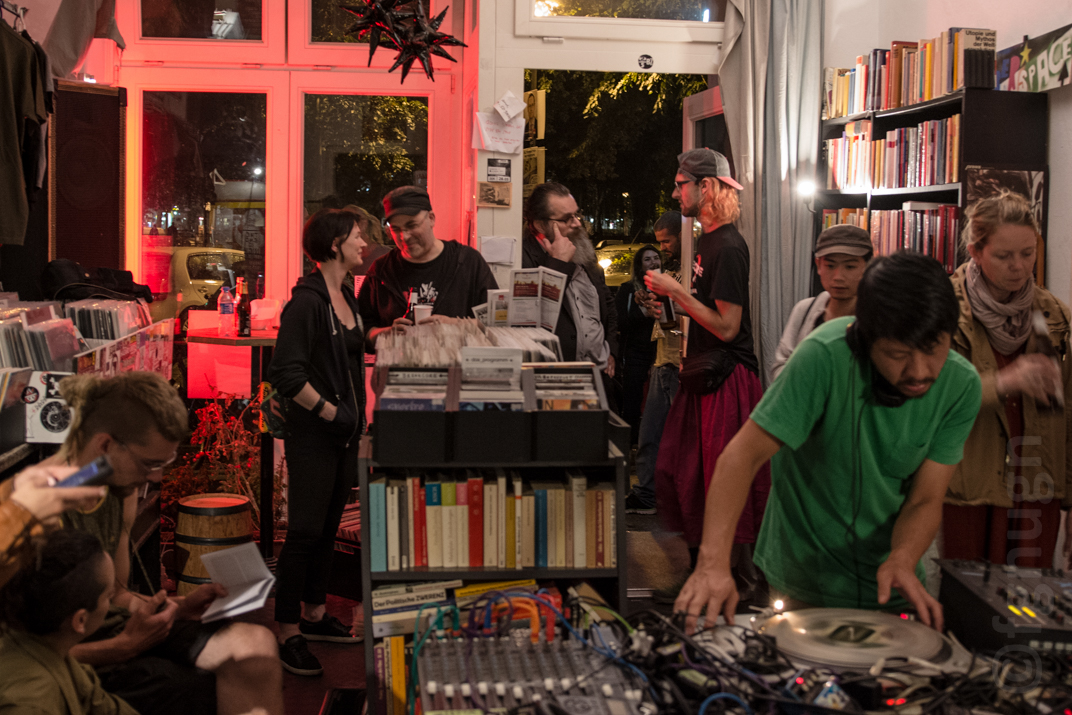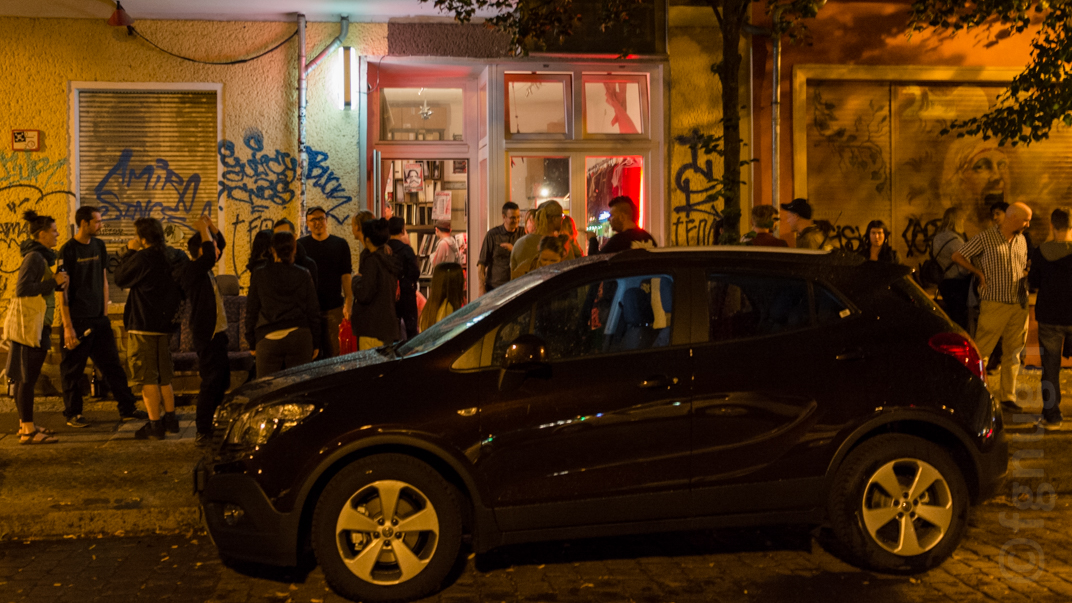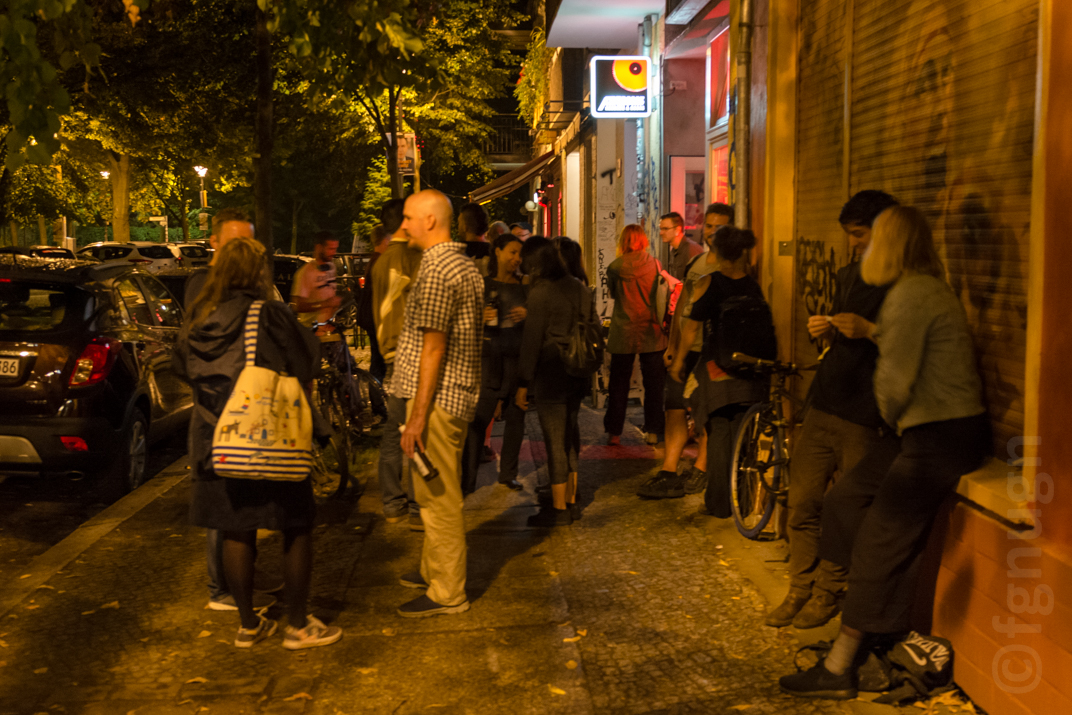 By
admin
|
Published:
June 15, 2016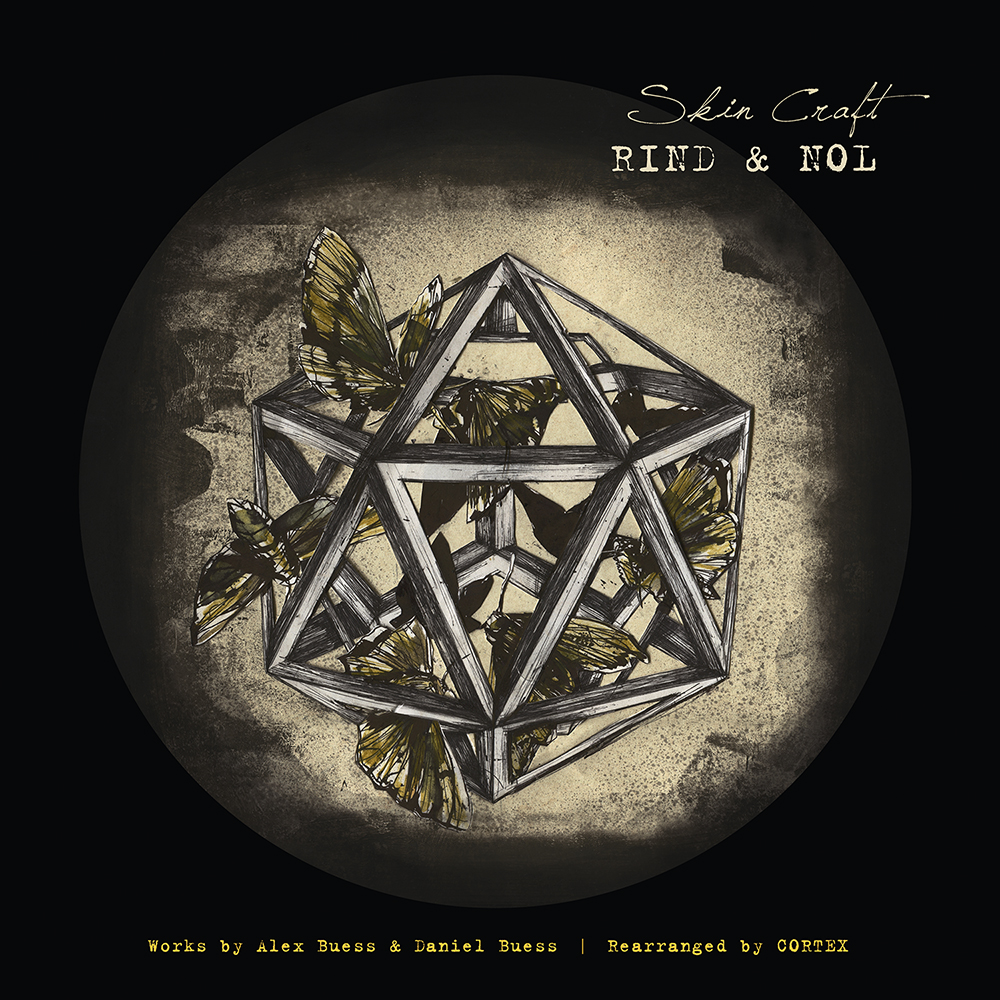 Praxis 55
"SKIN CRAFT" – RIND & NOL
Works by Alex Buess & Daniel Buess
rearranged by CORTEX
Two powerful compositions on vinyl LP with cover art by Darkam and layout by Lynx. RIND is a work using three large self-built cow skin frame drums, 1 horse skin container drum, metal plates and electronics composed and played live at Gare du Nord, Basel on 4-3-2010 by Daniel Buess, Daniel Stalder, Peter Conradin Zumthor, rearranged by Cortex (Alex and Daniel Buess). NOL is a composition by Alex Buess for a percussion trio from 1995 played by Daniel Buess, Daniel Stalder, Matthias Würsch live in May 2003. This release continues the collaboration with Alex Buess that goes back to the pre-Praxis days of the Vision label since 1987 and includes Praxis 31 by 16-17 and Praxis 48 by Cortex, both of which also included Daniel Buess.
We're happy to be back on the vinyl front with this excellent release!
By
admin
|
Published:
March 22, 2016
Praxis will start selling exclusively on our own online shop for a trial period of six months, suspending our presence on other platforms. Our aim is to improve presentation and service through our own shop where we can sell the whole range of records, books, CDs, magazines, merch, coffee, etc.
Not having to attend to the listing, communication, shipping, etc of the other platforms will free up time to improve the shop and to concentrate more on our own productions and releases.
Praxis is an independent underground record label and datacide is a printed 'magazine for noise & politics'. Connected to these publishing activities we have built up a distribution and retail operation essentially to distribute and fund our productions. Our aim there was to be able to remain as independent as possible. We sought to develop networks with other like-minded labels and crews, trying to bypass the established distribution and media channels.
In the text "Critical Distribution" in Praxis Newsletter 23 from 2012, I explored various aspects of the developments of "underground" distribution networks and their relative decline, which was analysed as partly self-inflicted.
In the four years since the publication of this newsletter, there has been a certain resurgence in vinyl sales. However this seems to barely affect experimental electronic music, perhaps with the exception of some types of techno. The great beneficiaries of this trend have been major labels and mainstream artists, often in the form of re-releases in luxury gatefold sleeves and 180g vinyl, but also new releases by most current pop and rock stars. While this is a somewhat interesting development, it doesn't contribute to any kind of counter-cultural direction.
A label like Praxis has not benefitted from this trend. Quite the contrary: vinyl pressing plants are tied up with lucrative deals with big labels. Most distributors and shops will no longer touch anything that exists in and explores areas between the established genres (including "experimental music") and the small specialists who have done so are going out of business at an alarming rate.
In such an environment it had become more and more necessary to use any possible platform to retail an ever expanding range of titles. Maintaining our own website and physical store in Berlin, on top of our presence on amazon, booklooker, discogs, ebay, etc, has become ever more time-consuming with multi-platform listing and unlisting, keeping stocks up to date and corresponding with potential customers as well as the related social media activities – and finally shipping the orders. A situation has developed where these activities – which were meant to finance the label and publishing – have instead begun to paralyse it.
We are now taking a radical step and will suspend (nearly) all selling on platforms which are not our own for the coming six months. This will include amazon, discogs and ebay. This is an experiment which has a number of advantages and dangers.
We will be able to focus on the presentation of products and better service for orders in the Praxis online store and, crucially, will have more time to dedicate to the label, the magazine and forthcoming books.
The danger is that the economic situation will get worse in the short or mid term. Indeed if after six months the overall situation hasn't improved, we may be forced to re-activate the sales accounts which we are now putting on hold. This would be regrettable because I, for one, think my time is better spent as a writer, musician and publisher.
The new issue of datacide is very close to publication and several records and books are in the pipeline, others ready for release. We're excited to focus on these essentials!
Christoph Fringeli
By
admin
|
Published:
March 18, 2016

Fresh from the pressing plant!
300 copies, exclusive distribution by Praxis
Official release date: March 29
from today and until then only available from the praxis shop in Berlin!

LOW 027 – Adjust – Titan Remixes – 12" Vinyl
In an era where paltry software remixes are a thinly veiled attempt to retread played material as a weak appeal to launch unknown producers, or worse, a desperate plea for social followers in a bootleg capacity, it seems the critical art of the remix project is a dead and rotting half-eaten corpse on the tracks of electronic music's underground railways.
Enter, the Titan. Only on Low Res Records.
An original track by Adjust, featuring remixes from Meander, Detroit Gore Police and Tarmvred. Each producer armed with the pedigree and capability to strip you of your fingerprints and leave nothing for dental records to trace, all with the single push of a space bar.
As your speakers begin to spew a straight up sonic seance surely to suture your future wide shut, the darkness grows colder with each revolution of the record and the needle digs deeper into your vinyl skin within. Each groove that passes, you have no choice but to submit to pure mechanical breakdown and are forced to peel your skin back and expose your very essence to the frequencies that begin to deconstruct your pithy soul. This is a total scrotal recall of Schwarzeneggerian proportions.
Leading with the Meander remix, you the listener are instantly punched in the throat and the perineum with both of Mike Tyson's robotic iron fists at the same time. Pain, ecstasy, bewilderment and the thrill of the kill in one gigantic money shot. Little hope is left, writhing helplessly on the ground, as you stare up from the floor starstruck with delicious agony. The blood in your mouth tastes like nectar, your eardrums swollen with fear. With the value of the remix steady on the decline, this remix is measured not only in decibels, but in body counts for the coroner.
Then the Detroit Gore Police remix backs up the dump truck and drops seismic kicks and concrete bricks that grind your bones into a gelatin mâché that gets funneled into whats left of your ears, force fed by bass lines that make your eyes pop like condoms filled with phosphorescent urine from the gods, punished and pummeled, weak and forgotten, you prepare to leave the world like you entered, naked and afraid…
But before you can wither away to dust and resign from your mortal coil, the Tarmvred remix howls across the sand under the moonlight sky and circles your perimortem crawl towards death, slowly splitting your black oak, spreading your gates and turning your kingdom of suffering into a final frozen tomb of eternal sleep. A crushing whirlwind of creeping metallic devastation that pierces your innervision. No one on this planet does, like Tarmvred does.
Finally, seemingly as an act of moderated mercy, the original version of Titan by Adjust is capped off as the coup de grâce to abuse and confuse the polymatic construct of acetatic compounds found in pounds of sounds. You muster to escape by seppuku, but are only drawn to block high decibel punches in bunches with your face while your orbitals are destroyed by audibles of psychotic southside chicago acid jungle nightmares that your diminishing soul lacks in capability and composition to escape from. You never stood a chance. It's over. The needle runs out the groove and darkness falls into a static silence as amplified paper scrapes close out your existence… you are lost and alone, on Titan.