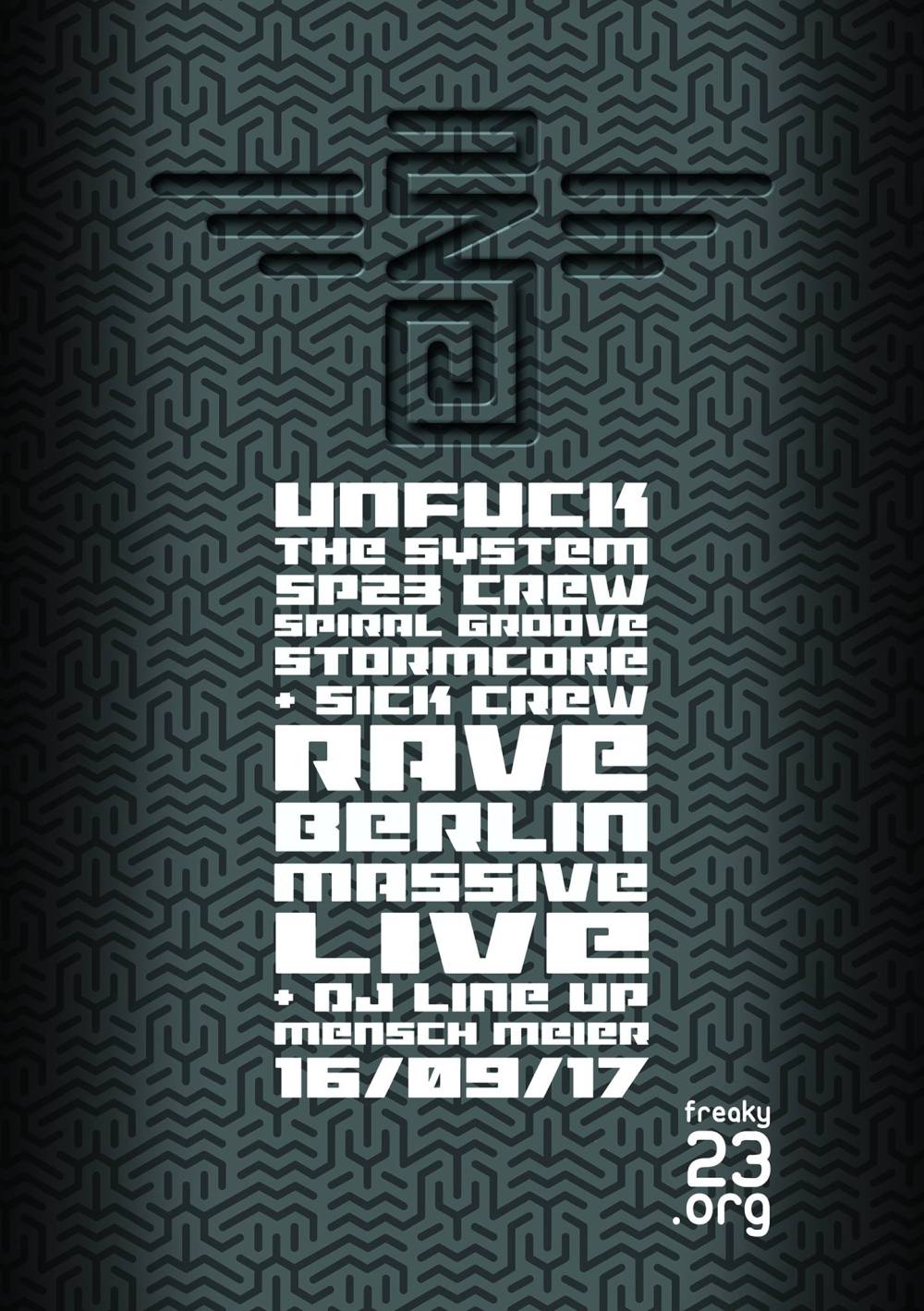 Saturday 16/09/2017 A massive celebration of Spiral Tribe's underground history and underground sound system culture in Berlin!
The day starts at 14:00 on the new Spiral Site, on The Isle Of Others, Schleusenufer 4, (Backyard), 10997, Kreuzberg, Berlin. With the opening of the Spiral Archive (The Berlin years). With live performances from the Bad Girlz, The one love Robot band, and DJ sets from Crystal Distortion (SP23), Ixindamix (SP23) and Meltdown Mickey (SP23).
Then at 23:00 We move location to the Mensch Meier for the awesome: Unfuck The System Rave!
Featuring
R-ZAC (live) (SP23/Stormcore) Instigators of underground psychedelic improvised live set techno, their legacy has spanned the globe and silently perpetuated the existence of many siblings who dare to confront the unknown via intense sonic vibration mastery and repetitive beats.
Radioactive Man (London) U.K based DJ / producer and sworn defender of the electro movement, his career has taken him from the darkest corners of the underworld with appearances at Fabric, London, and on Control Tower records, to the heights of Elektropunk as a member of the infamous duo Two Lone Swordsmen.
Christoph Fringeli (Praxis/Stormcore) Pioneer of experimental hardcore since the dawn of rave, creator of Praxis Records & Datacide Magazine, actively involved in counter cultural political debate.
Zombie Flesh Eater (Kritik am Leben) A performer of turntable madness, lifting breakcore and hard style out of the mundane, and into a fresh dimension of hydraulic robot monster dance.
Jeff 23 (SP23) Jeff 23 cut his teeth at some of the gangster-run London inner city warehouse parties. He began to DJ in 1991 and played regularly at many club events and underground parties in the UK. Tired of having to deal with promoters who negotiated deals at gunpoint, he joined Spiral Tribe and moved with them into continental Europe. Whether he is playing techno or house, he transports the whole dance floor to new levels.
69DB (live) (SP23) Renowned for having done the very first improvised live set in the world. Well loved for his unique blend of tribal polyrhythmic techno and the master of dance floor suspense.
Crystal Distortion (live) (SP23) His live set is a unique experience. His trademark moments of mayhem and infectious grooves propel dance floors past the frontiers of regimented normality to explore the sonic spaces beyond.
Meltdown Mickey (SP23) Often seeing in the dawn, he smoothed the harder sounds of the night out into the warm, rolling grooves of sunrise. He was a key player in pushing boundaries ever further and was at the head of the convoy of tank transporters hauling decommissioned Mig fighter jets out of Berlin to make the first inroads to the Czech Republic.
Racket Alert (live) Racket Alert is a collaboration between Ixindamix (SP23-Audiotrix) and Bagz (Deadsilence Syndicate). From their studios in deepest darkest Berlin they spend their time making their own brand of acid splashed beats and bass lines. Live shows consist of analogue improv and frequency mayhem with rip roaring live percussion and industrial fx.
Ixindamix (live) (SP23) She began her musical career in 1992 joining the Spiral Tribe's convoy of matt black trucks. Collecting records with an irrepressible energy, she quickly became one of the sound system's central performers. With her DJ sets filling floors week after week, she began honing her synthesizer skills in the sound system's mobile recording studio trailer in Potsdamer Platz. The resulting live sets rapidly became popular in countries all over Europe, and she became well known for her tantalizing analogue improvisation and twinkling frequency mischief. Watch your bass bins I'm telling ya!
Midilink (Drop in Caravan, IOT) Member of the Drop in Caravan, with whom he travels the worlds forgotten corners, infecting people with his groovy beats, 100% dance floor guarantee.
Sick Crew is a chaotic rave collective from the underground of Berlin. Mad, Crazy and Sick,they mash up the harder styles of electronic music like Breakcore, Drum'n'Bass, Hardtek, Happy Hardcore, Tekno and Acid and rave the city with free open airs, uncommercial parties, parades and other weirder actions.
They are proud to have shared their love for all that with the Sp23 Crew for many years, freaking the people out and keeping the subculture movement and uncommercial techno alive.
Sick Crew joins the Freaky 23 party with their hard upfront underground sound, feat Rave Dave, Pacheko, Briain and Peter Silié.
Video: Feenix 13 (SP23) Feenix 13 Vjs her stunning original video animations across the night.
Decor: Mark Angelo (SP23/Cult of Signs) Hand painted décor from Mark Angelo Harrison, Spiral Tribe's original graphic artist.
Lasers: Pink Slime
Projections: Faflahaine
Talk: The Future of Free Parties with 69DB and Christoph Fringeli
16/09/217. 23:00 to Midday Sunday. 23:00-00:00 5 Euros 00:00-01:00 10 Euros After 01:00 12 Euros
At the Mensch Meier, Storkower Str. 121, 10407 Berlin.
A Freaky23 Production.
JOIN OUR MAILING LIST!
Buy a T-shirt!