There was a fire at Rauchhaus last thursday, and another incident in the morning of the 24-12 which prompted the Rauchhaus to cancel all events there for an indefinite time. Sadly this means that our party will not take place this weekend. We are planning to re-schedule for a date in early 2015 and will let you know. Watch this space for updates.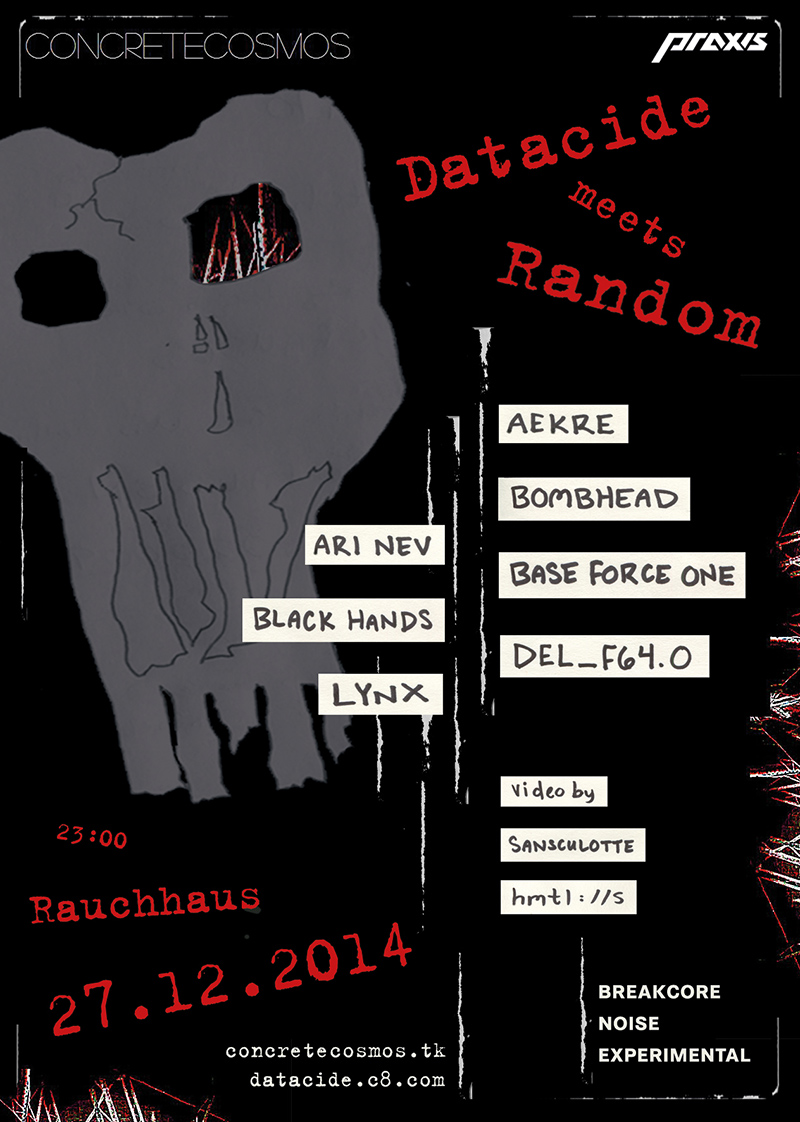 Concrete Cosmos and Praxis together to sustain their activities of independent media in 2015.
This fundraising party will help the realisation of a feature film entitled Nullreich and the print of a book containing the first 10 issues of Datacide.
_________
Aekre (Breakcore/IDM) – DJ set
http://www.mixcloud.com/Cell-Infadel/
https://soundcloud.com/cellinfadel
Ari Nev (Breakcore/IDM) – Live
https://soundcloud.com/arinev
https://soundcloud.com/conmos
Base Force One (Breakcore/Experimental) – Live
https://soundcloud.com/praxisrecords
Black Hands (Rhythmic Noise) – DJ set
http://www.mixcloud.com/alessiobarbuzza/
https://soundcloud.com/aleb-2
Bombhead (Noise) – Live
https://soundcloud.com/bombhead-1
Del_F64.0 (Speedcore) – Live
https://soundcloud.com/delf64_0
Lynx (Breakcore, Noise) – DJ set
http://www.mixcloud.com/NOISEANGRIFF/lynx-noiseangriff-53-2714/
Video installation by Hmtl://S and Sansculotte
https://vimeo.com/user26141585
https://vimeo.com/sansculotte
Stay tuned on the networks!
https://concretecosmos.wordpress.com/random14/
http://praxis-records.net/
_________