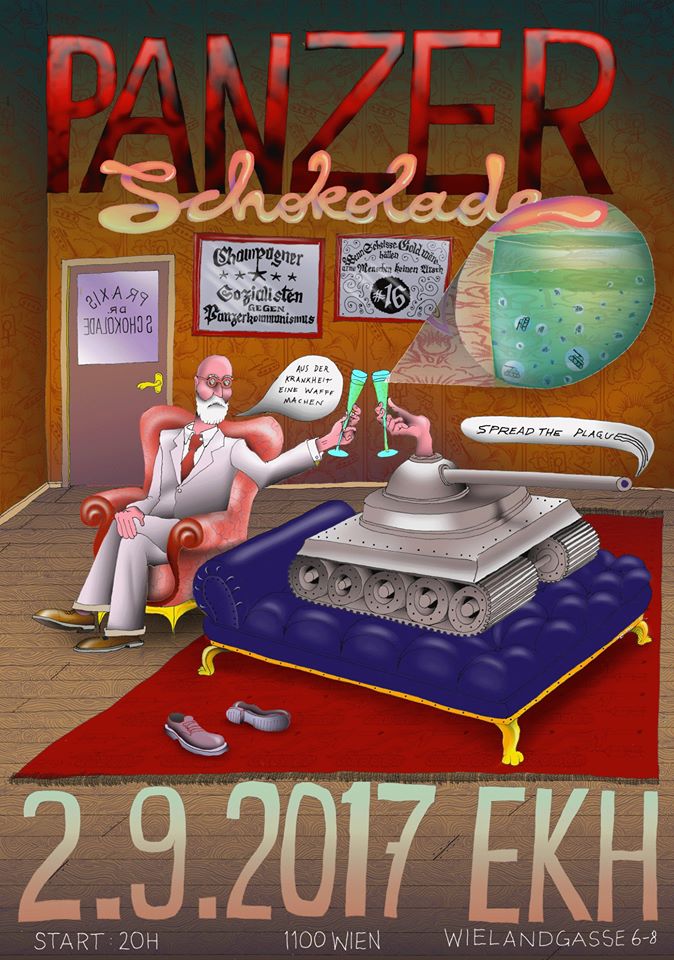 ▌PANZERSCHOKOLADE #16 ◥ ◤ 25 YRS PRAXIS RECORDS ▌
start 20:00 – Lecture by Christoph Fringeli
Talk and discussion about the interrelation of countercultures and radical politics, in history, the present and perspectives for the future.
"We have a world of pleasures to win and nothing to lose but boredom."
25 years of Praxis
Praxis was founded as a label for experimental hard dance music in 1992 in London. It's one of the very few labels not only still in existence but also still engaged in exploratory developments. Now based in Berlin, the label is celebrating its 25th anniversary with a series of events.
► prole sector
► christoph fringeli
► zombieflesheater
► lynx
► psychic defence
► unprofessional
► assimilatah
► jung an tagen
► inou ki endo
► dj balli
► beverly kills
► makava experience
► dci.banks
► bam!!!
► miami vince
► faz'og
► fall into dry lungs
► inverto boy & abraham wurstkessel
► johnny weissbrot
► therese haller
► ulrich rois
► more t.b.a.
VJS ► Mana
Praxis Records Datacide Panzerschokolade
WE EXPECT OUR GUESTS TO BE RESPECTFUL AND MINDFUL
BIST DU GEMEIN GEHST DU HEIM!
We do not tolerate sexist, racist, homophobic, antisemitic, antiziganist, nationalist or any other kind of asshole behaviour.
Please watch out for each other and dont hesitate to contact us at the entrance/bar/soundsystem.
If you dont respect (the boundaries of) others, you will be kicked out without discussion.
BE NICE OR LEAVE!
_________FREE_PARTY_NOT_FREE_TEKNO_________
ENTRY = FREE DONATION (which should also express your respect for the efforts made and your dedication to be a part of the party)