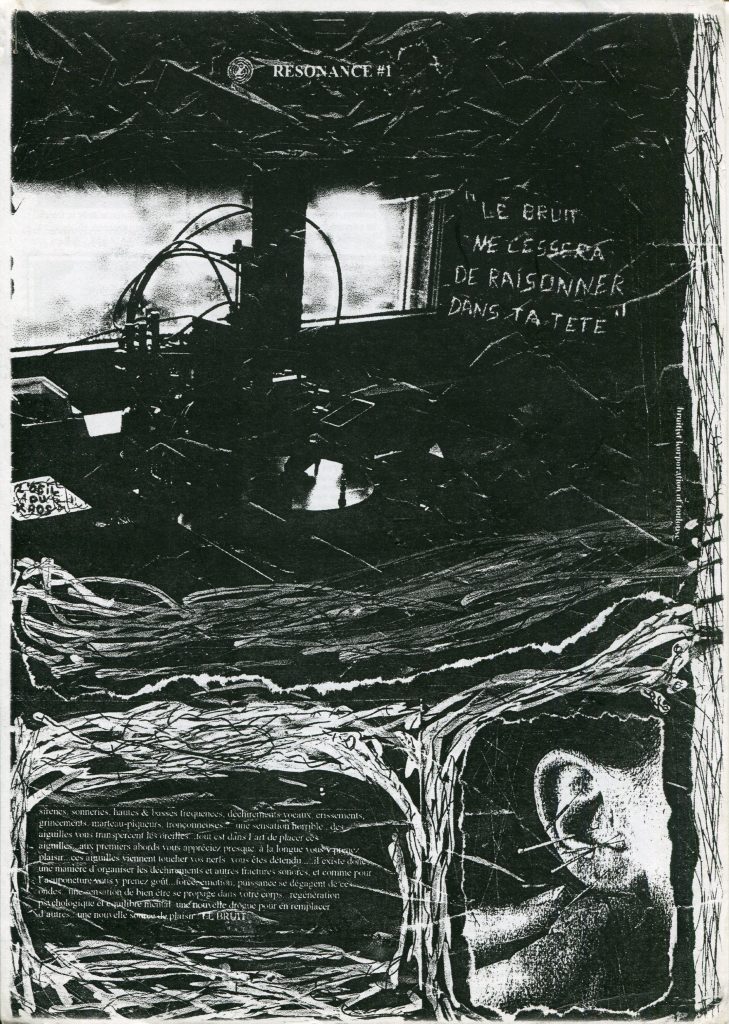 An interview with DJ Scud about Ambush & Maschinenbau in the first issue of the French zine Resonance (1997) !
You are involved in Ambush and now in the new label you founded with Adverse: Maschinenbau. Can you present us these 2 labels & the persons who are behind?
I do Ambush in partnership with Jason Skeet (Aphasic) and Maschinenbau with Paul Nomex from Adverse records. Maschinenbau is more abrasive-noise and purely Amiga produced. Nomex & myself are dedicated Amiga Abusers.
When did you start working with Jason Skeet? Do you also have solo-projects?
We started working together last year (Sept. '96) after going to the Brittany Teknival Tir-Na-Nog. Solo-projects? Ambush 04 is supposed to be a Scud record but I work very slowly and I get bored of my own tracks very easily so I bin most of what i ever start on. It's better that way. What do I want to be anyway? A solo-artist?!! I prefer working with other people – when you put two minds together there is always a bastard-third.
Tell as about the person of Shizuo about your collaboration with him.
I first met the Shizu-man at the legendary Dead by Dawn parties. He was living in London at the time, on the run from Arab drug-dealers and didn't have any friends because he was such a nutter and always on acid and getting into fights and molesting girls! He was looking for drugs one night and I sold him some ecstasy and tried to rip him off – I thought he was some sucker squat-punk-tourist & we started making tracks together (this was summer '95) and the tracks have only just been released this year! -2 on the 'High on Emotion' EP and 2 on the LP. Typical DHR…to bury the tracks and sit on them for 2 years! But they have other priorities…
You also run the fanzine FallOut – what does it represent for yon? Which fanzines do you read?
It represents the fact that everything's screwed up and we like it that way don't we? I don't take it too seriously as you can see. It's just an outlet for my sardonic humour. I read the usual rubbish – TNT, The Skreem, Underzone, Turbulence, some cool Jap ones & other drunken cut & paste punk 'zines but there are some very well produced professional und*round magazines coming out here in the U.K. which I should say a massive respect to… Datacide & Autotoxicity.
Do you read newspapers? I think you don't really like TV – what would you say about it?
No. I try not to. It would be crass (but true) to say that is all propaganda & lies – but I said it anyway! You noticed? I guess it IS my pet hate. But like I always like to point out…70% of your leisure time is spent watching the fucking thing! That says it all. On the other hand there is the argument that says "how can you analyse your own culture if you don't watch TV"? I don't ever say that I NEVER watch TV – I do, but only very rarely – it's too passive for me. I actually had a TV fOr a couple of months but it blew up. Too much negative energy…it just imploded.
Your point of view about peoples' mobilisation for the death of Lady Diana:
Diana, Princess of Wales was the Queen of peoples' hearts.
It shows a sickness in England towards the traditional Kingdom. It seems that people have enough of this anachronism. Do you think the situation is gonna change?
Well that's England…love it or leave it! I myself like drinking warm beer and causing trouble at football matches. The real question is "do we hang them or shoot them?'
Back to the music. With Ambush you have developed a new breakbeat, very industrial, metallic sounding with strange structures. Can you describe us the musical & ethical concept of Ambush? Is there an evolution since the beginning?
We don't have an Ambush manifesto. We just want to release material that doesn't pander to any genre-market – we think in terms of Mutant machine-music…strange hybrids…broken beats, weird grooves…anti-4/4…anti-speed. We like rough caustic Amiga 8-bit technology fused with more 'professional' hard-disk recording-studio production. The evolution happens by itself.
Maschinenbau is more noise oriented with the meeting of harshnoise & breakbeat. This kind of tracks, such as Give Up can bring a lot to hardcore music. What do you think about the alliage of hardcore & noise, breakbeat (or other such as jazz or classical…)?
Hardcore Techno???? I don't really know what that is anymore. It sounds very '92! Like I just said: I think the only way forward is hybrids.
For the Maschinenbau 01, tracks are inspired by urban sounds; a train & a piling machine. What influences you in making your tracks? Sounds of life, other music, anger??
Well the M'bau 01 used sounds of the approaching millenium – not generic urban sounds; the sounds of progress in our fair city of London. Yes my influences are urban and of course other music influences me: Praxis, Shizuo, Jap-noise, Tech-step etc. I'm influenced by the people I work with. When I hear good Djs who fuck it up and make it ruff that inspires me too. I just want to make even rougher records for them to play.
What do you listen to now?
I'm listening to a lot of Ragga at the moment.
You play as DJ Scud, do you also play live?
No, I don't play live. I haven't worked out a proper way to do a proper live act. It would be dumb to just take any Amiga along somewhere and just hit play with the mouse and mute channels. There's too many live fakers as it is. It's so Rock'n'Roll this 'live' thing and anyway I don't have any lether trousers.
Your projects
Maschinenbau 02 "Skatebored" with Nomex again A London/Berlin 7" project Scud – Kill Out Trash / Nomex – Society Suckers Ambush 04 Scud Ambush 05 Aphasic Ambush 06 Hekate sound system
something to add:
Yes. Big up the Sub-Net Massive! Shouts goin' out to the Hekate Crew, the Fringeli, the Aphasic, the Nomex…Hold it Down! Oh My Goooooooosh! Message going out to all the French sucker Djs who play their records on 45. Kill Your Speed!!!!!!
Discography Shizuo & Scud (various) DHR 14 & DHR LP7 Jackal & Hide Ambush 01 Aphasic & Scud Ambush 02 Nornex & Scud Maschinenbau 01
Maschinenbau 01 and 02 were rereleased on one 12″ as Praxis 56 in the Autumn of 2018. Get a vinyl copy (with download code) HERE or listen to the tracks here (where you can also get a download):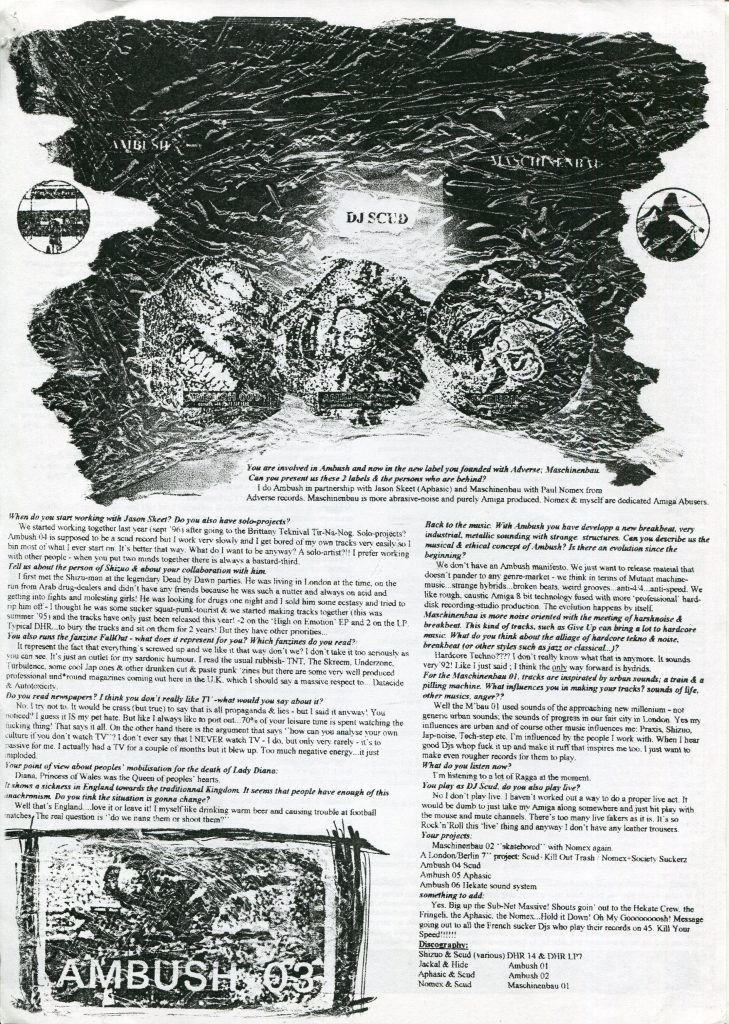 More information about the Maschinenbau release can be found on our discography page HERE.