The irony: Last night I added the new download shop header and the recent/new Sub/Version releases by Egon Frinz and Grr to our old mp3 shop and tonight I was in the middle of writing a blog post on the praxis.ithinkmusic.com page when suddenly the site went offline, and it looks like it's for good:
"After 5 years of trading www.ithinkmusic.com has been closed. Unfortunately our bank have removed our overdraft facility which has made it impossible for used to continue to trade.
A big thank you to all of the labels and music lovers that have supported the service over the years.
If you have any question please get in touch via email: mc@ithinkmusic.com"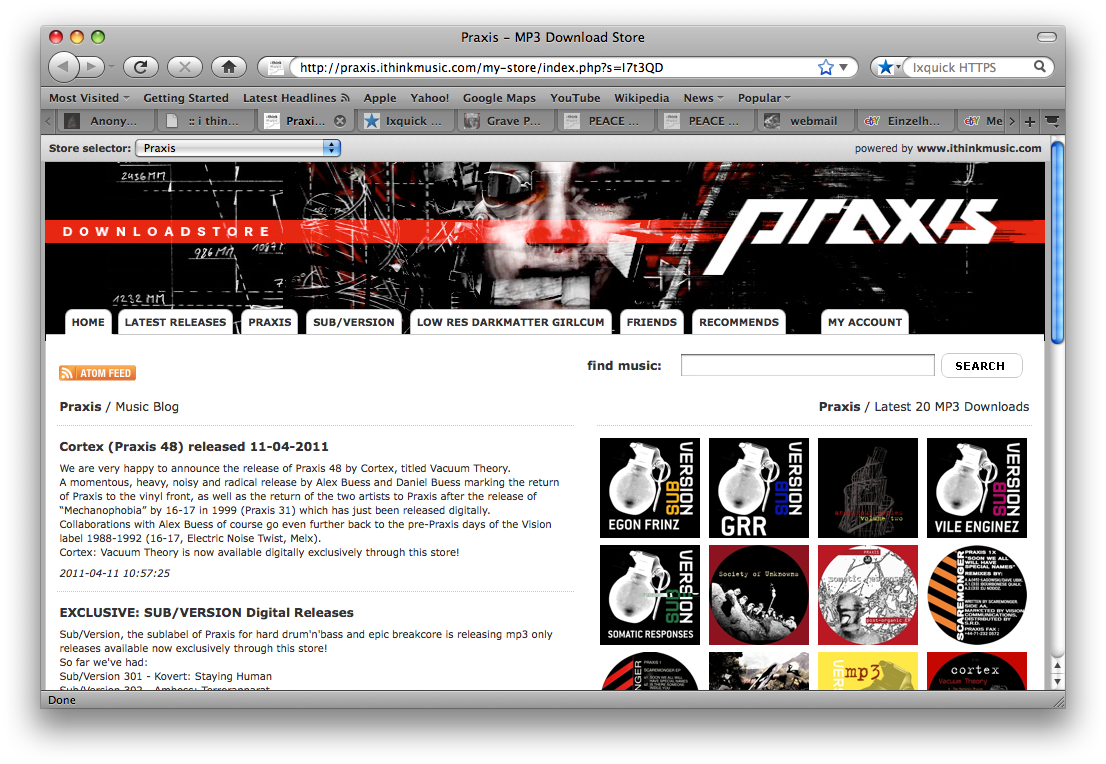 I was very hesitant about the idea of selling files to begin with. After all we had offered free downloads for many years via c8.com, seeing it as an opportunity to spread the music and promote the records. But when it became apparent that more and more DJ's were using files rather than records to play out, it became more important to provide high quality files, and surely the people looking for them wouldn't mind to pay a euro or so for one to support the artists and labels!?
Still I was quite reluctant to use the mainstream outlets, and when I came across ithinkmusic.com it seemed like a good place to try it out. The site was designed for small labels and artists selling their material and networking amongst themselves. And ithinkmusic.com who provided the platform and software were only taking 5% of the revenue. So starting in 2009 this became initially the only place to buy praxis music online.
Many related labels and artists did the same thing and opened shops on this platform. Amongst them were Bloody Fist, Peace Off, Sound Base, Restroom, Bong-Ra, Zhark International and many others.
There were some good ideas – you could for example license material from shop to shop. But soon some stagnation seemed to set in. Announced improvements, such as the possibility to sell files other than mp3's (such as wav's) and merchandise were never implemented. Another issue was that to receive payments, you would have to request them and apparently in some cases this would take a while (I can't really complain myself).
When I came across Bandcamp a little later, I was impressed enough to open a shop there as well. The advantages of bandcamp compared to ithinkmusic were that there is no set-up fee, you can download lossless files, you can sell merch, you can offer free downloads, you get paid directly from the customer into your paypal account and more… Bandcamp takes a larger share share of the revenue (15%) than ithink did, and doesn't offer the possibilities of blogging on the site itself. But who needs that, when there is a danger of having too many blogs and sites to keep up to date anyway?
I don't know about others, but Praxis hasn't lost (significant amounts of) money by ithinkmusic going bankrupt – download sales are poor to start with and had slowed down to almost zero in recent weeks (on ithink). Thankfully I got a payment a couple of months ago and tallied up the sales around xmas, so no one involved on our side has anything to worry about on the side of accounting.
Nevertheless it is a bad sign if sites that are predominantly conceived as fundraising schemes for artists and small independent labels are going under. It is clear that selling files is essentially a crowd-funding concept. It could also be seen as not  so much a matter of selling commodities than a kind of virtual busking. Still many of those involved are pretending they are involved in a veritable business, when they fear to appear as common beggars. Of course this kind of precarious situation should lead to a complete overhaul of the way culture is produced.
Sooner or later this is going to happen in conjunction with the abolishment of wage labour and money, state and capital. But of course the closing of a specific shop is daily routine in capitalism. For a change it has struck a "new" virtual platform rather than a physical shop.The economic crisis doesn't discriminate.  In the context of ithinkmusic I won't ask now why it is that they even needed a bank overdraft. After all it was them acting as a "bank" for the labels and artists. But then again, let's assume they were paying rent for an office in central London and let's assume the sales of other labels were just as poor as ours, then obviously this wouldn't add up.
I just hope no one else has suffered substantial losses. Please use the comment function to illuminate us further…