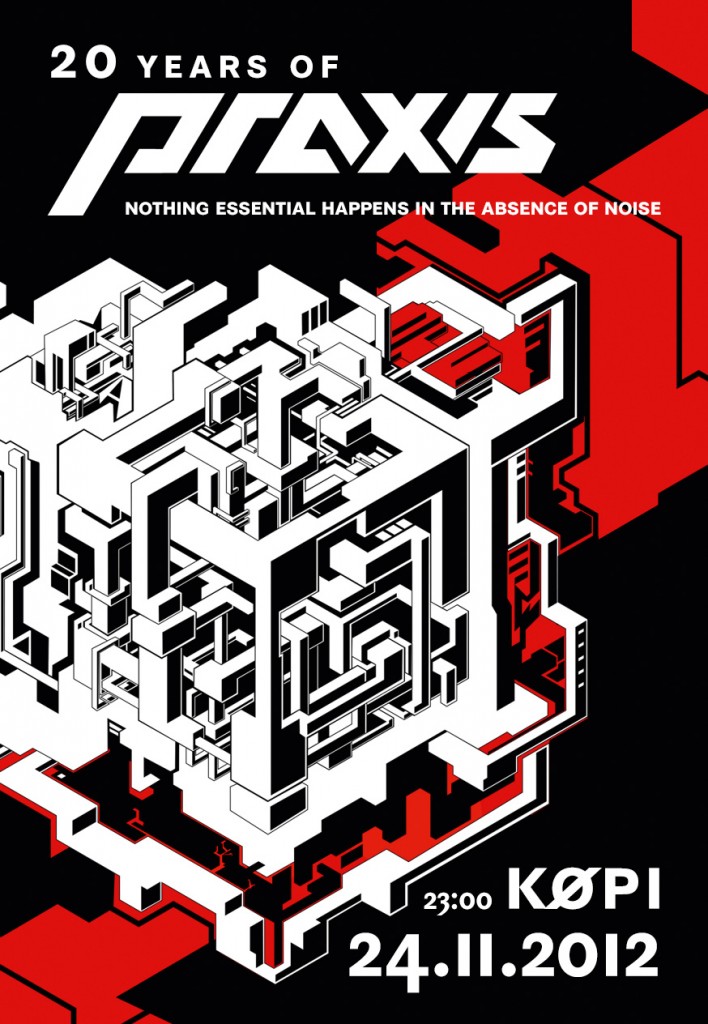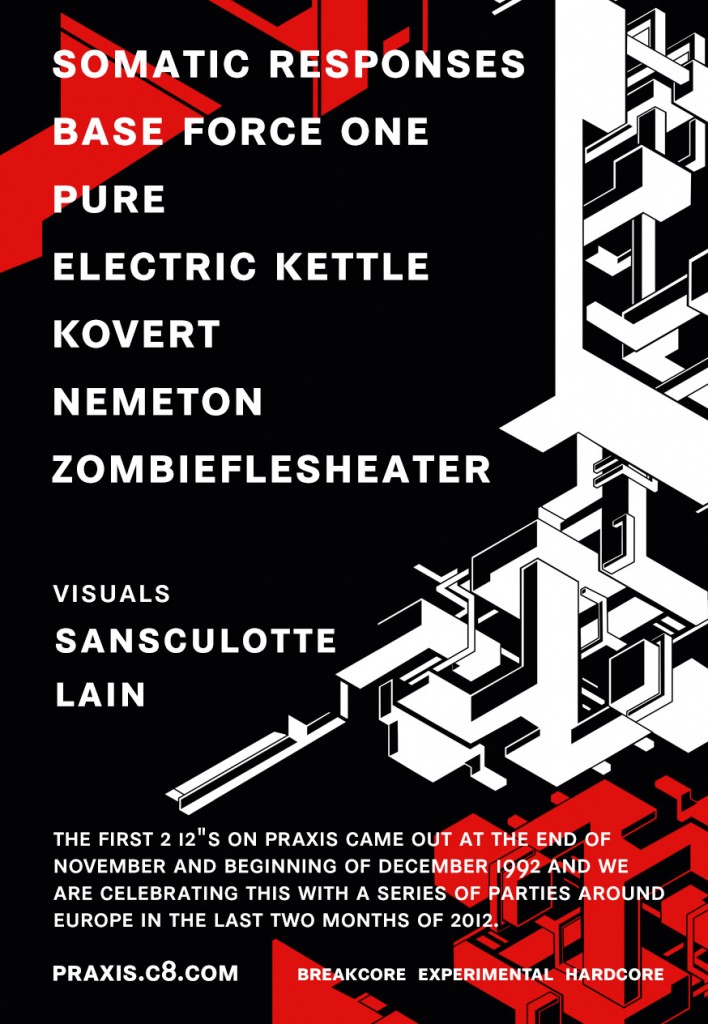 At the end of November and the beginning of December 1992 the first two releases on Praxis were officially released. This means the label turns 20 this autumn!
SOMATIC RESPONSES // http://soundcloud.com/somatics
PURE // http://soundcloud.com/praxisrecords/chri
DJ YUBBA // Praxis 12
KOVERT // http://criticalnoise.net/
BASE FORCE ONE // http://praxis-records.net/
ELECTRIC KETTLE // http://soundcloud.com/electrickettle
NEMETON // http://darkmattersoundsystem.com/
ZOMBIEFLESHEATER // http://soundcloud.com/zombieflesheater
live visuals by SANSCULOTTE // https://vimeo.com/sansculotte and LAIN // http://lain.audioactivity.net/
http://praxis-records.net/
http://datacide.c8.com/
http://soundcloud.com/praxisrecords
For more infos please click here:
Somatic Responses
Somatic Responses really don't need an introduction – The brothers John and Paul Healy from Wales started making tracks and their first records in the mid nineties with a distinctive brand of industrial hardcore, soon branching out into other fields of hard electronics, dark ambient and experimental electronica. One of their first records was the classic "Post-Organic EP" (Praxis 18), other contributions to the Praxis catalogue are the massive "Incubation" on the Dead By Dawn (Praxis 23) compilation, the collaboration with Christoph Fringeli as Potere Occulto (Praxis 25), as well as the collaboration with ADC on "Teatrodellopera EP" (Praxis 41).
Since the early days they have become one of the UK's most prolific acts in experimental electronica.
Kovert
The Kovert project began in 1994 as a pirate radio show on Chillin' FM. Broadcast weekly from the heights of East London, the show offered a varied diet of dark electronics.
Having djed for 4years prior to Chillin', and influenced by the harder Detroit sounds, the early Chicago house sound, dark european hardcore, the UK rave/early jungle scene and the broken electronics of the Italians, it was only a matter of time before some ideas were recorded.
Experiments followed.
His first 12" was the momentous Shock Effect, released as Praxis 34. 6 tracks of harsh breaks, low end theory and shredding noise (love songs?).Conceived as anti-muzak, it asked: could distraction from the banal lead to increased participation in the everyday? Besides more releases on the Peace Off sub-label Damage, and the SMB offshoot Vinyl Weaponry and on Sonic Belligeranza, there was Jaffna pt 1&2 (Sub/Version 006) smashing the dance with an epic apocalyptic rave technique. Expect highly danceable critical noise from Kovert!
Pure
Pure has been making electronic music under different monikers since 1992. Working in the darker and heavier domains of the sonic universe he creates hypnotic, soundtrack-like sound pieces using a mix of electro-acoustic composition, sound synthesis, and live electronics.
A member of rave legends Ilsa Gold and running his own labels Loop and Atmosfear already, Pure and Christoph Fringeli combined forces on the first releases of Sub/Version, including the classic "Dark Star" and "Anti-Christ".
Finally Pure released the 12" "Katharsis/King Kong Pt. 2" (Praxis 26) in 1999, which was followed by the double CD compilation "Body Hammer" (Praxis 26CD) which is a comprehensive anthology of his hardcore oriented material.
DJ Yubba
The mysterious DJ Yubba, at the time rumoured to be the "world's fattest DJ" made only one appearance on vinyl, alongside Deviant on "The World's Fattest Split" (Praxis 12, 1995) and then disappeared from the scene. Since then it has transpired that not only has he released many more records under different names, but also has been a member of the seminal and legendary outfits Disciples of Belial and Lorenz Attractor!
Added in the last minute to the line-up as super special guest, this will be a unique opportunity to see DJ Yubba in the 21st century!
Base Force One
Base Force One is the project of Praxis label founder Christoph Fringeli where he combines militant breakcore with noise and social comment, brought in with vocal snippets and the juxtaposition of antidromic sound strategies. The first release by Base Force One on Praxis was "Welcome To Violence" (Praxis 27), a four track EP of sharp and hard breakcore and hardcore in 1997. His rele
ase on Still Raven "Expenditure of Excess Energy" was a tribute to early Rave and 'Ardkore, while "Dynamite & Fire" (Praxis 39) returned to a more militant but also experimental approach. Christoph will play a laptop live set with new material incorporating elements of older material from his Praxis and Sub/Version releases.