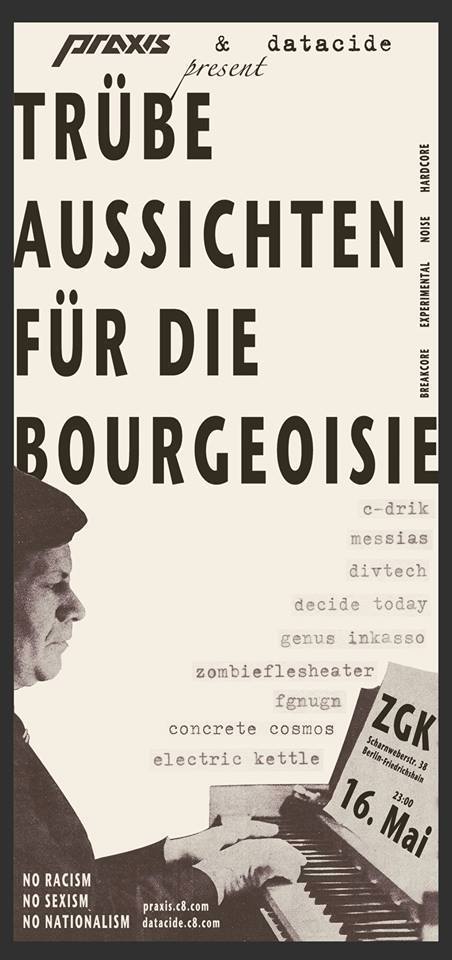 Die Berliner Krise Kommt
c-drik
http://syrphe.com/c-drik.html
messias
https://laermkultur.bandcamp.com/
divtech
https://soundcloud.com/divtech
decide today
https://decidetoday.bandcamp.com/
genus inkasso
http://grindcorekaraoke.com/album/the-despised-pastora
zombieflesheater
https://www.mixcloud.com/Zombieflesheater/
fgnugn
https://soundcloud.com/fgnugn
concrete cosmos
https://concretecosmos.wordpress.com/tag/concrete-cosmos/
electric kettle
https://soundcloud.com/electrickettle
http://datacide.c8.com/
http://praxis-records.net/
https://www.facebook.com/pagesDatacide
ZGK / S 38
Scharnweberstrasse 38, 10245 Berlin
This is a Soli Party which means a fundraiser for various print projects connected to Datacide, the magazine for noise and politics, which has been exploring the overlaps and frictions of radical (anti-)politics and electronic music since 1997.
With our fundraisers we have always followed the course that we aimed at finding a happy balance between providing exclusive, exciting and in many cases incredible international and local acts, covering at least their travel and other expenses as well as providing a fat sound, and the aim of funding our radical media projects.
The next projects will be:
– DATACIDE FIFTEEN. The next regular issue of the magazine will be out in October 2015. Articles and contributions are being assembled now and we're excited and confident that the upcoming issue will be another killer. Since 2011 we have published Datacide on a yearly schedule. At the very least we intend to continue this, but we have more in store: Books, a German edition, and we would like to increase the frequency of publication.
– BERLINER KRISE. We are currently preparing a – kind of – German edition of Datacide. We have been based in Berlin since issue number 10 of Datacide came out. We've been very active, organising numerous parties, events and a couple of successful conferences, but we feel that the "missing link" is a German language publication. BERLINER KRISE will be a 12-page A3-size newspaper which will feature translations from previous issues of Datacide, German language "versions" of articles as well as exclusive content.
– Datacide Book: EVERYTHING ELSE IS EVEN MORE RIDICULOUS. A complete reprint of Datacide issues 1-10 in one massive volume with new introductions and an index. We decided to do a thorough edit of the original layout and find a balance between correcting mistakes and improving readability one the one hand, retaining the original vibe and look and most importantly the complete content of the original issues.
All these projects are scheduled to appear in the next 2-5 months. For this we need money and support.
TRÜBE AUSSICHTEN FÜR DIE BOURGEOISIE at ZGK is our next party. If you are in Berlin, come and join us. If you're not able to attend, but you want to support our projects, please consider a donation or take out a subscription to the magazine. Paypal address: datacide@c8.com, subscriptions cost EUR 12.00 – or more at your discretion – for 3 issues incl. shipping to anywhere in the world. More information can be obtained by writing to the same email address.