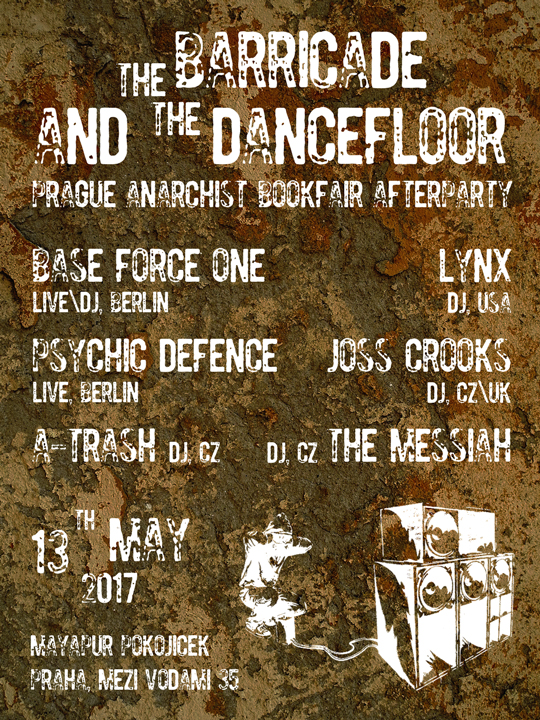 The Barricade and the Dancefloor
Base Force One (Live/DJ, Berlin)
Psychic Defence (Live, Berlin)
Lynx (DJ, USA)
Joss Crooks (DJ, Prague)
A-Trash (DJ, Prague)
The Messiah (DJ, Prague)
Prague Anarchist Bookfair presents its official afterparty – the night of radical electronics. From hard electro through acid techno to breakcore, the various backgrounds of the performers share the common element – the complicated relationship between their culture and politics. A topic to be debated during the afternoon at the panel discussion at Klinika, the last active squat in Prague (also featuring James Cole from BiggBoss representing hip-hop, Banán from Kovadlina representing hardcore punk and RaveBoy aka The Messiah hosting and introducing the reggae dub point of view), in the night they're going to show their skills in the field of musical expression at Mayapur Pokojíček in Modřany. Await intense atmosphere and intense basslines on the intense sound – powered by NCA.
Anarchistický festival knihy uvádí svou oficiální afterparty – noc radikální elektroniky. Od hard electra, přes acid techno po breakcore, různé zázemí účinkujících obsahuje společný prvek – komplikovaný vztah mezi jejich kulturou a politikou. Během dne toto téma proberou na panelové diskuzi na Klinice, posledním aktivním squatu v Praze (spolu s nimi také James Cole z BiggBoss reprezentující hip-hop, Banán z Kovadliny reprezentující hardcore punk a RaveBoy aka The Messiah jako průvodce večerem představující pohled ze strany reggae dubu), v noci pak ukáží své dovednosti na poli hudebního vyjádření v Mayapur Pokojíčku v Modřanech. Očekávejte intenzivní atmosféru a intenzivní basové linky na intenzivním zvuku NCA.
Sat/so 13. 5. 2017
Mayapur Pokojíček
Praha 4, Mezi Vodami 35
Tram/bus Belárie: 17, 3, 21, 92 (N), 190
Watch out also for:
Panel discussion about relationship between music and politics across various subcultures, which will take place at Prague Anarchist Bookfair at Klinika Squat. It is going to be introduced by Christoph Fringeli (Praxis Records, Base Force One, Psychic Defence) with his one-hour lecture named ""The Barricade and the Dancefloor" and is going to be followed by panel discussion in English with following special guests:
Christoph Fringeli (Praxis Records, Berlin) – breakcore & experimental hardcore
Joss Crooks (Technical Support, Prague) – techno & freetekno
James Cole (BiggBoss, Prague) – hip-hop & rap
Banán (Kovadlina, Prague) – hardcore & punk
and will be hosted by RaveBoy (Roots'n'Future) with the background in reggae & dub soundsystems.
See The Anarchist Bookfair programme for exact times.