THE DOOMSDAY MACHINE IS ON.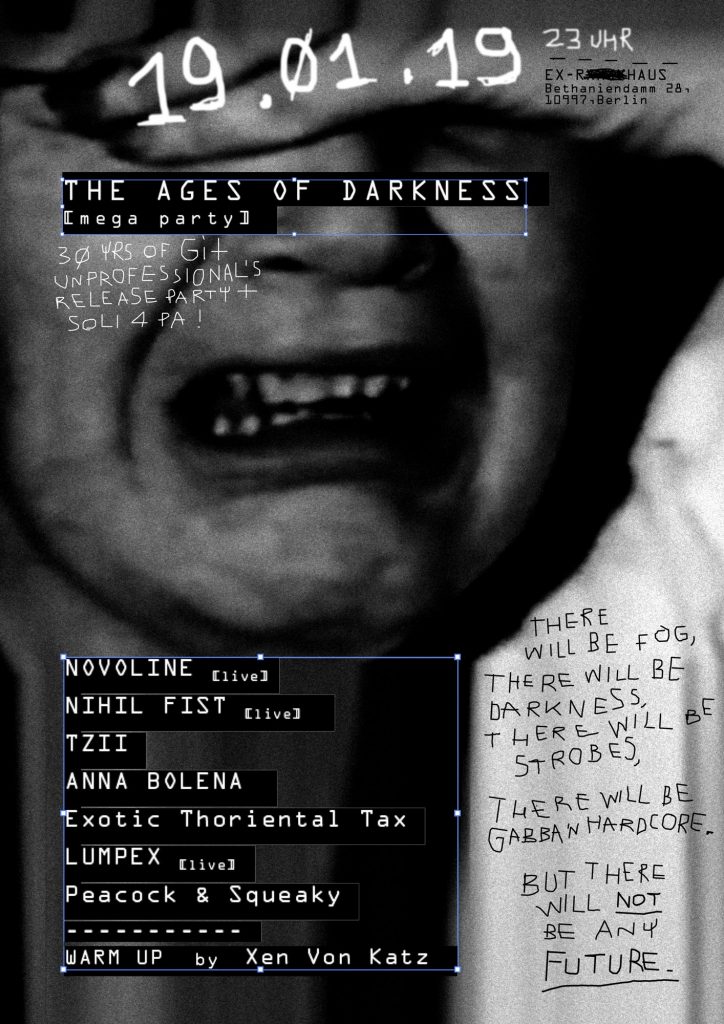 DE//US//IT//NL//BE//FR//PL//TR united to give tribute to the real Hardcore&Gabber old true school of darkness and celebrating GHETTO G aka UNPROFESSIONAL's 30 YRS ANNIVERSARY.
NOVOLINE aka JackWolfSkin special Gabber edition (LIVE)
NIHIL FIST (LIVE) [He is back!]
ANNA BOLENA [special 90s obscurities]
TZII [The dark side of France]
Dj Exotic Thoriental Tax [The dark side of East]
LUMPEX (LIVE) [The dark side of everything]
OTB Grand Cru Peacock&Squeaky&Oma(?) [Representatives of the 90s Dutch school]
—————-
WARM UP by Xen Von Katz [dark melancholia]
ACTUNG!!! SOLI FOR PA!!! ALL THE INCOME OF THIS PARTY WILL BE SACRIFICED FOR THE CAUSE OF A NEW SOUNDSYSTEM FOR OUR HOUSE/VENUE.
Delivered to you by RAUCXXAUS, Freak-animals & GHETTO GI Ent
NATURAL SELECTION AT THE DOOR WILL BE APPLIED.
THERE WILL BE DARKNESS. THERE WILL BE FOG. THERE WILL BE STROBES.
NO FASCISM.NO SEXISM.NO RACISM.NO FUTURE.