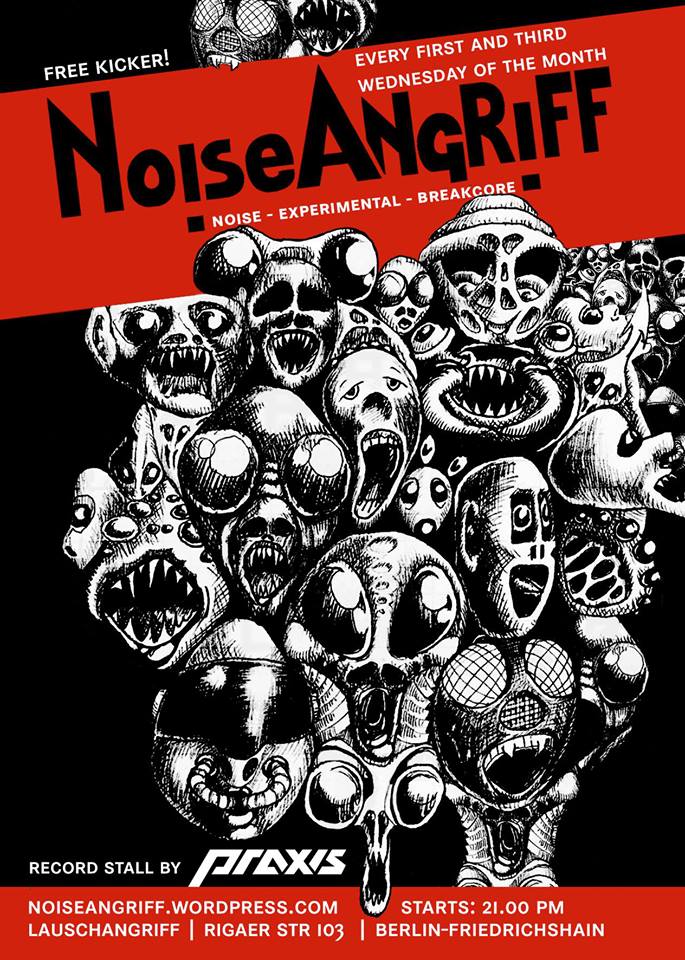 NoiseAngriff completes the first half on 2014 with an excellent line-up for a last blow-out before the summer break!
LETZTER NOISEANGRIFF VOR DER SOMMERPAUSE
2/5 BZ + Zeynep Sarıkartal
http://2-5bz.tumblr.com/post/86853036748/2-5bz-aka-serhat-koksal-istanbul-gezilla-vs
https://soundcloud.com/2-5bz
LYNX
+
ZFE
fgnugn
CHRISTOPH FRINGELI
Noise, Experimental, Hardcore, Breakcore,Drone etc.
starting 9pm!!!
NoiseAngriff is a night taking place every first and third wednesday of the month.
It is meant to be an "early" night (by Berlin standards), meaning that we will go till one or two and then it will depend on the audience, the bar staff as well as ourselves if we carry on and make it a late one after all.
Entrance fee is just a free donation.
Incl. Praxis Record stall!
check http://praxis-records.net/shop and pick up your order at the party where you can also browse through and listen to a selection of our stock!
You can find records, clothes and posters by Praxis ( http://praxis-records.net/shop ) , Berzerk (http://www.berzerk-produkts.net/v2/shop ) , YaYa23/Cyberrise and Digital Junk New opening times at our Berlin Shop!
Tuesday – Saturday 2-7 pm
check it out:
Praxis Records & Books + Yaya23 records, Lenbachstr.9, 10245 Berlin Ostkreuz.
https://noiseangriff.wordpress.com/
http://www.mixcloud.com/NOISEANGRIFF/
https://www.facebook.com/Lauschangriff.Berlin
Lauschangriff
Rigaer Str 103
10247 Berlin