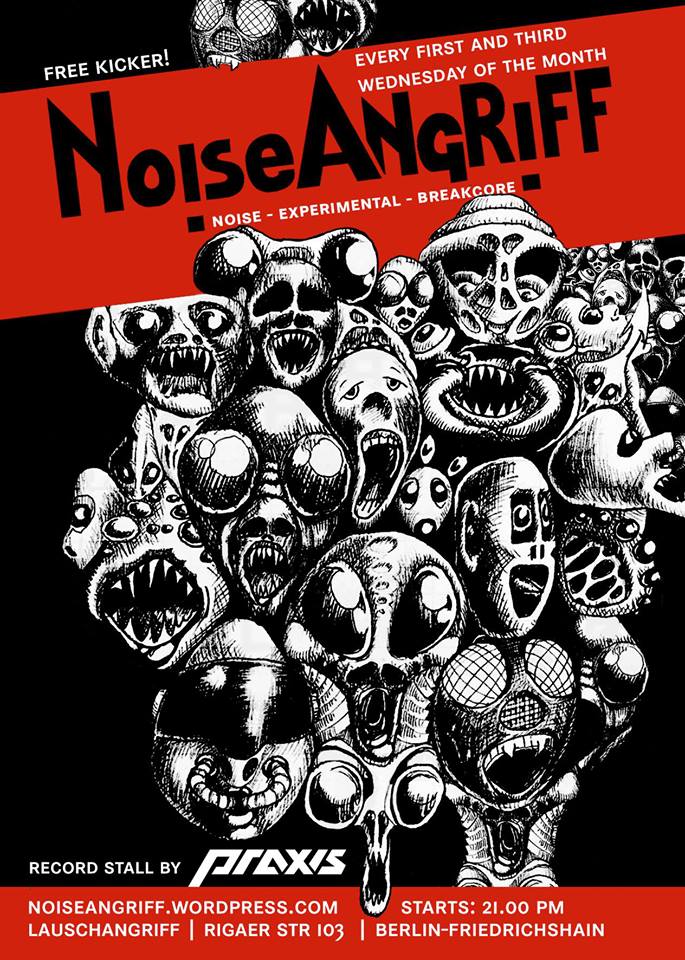 The last one for 2013, bringing the second year for NoiseAngriff to a close – and we've seen some amazing line-ups and heard some incredible music! Next one after this will be the 15.1.2014
this time with:
ANBU
http://soundcloud.com/anbu-music
BOCCA AL LUPO
https://soundcloud.com/bocca-al-lupo
bocca al lupo plays violin and analogue synth. inhabiting a tingling space between noise, soundscapes, and drone, she will lead you through dark corridors to abandoned wilderness, emerging out of the shadows to tap you on the shoulder and run into the trees. Recent collaborators include Jan St Werner (Mouse on Mars), TX Ogre (aka Shitmat), and she also plays violin & keys in psychedelic doom pioneers, Drum Eyes.
More TBA
fgnugn
ZFE
CHRISTOPH FRINGELI
starting 9pm!!!
NoiseAngriff is a night taking place every first and third wednesday of the month.
It is meant to be an "early" night (by Berlin standards), meaning that we will go till one or two and then it will depend on the audience, the bar staff as well as ourselves if we carry on and make it a late one after all.
Entrance fee is just a free donation.
Incl. Praxis Record stall!
check http://praxis-records.net/shop and pick up your order at the party where you can also browse through and listen to a selection of our stock!
NEW Datacide 13 and NEW Praxis 51 12″ by Noize Creator will be available on the evening!
You can find records, clothes and posters by Praxis (http://praxis-records.net/shop ) , Berzerk ( http://www.berzerk-produkts.net/v2/shop ) , YaYa23/Cyberrise and Digital Junk
New opening times at our Berlin Shop!
Tuesday – Saturday 2-7 pm
check it out:
Praxis Records & Books + Yaya23 records, Lenbachstr.9, 10245 Berlin Ostkreuz.
https://noiseangriff.wordpress.com/
http://www.mixcloud.com/NOISEANGRIFF/
https://www.facebook.com/Lauschangriff.Berlin
Lauschangriff
Rigaer Str 103
10247 Berlin