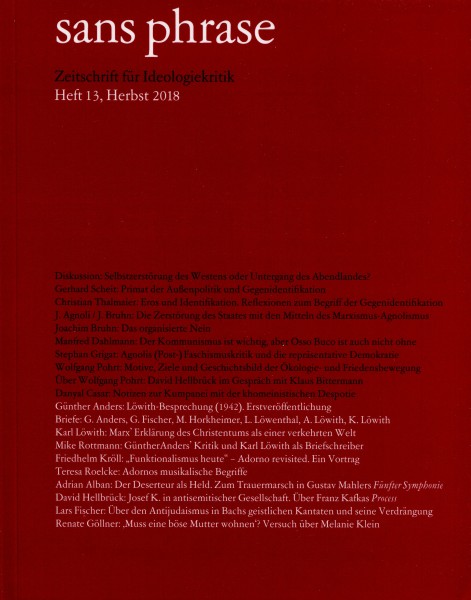 Order number:

SansPhrase13
Heft 13, Herbst 2018 Soeben erschienen... Diskussion: Selbstzerstörung des...
more
Product information "sans phrase, Heft 13"
Heft 13, Herbst 2018
Soeben erschienen...
Diskussion: Selbstzerstörung des Westens oder Untergang des Abendlandes? Gespräch zwischen Thomas von der Osten-Sacken, Florian Markl und Gerhard Scheit
Gerhard Scheit: Primat der Außenpolitik und Gegenidentifikation. Ein imaginäres Gespräch (mit realen Fußnoten)
Christian Thalmaier: Eros und Identifikation. Reflexionen zum Begriff der Gegenidentifikation
Gespräch: Die Zerstörung des Staates mit den Mitteln des Marxismus-Agnolismus. Johannes Agnoli im Gespräch mit Joachim Bruhn
Joachim Bruhn: Das organisierte Nein
Manfred Dahlmann: Der Kommunismus ist wichtig, aber Osso Buco ist auch nicht ohne
Stephan Grigat: Denker der Subversion. Agnolis (Post-)Faschismuskritik und die repräsentative Demokratie
Wolfgang Pohrt: Lebensschutz und Nationalpolitik. Motive, Ziele und Geschichtsbild der Ökologie- und Friedensbewegung
Gespräch: »Die Leute sagen mir, was sie denken, und ich sage ihnen, warum das falsch ist«. David Hellbrück im Gespräch mit dem Verleger Klaus Bittermann über Wolfgang Pohrt
Danyal Casar: Ein »Akt europäischer Souveränität«. Notizen zur Kumpanei mit der khomeinistischen Despotie und der Türkei der Grünen Wölfe
Günther Anders/Karl Löwith: »… in der denkbar unangemessensten Attitude«. Günther Anders und Karl Löwith – eine Rezensions-Affäre
Günther Anders: Löwith-Besprechung (1942). Erstveröffentlichung
Briefe: G. Anders, G. Fischer, M. Horkheimer, L. Löwenthal, A. Löwith, K. Löwith
Mike Rottmann: »Über den Erdball getrieben …, hellhöriger als andere.« Über die Geschichte eines berühmten Buchs, Günther Anders' Kritik und Karl Löwith als Briefschreiber
Friedhelm Kröll: »Funktionalismus heute« – Adorno revisited. Ein Vortrag
Teresa Roelcke: Adornos musikalische Begriffe
Adrian Alban: Der Deserteur als Held. Zum Trauermarsch in Gustav Mahlers Fünfter Symphonie
David Hellbrück: Josef K. in antisemitischer Gesellschaft. Über Franz Kafkas Process
Lars Fischer: »Die Furcht für den Jüden«. Über den Antijudaismus in Bachs geistlichen Kantaten und seine Verdrängung
Renate Göllner: ›Muss eine böse Mutter wohnen‹? Versuch über Melanie Klein
Related links to "sans phrase, Heft 13"
Read, write and discuss reviews...
more
Customer evaluation for "sans phrase, Heft 13"
Write an evaluation
Evaluations will be activated after verification.