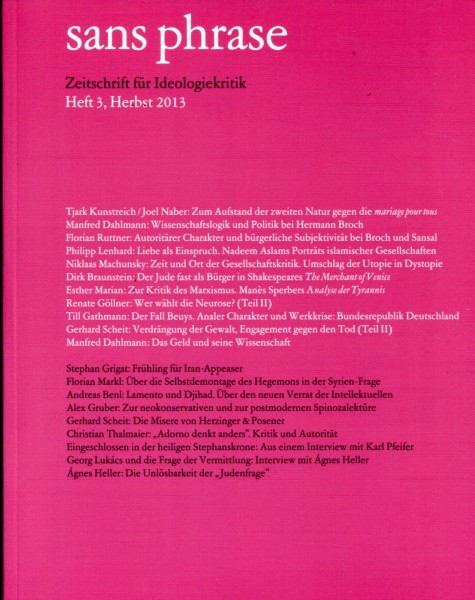 This product is currently not available.
Order number:

sansphrase3
sans phrase Redaktion Heft 3 November 2013, 256 Seiten, 12€, ISSN: 2194-8860...
more
Product information "sans phrase, Heft 3"
sans phrase Redaktion
Heft 3
November 2013, 256 Seiten, 12€, ISSN: 2194-8860
Tjark Kunstreich / Joel Naber: Die Aufgabe der Emanzipation. Zum Aufstand der zweiten Natur gegen die mariage pour tous
Manfred Dahlmann: "Der Mensch ist antinomisch geschaffen". Wissenschaftslogik und Politik bei Hermann Broch
Florian Ruttner: Schlafwandler und gebrochener Zombie. Autoritärer Charakter und bürgerliche Subjektivität bei Hermann Broch und Boualem Sansal
Philipp Lenhard: Liebe als Einspruch. Nadeem Aslams Porträts islamischer Gesellschaften
Niklaas Machunsky: Zeit und Ort der Gesellschaftskritik. Über den Umschlag der Utopie in Dystopie
Dirk Braunstein: Recht hat Shylock. Der Jude fast als Bürger in Shakespeares The Merchant of Venice
Esther Mariam: Zur Kritik des Marxismus. Manès Sperbers Analyse der Tyrannis
Renate Göllner: Wer wählt die Neurose? Wiederkehr der Psychoanalyse in der Existenzphilosophie Jean-Paul Sartres (Teil II)
Till Gathmann: Der Fall Beuys. Analer Charakter und Werkkrise: Bundesrepublik Deutschland
Gerhard Scheit: Verdrängung der Gewalt, Engagement gegen den Tod (Teil II)
Manfred Dahlmann: Das Geld und seine Wissenschaft
---
Stephan Grigat: Frühling für Iran-Appeaser. Der westliche Wille zum Verhandlen mit Hassan Rohani und die Restabilisierung des iranischen Regimes
Florian Markl: Fürchtet Gott, aber nicht mehr die USA. Über die Selbstdemontage des Hegemons in der Syrien-Frage
Andreas Benl: Lamento und Djihad. Über den neuen Verrat der Intellektuellen
Alex Gruber: Platonismus vs. Gegensouverän. Zur neokonservativen und zur postmodernen Spinozalektüre
Gerhard Scheit: Die Misere von Herzinger & Posener: proisraelische Staatsräson, antiisraelische EU-Politik
Christian Thalmaier: "Adorno denkt anders". Kritik und Autorität.
Interview: Vom alten und neuen Ungarn oder: Georg Lukács und die Frage der Vermittlung - Ein Interview mit Ágnes Heller
Ágnes Heller: Die Unlösbarkeit der "Judenfrage"
Related links to "sans phrase, Heft 3"
Read, write and discuss reviews...
more
Customer evaluation for "sans phrase, Heft 3"
Write an evaluation
Evaluations will be activated after verification.