Tag Archives:
Lynx
By
admin
|
Published:
January 31, 2019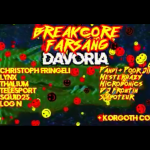 Party in Budapest at Fészek Kulturális Központ! Fb event
By
admin
|
Published:
December 21, 2018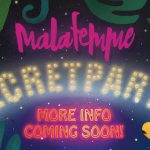 °°DA VENERDÌ NOTTE A SABATO POMERIGGIO —-16 ORE NO STOP—- organizzeremo un party stile "KITKAT" berlinese, dal tema savanico, esotico e bestiale, in cui ci sarà la piena libertà di esprimere sensualità ed erotismo°° La location sarà un night club di amici, che per l'occasione sarà riservato a MALAFEMME & FRIENDS… immaginatevi una casa tutta […]
By
admin
|
Published:
September 22, 2018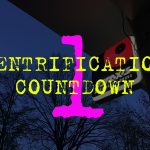 Final Countdown to Gentrification at OstX PART I … Last instore show at ostkreuz…the juggernaut is approaching… The end of an era, the beginning of a new one! Noise, Flash, Break, Bass, Core as well as Drinks, Music, Books! 29.09.2018 FREE EVENT – Strictly only from 7-10pm Praxis Records & Books/Yaya23 Lenbachstrasse 9 10245 Berlin
By
admin
|
Published:
July 9, 2018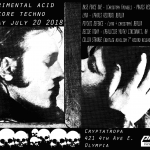 an evening of the hardest hardcore, acid, breakcore, and experimental techno on the west coast. Cryptatropa Bar, Olympia WA Featuring: Base Force One – aka. Christoph Fringeli – Praxis Records Berlin https://www.discogs.com/artist/101948-Christoph-Fringeli Breakcore and industrial hardcore project by CF starting in 1997 with the Welcome to Violence 12" on Praxis with a live set of […]
By
admin
|
Published:
January 6, 2018
By
admin
|
Published:
July 21, 2017
Reserve the date! Saturday August 26 25 Years Praxis Party in Berlin Køpi – Köpenicker Strasse 137 – Berlin We celebrate 25 years of Praxis Records, 20 years of Datacide Magazine and also 20 years of Sub/Version Records. Datacide/ Praxis Soli with: PSYCHIC DEFENCE PROLE SECTOR ZOMBIEFLESHEATER DJKA LUCHS (LYNX!) AMBOSS PURE MANIA EGON FRINZ […]
By
admin
|
Published:
April 29, 2017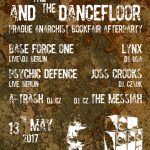 The Barricade and the Dancefloor Base Force One (Live/DJ, Berlin) Psychic Defence (Live, Berlin) Lynx (DJ, USA) Joss Crooks (DJ, Prague) A-Trash (DJ, Prague) The Messiah (DJ, Prague) Prague Anarchist Bookfair presents its official afterparty – the night of radical electronics. From hard electro through acid techno to breakcore, the various backgrounds of the performers […]
By
admin
|
Published:
March 12, 2017
The Vinyl Resistance festival in Monza took place March 3-5, and paynomindtous just uploaded video clips of all the performances of the first night, including Methackus, Pablito el Drito, DJ Balli, Lynx, Psychic Defence, Base Force One,  and A034. It was a great night!
By
admin
|
Published:
March 5, 2017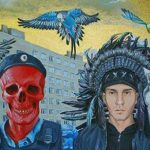 – Dance like noone is watching, encrypt like everyone is! – TransCyberien est une série de soirées club, noise, queer et geek friendly, avec des workshops futuristes, crypto ou militants + de la musique expérimentale et à danser. ◊ 18h → 21h00 Workshops ◊ 21h00 → 07h00 Concerts ◊ Entrée à prix libre, prix conseillé […]
Posted in Event, Events
|
Also tagged Christoph Fringeli, Cocoboy, Encryption, Marechal Putain, Nina Kardec, Oko DJ, Paris, Petass, Psychic Defence, Sainte-Rita, TransCyberien
|
Leave a comment
By
admin
|
Published:
February 22, 2017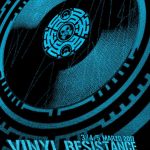 VENERDI 3 MARZO APERTURA ORE 19 ingresso 5 euro VINYL ZONE / STAND, BANCHETTI,ASCOLTI, ESPOSIZIONI DELLE ETICHETTE PARTECIPANTI GOOD VEGAN FOOD ORE 21 MAKE MUSIK FREE incontro / dibattito aperto Le scene underground e DIY vivono oggi una fase di grande crescita grazie ai nuovi media digitali, che annullando le distanze fra gli elementi della […]