Category Archives:
Praxis News
By
admin
|
Published:
December 7, 2017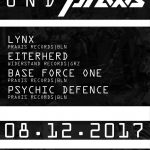 By
admin
|
Published:
October 29, 2017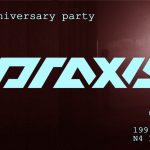 25 years of Praxis Praxis was founded as a label for experimental hard dance music in 1992 in London. From its beginnings in hardcore techno it quickly expanded into the territories of breakcore, soundscapes, noise and bass music, never leaving behind the experimental elements. Artists include Bourbonese Qualk, Metatron, Somatic Responses, Base Force One, Nomex, […]
Also posted in Event, Events
|
Tagged 2017, Bourbonese Qualk, Dan Hekate, Egon Frinz, Kovert, Praxis 25th Anniversary, Psychic Defence, Simon Crab, Temporary Autonomous Art, Unprofessional
|
1 Response
By
admin
|
Published:
July 21, 2017
Reserve the date! Saturday August 26 25 Years Praxis Party in Berlin Køpi – Köpenicker Strasse 137 – Berlin We celebrate 25 years of Praxis Records, 20 years of Datacide Magazine and also 20 years of Sub/Version Records. Datacide/ Praxis Soli with: PSYCHIC DEFENCE PROLE SECTOR ZOMBIEFLESHEATER DJKA LUCHS (LYNX!) AMBOSS PURE MANIA EGON FRINZ […]
By
admin
|
Published:
March 12, 2017
The Vinyl Resistance festival in Monza took place March 3-5, and paynomindtous just uploaded video clips of all the performances of the first night, including Methackus, Pablito el Drito, DJ Balli, Lynx, Psychic Defence, Base Force One,  and A034. It was a great night!
By
admin
|
Published:
January 30, 2017
By
admin
|
Published:
January 6, 2017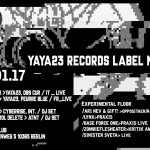 Time is passing fast so we are as always in a time scale delation lab and thatfor only now kickin ´ of the next edition of the label gatherings. The second, experimental floor will be hosted by our comrades from Praxis records & Oppositaer. Happy to have them onboard once more for this edition of […]
By
admin
|
Published:
November 6, 2016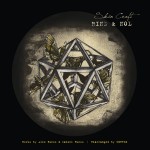 "Skin Craft" – RIND & NOL (Praxis 55) by Alex Buess & Daniel Buess Two powerful compositions by Alex Buess and Daniel Buess, rearranged by Cortex. RIND is a work using three large self-built cow skin frame drums, 1 horse skin container drum, metal plates and electronics. NOL is a composition by Alex Buess for […]
By
admin
|
Published:
October 17, 2016
Since the beginning of the 'proper' Praxis Online Shop in 2005, over 7,500 titles have been listed. Of course not all of these are currently available, but a surprisingly large number are. This is because we have always gone to lengths to re-stock titles we once decided were worth listing in our store. Often this […]
By
admin
|
Published:
October 3, 2016
Two events related to Praxis are taking place in the framework of the Easterndaze Festival: October 3rd Praxis presents Christoph de Babalon, WIDT, a collaboration of the two, plus Christoph Fringeli vinyl + laptop set silent green Kulturquartier Gerichtstraße 35, 13347 Berlin, Germany Doors open 7pm, music starts at 8pm, till midnight. More info: Praxis […]
By
admin
|
Published:
September 19, 2016
Under the header of NoiseBegriff#4 we did a super short notice secret gig & warm up for Detonal (taking place the following weekend) as an instore event at the Berlin Praxis Shop on August 20, feat. Amandroid (Army of Love), Montaux (Xanopticon & Dimentia), and Binnie (5lowershop). Here are some pics courtesy of fgnugn (please do […]