Category Archives:
Praxis Download Store
By
admin
|
Published:
April 20, 2018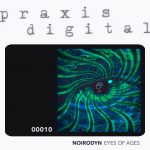 Eyes of Ages (Praxis_digital_00010) by Noirodyn
By
admin
|
Published:
March 21, 2018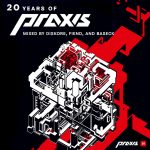 20 Years of Praxis (Praxis 20) by Praxis Praxis 20 20 Years of Praxis Fantastic mega-mix of over 50 tracks from the first 20 years of the label's history by Darkmatter Soundsystem DJ's Diskore, Fiend and Baseck available both as a cassette tape and a free download (with donation option) from our bandcamp site. An […]
By
admin
|
Published:
August 14, 2014
Praxis 43 – La Peste: Safety First now available for download on bandcamp in its full 24+ minute glory. You can download for free or make a donation – which is much appreciated as it helps us to release more great music!
By
admin
|
Published:
January 8, 2014
As we published the most read articles on the datacide web site, here are some sales and download charts: Sales in the Praxis Online store throughout 2013: 1. Datacide 12 2. Datacide 13 3. Praxis T-Shirt Men L 4. Praxis Hoodie Men L 5. Praxis 51 – Noize Creator: The Future is Cancelled 12″ 6. […]
By
admin
|
Published:
September 30, 2013
Praxis 51 – Noize Creator: The Future is Cancelled 12″ & Download. The mighty Noize Creator is back with a massive 4-track 12" on Praxis, titled 'The Future is Cancelled'. Dystopian sounds, oppressive, dark and brutal, clash with distorted beats and breaks, creating harsh contrasts as well as scapes of disturbing harmony. Moments of calm […]
By
admin
|
Published:
July 2, 2013
Cyberchrist was one of the many names used by Martin Damm, aka Biochip C. and The Speed Freak, in the 90's for hard acid and some more experimental broken beats. Following his excellent records on Monotone and DJUngle Fever, Praxis released "Information : Revolution" in 1995 with the catalogue number Praxis 16. The first tracks […]
By
admin
|
Published:
May 15, 2013
Fantastic mega-mix of over 50 tracks from the first 20 years of the label's history by Darkmatter DJ's Diskore, Fiend and Baseck! This is OUT NOW as a limited tape release and free download as of May 15, 2013 with the catalog number Praxis 20! Check out the detailed track list HERE. free download (with […]
By
admin
|
Published:
May 7, 2013
PRAXIS 20 YEARS MIX  by: DISKORE_FIEND_BASECK. 1992-2012 Fantastic mega-mix of over 50 tracks from the first 20 years of the label's history! This will be released as a limited edition tape and download on May 11, 2013 at the Praxis party at Subversiv in Berlin, with the catalog number Praxis 20! Here's the track-list:
By
admin
|
Published:
May 1, 2013
Get it as a free download (or for a donation) until may 11 when Dan will be playing at the Datacide fundraiser at Subversiv in Berlin! The Uncontrollable H Disease (Praxis 28) by The Wirebug
By
admin
|
Published:
February 23, 2013
Brand new is the second digital release on Darkmatter Soundsystem, the REMEMBER EP by WMX! And the ongoing project of uploading the Praxis back catalogue has been amended by the classic 1993 techno album by Bourbonese Qualk, Autonomia (Praxis 5CD) as a free download (you are welcome to make a donation!)