Author Archives:
admin
By
admin
|
Published:
December 7, 2017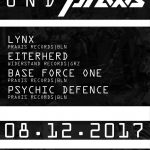 By
admin
|
Published:
November 30, 2017
25 years ago today, on November 30, 1992 – it was a Monday – the first 12″ on Praxis was officially released. Of course there had been activities leading up to this date. I had moved to London at the end of 1991 and decided in the following months to discontinue my previous label Vision […]
By
admin
|
Published:
November 17, 2017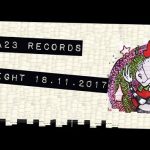 Next YAYA23 RECORDS JAM coming acrossed Berlin on Sat.. 18.11.2017 . As usual with an international line up, from live-impro to wicked wax spinings. Yaya23 Floor : – Solidstait vs Formamentis ( Paranormal Unfall ) – Jeff 23 ( Spiral Tribe ) – Control Delete ( Cyberrise ) – Destrooy aka Dubdub ( Refugees On […]
By
admin
|
Published:
October 29, 2017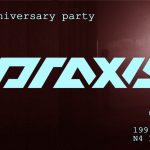 25 years of Praxis Praxis was founded as a label for experimental hard dance music in 1992 in London. From its beginnings in hardcore techno it quickly expanded into the territories of breakcore, soundscapes, noise and bass music, never leaving behind the experimental elements. Artists include Bourbonese Qualk, Metatron, Somatic Responses, Base Force One, Nomex, […]
Posted in Event, Events, Praxis News
|
Tagged 2017, Bourbonese Qualk, Dan Hekate, Egon Frinz, Kovert, Praxis 25th Anniversary, Psychic Defence, Simon Crab, Temporary Autonomous Art, Unprofessional
|
1 Response
By
admin
|
Published:
October 26, 2017
There will be a Praxis 25th Anniversary Event on November 3rd in London. Place & Time: ExFed 199 Eade Road,, N4 1DN London – 8pm-1am More details and line-up will be posted in the next days!
By
admin
|
Published:
September 15, 2017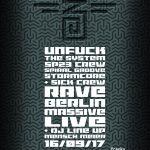 Saturday 16/09/2017 A massive celebration of Spiral Tribe's underground history and underground sound system culture in Berlin! The day starts at 14:00 on the new Spiral Site, on The Isle Of Others, Schleusenufer 4, (Backyard), 10997, Kreuzberg, Berlin. With the opening of the Spiral Archive (The Berlin years). With live performances from the Bad Girlz, […]
By
admin
|
Published:
September 1, 2017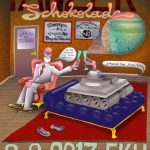 ▌PANZERSCHOKOLADE #16 ◥ ◤ 25 YRS PRAXIS RECORDS ▌ start 20:00 – Lecture by Christoph Fringeli Hedonism and Revolution: The Barricade and the Dancefloor Talk and discussion about the interrelation of countercultures and radical politics, in history, the present and perspectives for the future. "We have a world of pleasures to win and nothing to […]
By
admin
|
Published:
August 30, 2017
Az idén 25 éves Praxis kiadó egy kellemes szülinapi programmal ajándékozza meg a hazai közönséget.>>> 25 years of Praxis Praxis was founded as a label for experimental hard dance music in 1992 in London. It's one of the very few labels not only still in existence but also still engaged in exploratory developments. Now based […]
By
admin
|
Published:
August 4, 2017
By
admin
|
Published:
July 29, 2017
Last week of November and first week of December 1992, the first two releases on Praxis appeared. A quarter of a century later the label still exists, an anomaly in the fast moving world of electronic music. To celebrate we are planning a series of events – and new releases. And we are posting a […]
Posted in Discography, Praxis History
|
Tagged 16-17, ADC, Bambule, Bloor Schleppy, Bourbonese Qualk, Cunning, Cyberchrist, Dead By Dawn, Deadly Buda, Disciples of Belial, DJ Jackal, DJ Yubba, Eiterherd, Heist, Kovert, Lorenz Attractor, Metatron, Nihil Fist, Noface, Nomex, Paraphysical Cybertronics, Potere Occulto, Praxis 25th Anniversary, Praxis Anonymous Series, Praxis History, praxis25, Scaremonger, Slaughter Politics, Somatic Responses, Test Tube Kid, The Wirebug
|
Leave a comment