Author Archives:
admin
By
admin
|
Published:
August 4, 2017
By
admin
|
Published:
July 29, 2017
Last week of November and first week of December 1992, the first two releases on Praxis appeared. A quarter of a century later the label still exists, an anomaly in the fast moving world of electronic music. To celebrate we are planning a series of events – and new releases. And we are posting a […]
Posted in Discography, Praxis History
|
Tagged Bambule, Bloor Schleppy, Bourbonese Qualk, Cunning, Cyberchrist, Dead By Dawn, Deadly Buda, Disciples of Belial, DJ Jackal, DJ Yubba, Heist, Lorenz Attractor, Metatron, Noface, Paraphysical Cybertronics, Potere Occulto, Praxis 25th Anniversary, Praxis History, praxis25, Scaremonger, Slaughter Politics, Somatic Responses, Test Tube Kid
|
Leave a comment
By
admin
|
Published:
July 21, 2017
Reserve the date! Saturday August 26 25 Years Praxis Party in Berlin Køpi – Köpenicker Strasse 137 – Berlin We celebrate 25 years of Praxis Records, 20 years of Datacide Magazine and also 20 years of Sub/Version Records. Datacide/ Praxis Soli with: PSYCHIC DEFENCE PROLE SECTOR ZOMBIEFLESHEATER DJKA LUCHS (LYNX!) AMBOSS PURE MANIA EGON FRINZ […]
By
admin
|
Published:
June 30, 2017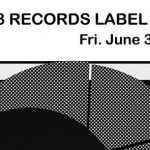 YAYA23 RECORDS is hosting a label gathering in Berlin one more time before the summer touring of 2017. Label live & dj sets from Ukraine, Cz – Republic , Italy, Belgium & Hungary will be hosted at the event. YAYA FLOOR Franzüss (Phönix) // DJ Set Motoblok (Subsonic Rec.) // Live Set YaYa (Cyberrise) // […]
By
admin
|
Published:
May 29, 2017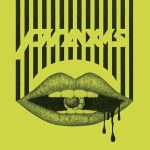 PRAXIS & OPPOSITAER present STALIN'S DEATH! DATACIDE MAGAZINE SOLI EXPERIMENTAL HARDCORE // BREAKCORE // FLASHCORE // NOISE // BASS MUSIC // DIGIGRIND with: DEATH QUALIA (LIVE) https://soundcloud.com/de-qualia GONER (LIVE) https://soundcloud.com/kerstin-bruse MESSIAS http://cne.laermkultur.ch SWAMPTHING (DJ) das_programm https://das-programm.bandcamp.com/ ARI NEV https://soundcloud.com/arinev PRAXIS DJ SQUAD VJ LAIN MORE TBA Soundsystem By: Yaya Systems Scharni38/ZGK Scharnweber Str. 38 10247 […]
Posted in Event, Events
|
Tagged Ari Nev, das_programm, Datacide, Death Qualia, Krystal Jesus, La Peste, Messias, Oppositaer, Praxis, Praxis DJ Squad, Scharni38, Swampthing, ZGK
|
1 Response
By
admin
|
Published:
May 17, 2017
Live: Walter Gross (dirtyhusbandbeater) Psychic Defence (praxisinpaaren) Stormtrap (ghettoblaster) Levni (troubeats) E/V: Totaler Krieg im Spaziergang (beeatszinggravhund) Selekt: Kolonel Blip (tropikalfantazy) Junktion (hardeklektselekt) 26 May 2017 XB_Liebig Liebigstr. 34 starts 9pm FACEBOOK EVENT
By
admin
|
Published:
April 29, 2017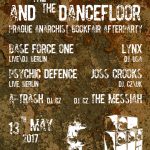 The Barricade and the Dancefloor Base Force One (Live/DJ, Berlin) Psychic Defence (Live, Berlin) Lynx (DJ, USA) Joss Crooks (DJ, Prague) A-Trash (DJ, Prague) The Messiah (DJ, Prague) Prague Anarchist Bookfair presents its official afterparty – the night of radical electronics. From hard electro through acid techno to breakcore, the various backgrounds of the performers […]
By
admin
|
Published:
April 19, 2017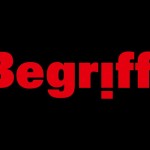 Instore set by Baseck plus the usual suspects Strategies of interference, aural interventions, anti-spectacular ruses, musical deprogramming, sonic deconditioning: Towards a definition of noise. No exercise of power, no representation, no social silence produced by the repetitive machine: With noise is born disorder and its opposite – the world. Strictly from 7-10 pm Free entry! […]
By
admin
|
Published:
April 19, 2017
For those who like to listen to their music on YouTube we just added Praxis 1 – Scaremonger EP to the Praxis Youtube channel. More info, download link, press clippings in our discography: https://praxis-records.net/scaremonger-scaremonger-ep/
By
admin
|
Published:
April 6, 2017
Just posted on the Zombiefleshaeter/Kritik am Leben YouTube channel: Nihil Fist's Hatecore video from 1999 Four years before his debut 12″ for Praxis 'Think & Destroy!' – Classic harsh riot sounds!